This was the third Annual Ocean Kayak Fishing Tournament to be held at Swanage. The biggest competition in the UK kayak fishing calendar and one of my favourites.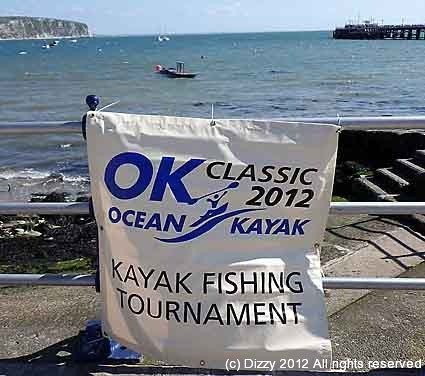 The weather prior to the event had been really bad; cold, wet and windy. I had been looking forward to this event, and planning for quite a long time, finally the time had come to drive down. I left the house at 5am – the temperature was a chilly 2 degrees. By the time I reached Swanage at 7am, I was greeted by blue skies and sunshine and the car park was already quite full.
Lots of old friends, and some new faces too – a great atmosphere. First things first, a full English breakfast courtesy of Adam (cheers mate !). Ian and Jan were already tucking into their breakfasts by the time we got there, soon we were filling our faces too.
Then it was back to register and say hello to Richi, Mark, Andrew, Paul, Tina and David – what a great crew.  The event was organised by Johnson Outdoors UK and supported by AnglersAfloat. I also chatted to my good mate Andy Benham who was there representing Sea Angler magazine. Its great to see that he has managed to change the views of alot of people at the magazine regarding kayak fishing. Andy was going to be looking after Mark Crame's daughter for the day, and little did we know how events were going to unfold on the water later on.
After the safety brief it was time to launch, the sight of 133 fishing kayaks in such a small area was breath taking. Definitely the biggest kayak fishing event in the UK, if not Europe.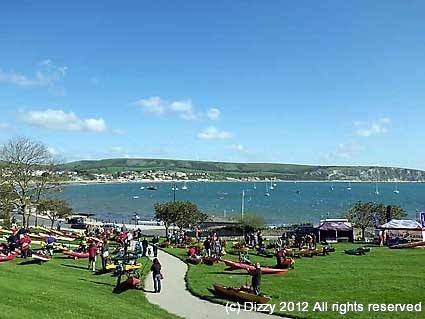 The idea of the competition is to catch (and release if possible) as many different species of fish as possible in 5 hours. You must stay within the geographical boundaries of Swanage Bay. Not easy, but great fun.
To cut a long story short, I ended up with 4 species. Dogfish, mackerel, garfish and ballan wrasse. Spent far too much time messing around with different rigs and swapping between rods (Note to self : don't take out 3 rods again !). But it was great fun. On my return, it was clear that alot of different species had been caught – 19 in total. That is pretty amazing for such a small area. It was also clear that alot of decent bream had come out, including several over 3lb, and one over 4lbs; Fantastic stuff !
Before the prizes were given out, Paul presented a cheque for £1400 for the RNLI  to Martin Steeden (Coxswain of the Swanage Lifeboat)…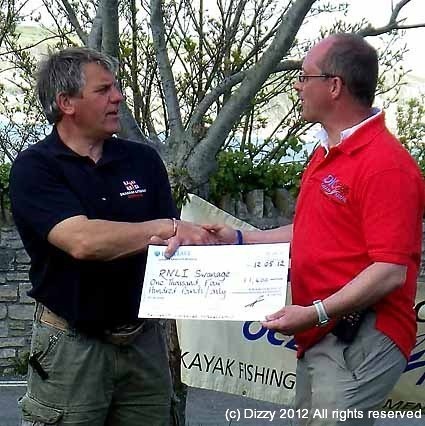 There were lots of winners – all sorts of prizes. Everyone received a T-shirt and a goodie bag. I even managed a prize for being the first person on the water ! As mentioned earlier, Mark Crame's daughter was fishing with Andy Benham – and she had a real red letter day with the bream, so Andy was chuffed to bits, and I am sure you will read all about it and see the pictures in Sea Angler magazine very soon. All of the youngsters did really well, but Jamie Lloyd from Wales won the Junior prize – well done that lad ! They are pictured below with Mark Crame and Andrew Dron of Johnson Outdoors UK…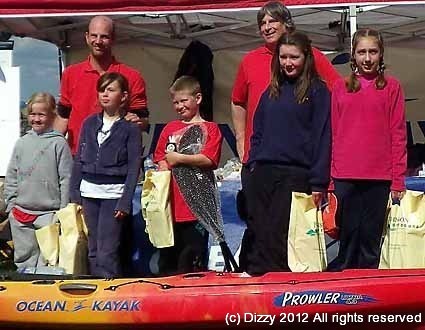 The main placings were…
4th Place – prize Ocean Kayak Yak Sport– Amos Mack pictured below with Carolyn Hooper from Swanage Tourist Information Centre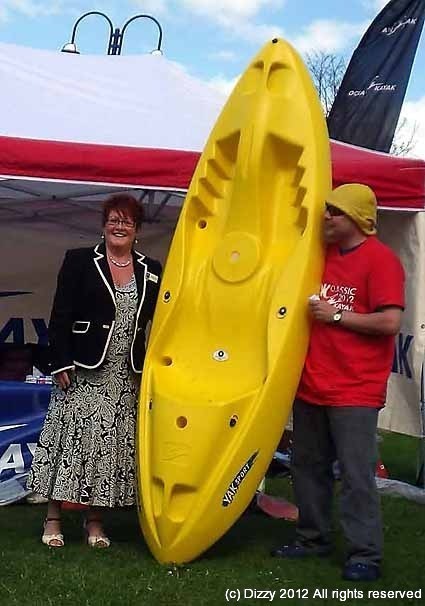 3rd Place – Prize Ocean Kayak Tetra 12  Ben Wallbridge pictured below with Carolyn Hooper from Swanage Tourist Information Centre

2nd Place – Prize Ocean Kayak Elite 4.1 Ryan Turner from Lyme Regis pictured below with Mark Crame from Johnson Outdoors and Carolyn Hooper from Swanage Tourist Information Centre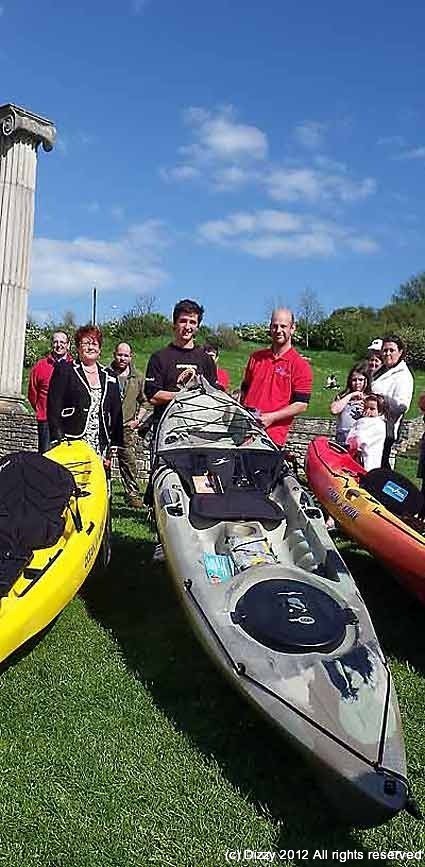 1st Place – Prize Ocean Kayak Ultra 4.3 Keith Ward from Horsham, pictured below with Mark Crame, Andrew Dron, Carolyn Hooper, Richi Oliver, David Morris and Paul Fennel.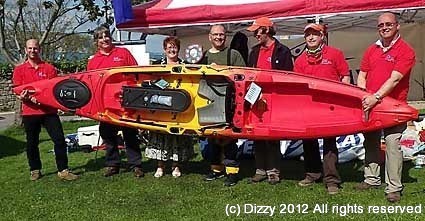 Not only is Keith the 2012 Ocean Kayak Classic champion, but he is also the current holder of the South Wales Kayak Fishing championship. That is no mean feat.
Group photo of the 2012 Swanage Ocean Kayak Classic kayak fishing tournament winners…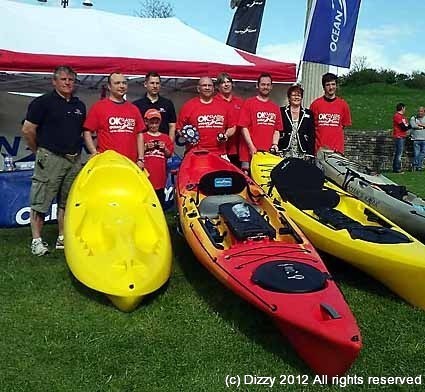 The Swanage 2012 OK Classic kayak fishing event – the place to be… brilliant weather, a super venue, well organised and well supported – this event has to be one of the best adverts for UK kayak fishing ever. Credit must go to Johnson Outdoors UK/Ocean Kayak and AnglersAfloat, Swanage Town Council and everyone else who made the event such a success. Roll on 2013 !
All that was left to do, was to pack the kayak up, and go back to the camp site at Herston for some well deserved fish and chips. Adam, Ian and Jan said their goodbyes, they had a long journey in front of them. Stu and myself stayed for the 'after show party'… which consisted of copious amounts of cider, and some dodgy looking Hooch which Dan Cooke had concocted – I don't know what was in it, but it sure packed a punch ! I spent the evening in good company talking 'shop' to friends new and old – priceless !
I cannot believe how well prepared Stu was… I likened him to the man on the Pimms advert…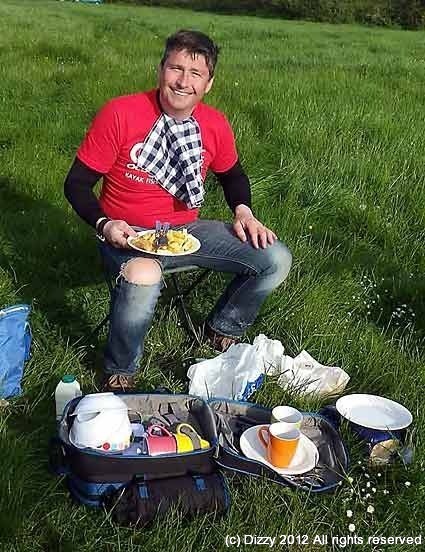 I have to say, his breakfast of fried eggs, gammon steaks and bread filled a rather large gap…. Cheers Stu !
Myself and Stu decided it would be rude not to fish Swanage one more time before going home, so off we went. The weather was even better than Saturday…

The fishing was not great, and a rogue trumpeter (random or what?) was really quite annoying, but that was not the point – there is no such thing as a bad day afloat (unless your kayak gets run over by a WAFI yacht – eh Maghouse !!). Sometimes its about the moment, the surroundings, the weather and the company…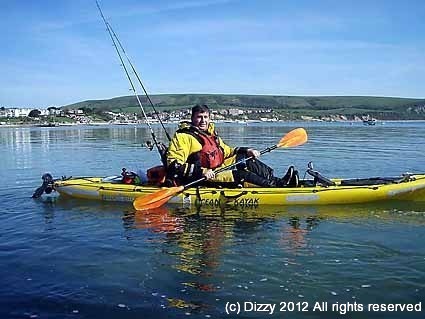 The chalk cliffs of Ballard Down make an impressive backdrop to any kayak fishing trip…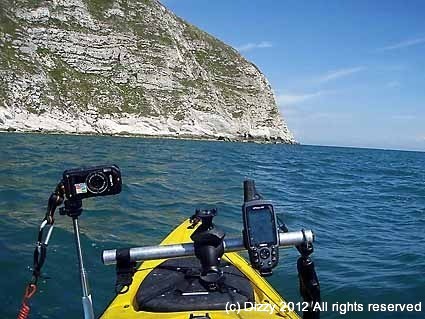 Even the fish looked stunning…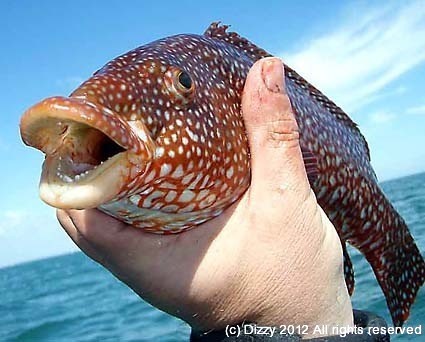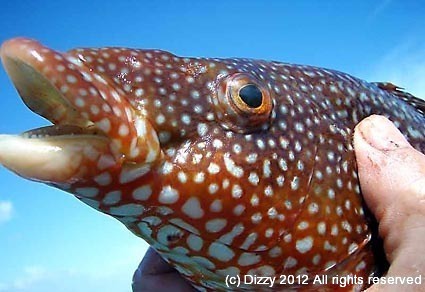 Simply magic !
Category: Fishing Venues, Swanage