One of the reasons I started kayak fishing, was to catch a tope. I had tried for years to catch one from the shore, and had hooked a couple, but that is as good as is got, despite travelling miles and putting in lots of hours. The dynamics and experience of catching one of these sharks from a kayak is something else – not to be taken lightly, but probably some of the best sport you can get on rod and line in the UK. This was the third time I had fished this particular location – the previous two trips were blanks for the tope.
From James (overrun)…
Dizzyfish(Ian) PM'ed early in the week, we'd been discussing the possibility of fishing the next available weekend. Both he and Adam were very keen to go on the Thursday, looking at the weather we figured Friday might be OK and by Sunday the wind an issue.
I rolled up at 10:45pm Thursday night after driving straight from work. Nifty, Phooey, Adam and Ian were all in Adam's van. Poor Phoo was out for the count, a days Tope fishing in a SINK had taken it's toll! To his credit, he'd caught and unhooked a 30lber from a SINK

. A few cans were dispatched and we headed for bed.
Woke-up at 2.00am to the sound of rain drumming on the van roof, continued to daybreak, along with the wind. Didn't sleep much, stuck my head out at 8:00, cold, wet, windy and the sound of the surf pounding on the shore.
Into town for a Cambrian Cafe breakfast http://www.cambrian-cafe.co.uk/, then down to the front to survey the sea…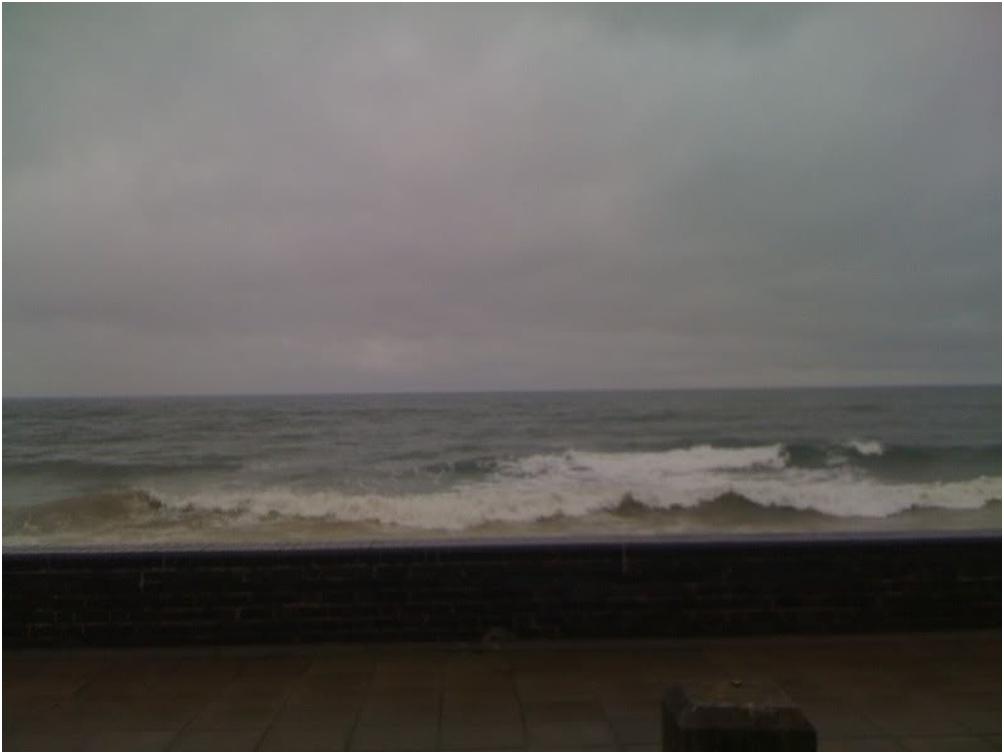 Not very happy

, we'd thought Friday would be the best day.
Back to the van, sat about and chatted, by lunchtime it was turning into a game of Poker, who would crack first and head home. I'd text Lozz already, to appraise him of the conditions, really did not seem worth travelling. 3:00PM and the wind suddenly dropped and fell southerly, wandered down to the reef as the rain eased. Sea settling, returned to the van, "It's doable" …they laughed.
4:00PM and Broadwater flat, not a ripple, we were amazed. Stuart didn't fancy a late afternoon session, Phoo had gone in the morning, so it was just Adam, Ian and me.
I nearly turned over in the 'rapids'

, hit a big rock sideways, load of water over the back, washed the bait and drinks overboard. Recovered everything after a bit of a chase, LW so shallow.
Out on the water Mr Seal on his rock again as last time, slid in as I paddled over for a pic.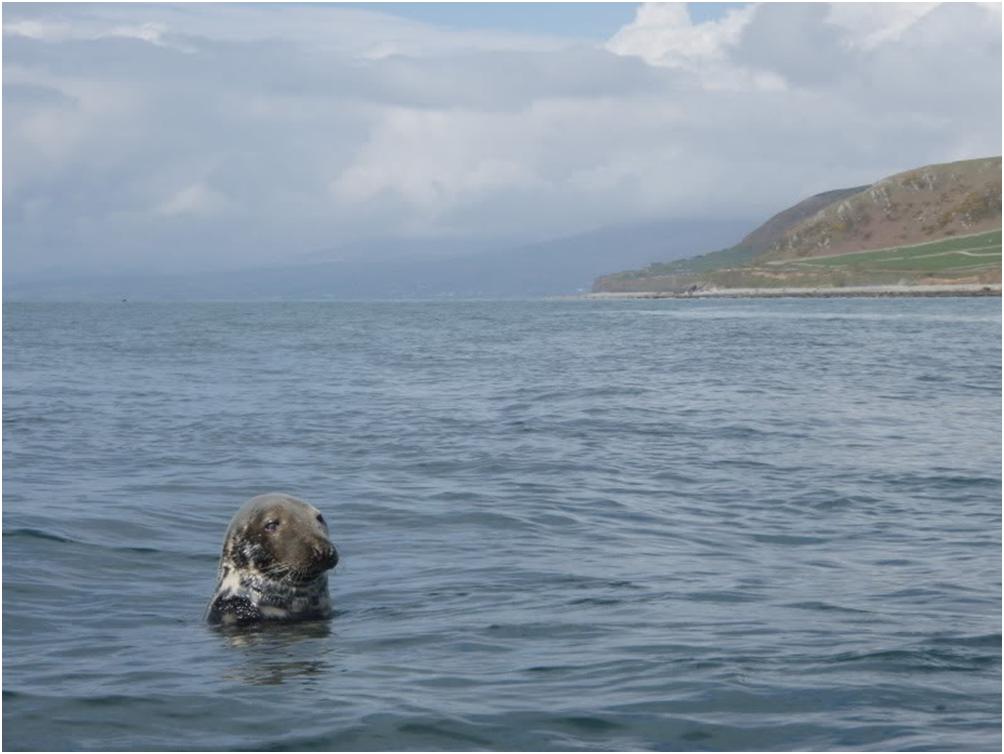 We headed out to the usual mark, flood beginning. Adam's bait in the water for all of 30 seconds, he'd just yelled over to draw my attention to a weed bank moving through, then his ratchet screamed and Tope No.1 was on! Paddled over for an abortive video, the pic's came out OK. Very nice fish, 30lber, one very very happy Adam.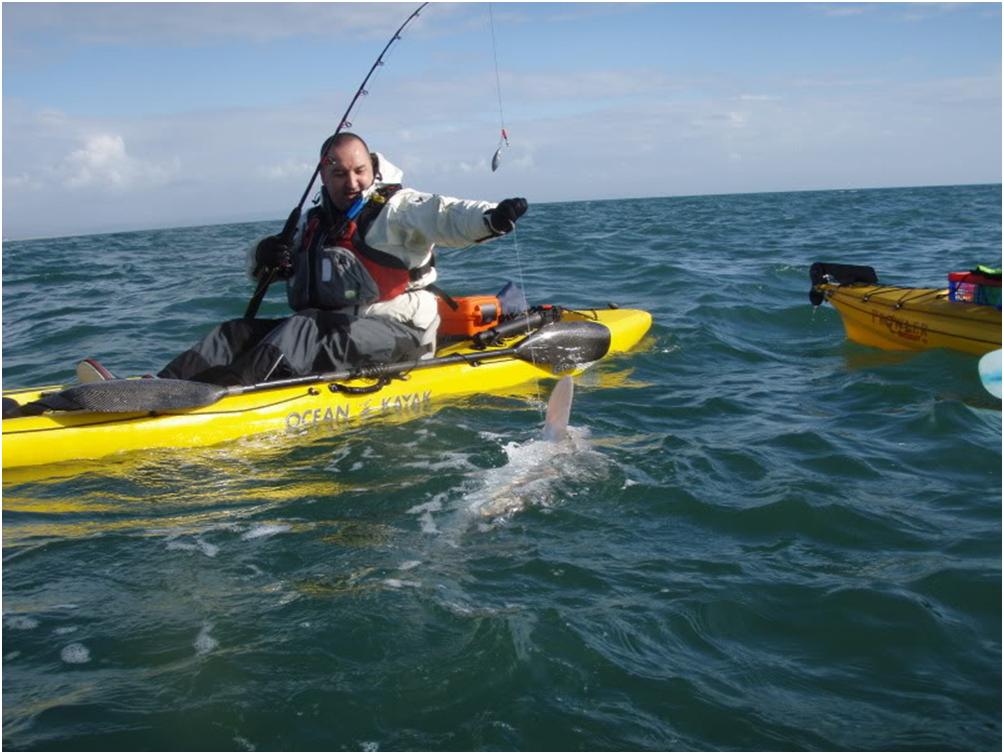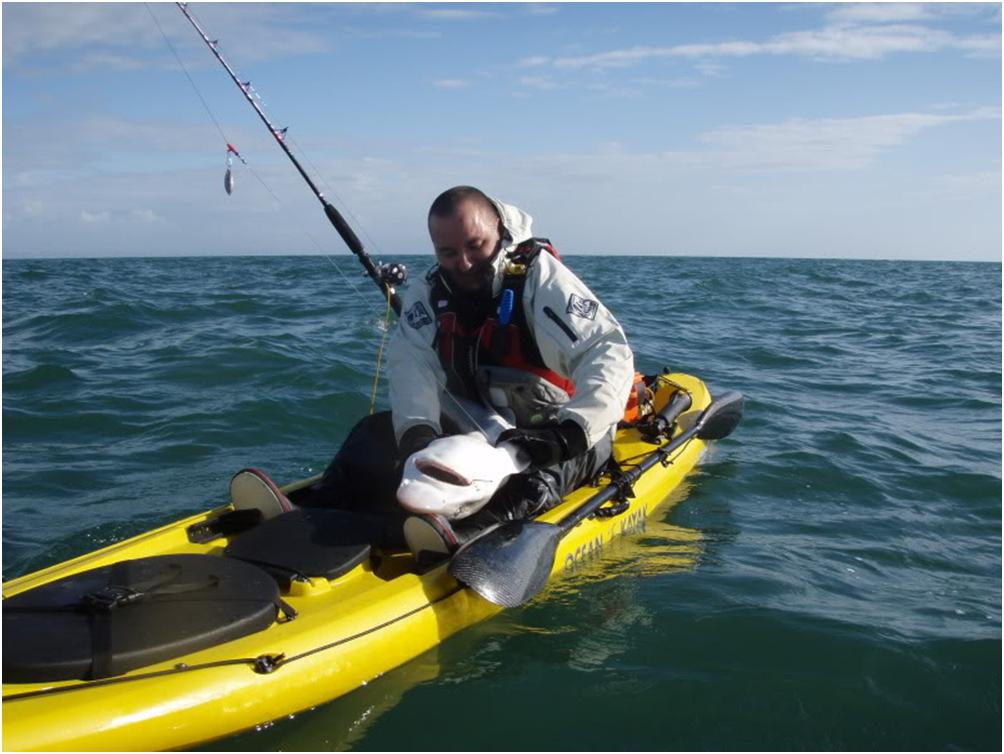 I'd just returned to the anchor and he's in again, this one leapt clear of the water, paddled back, more pics: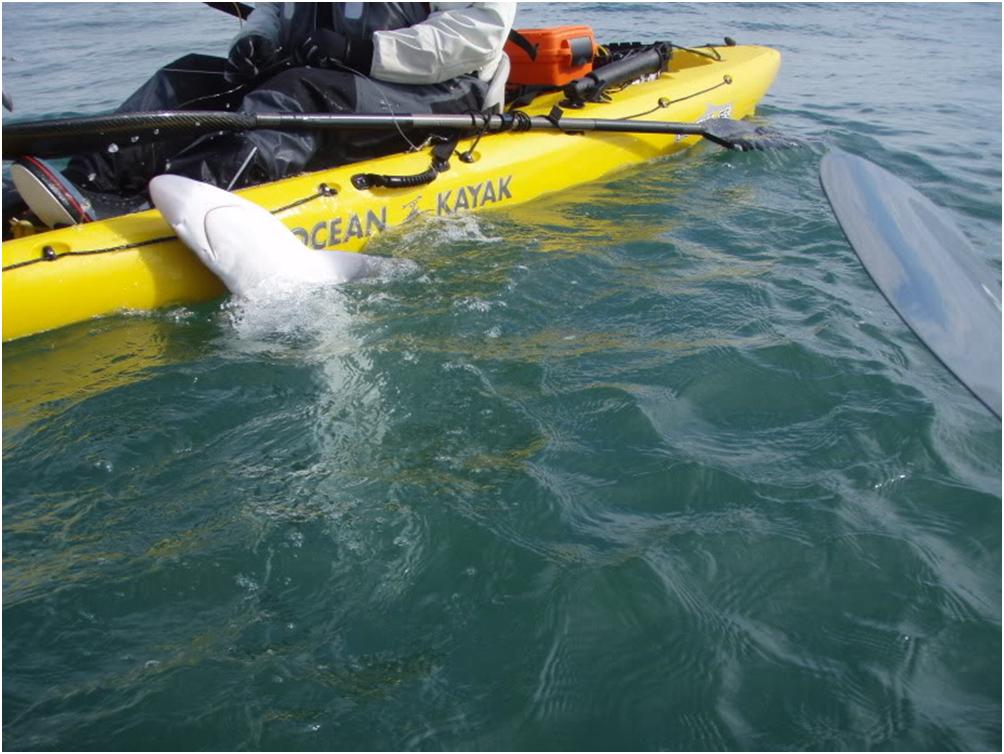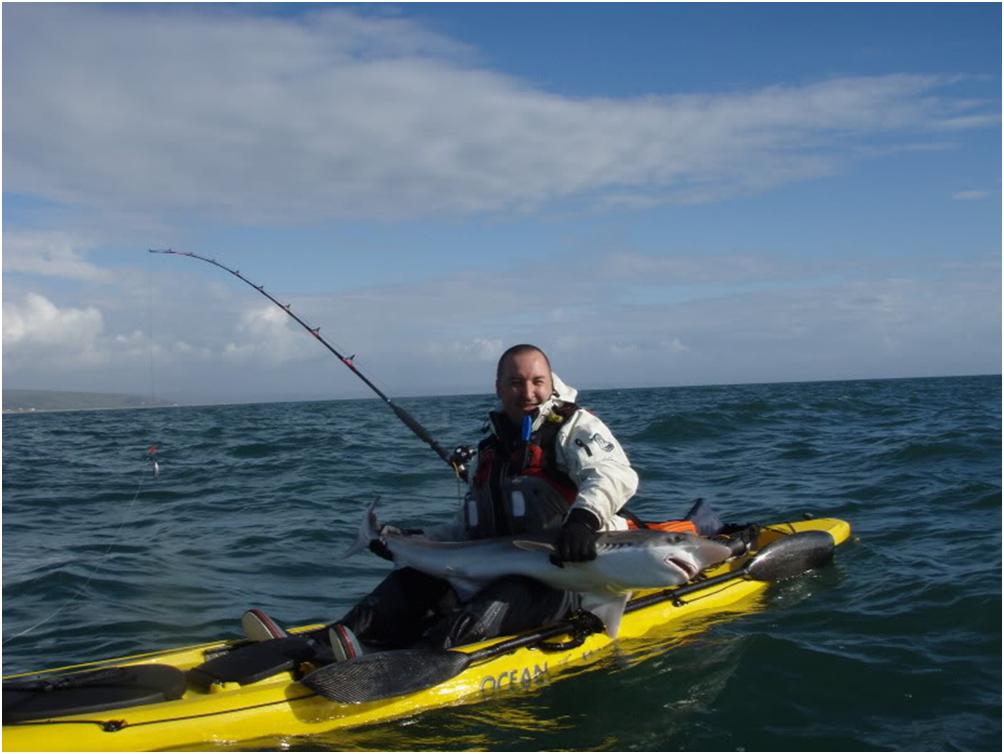 Returned to my buoy again, bait in the water and bit of a run, hooked a heavy lump. A big old Tywyn Huss, biggest I've caught.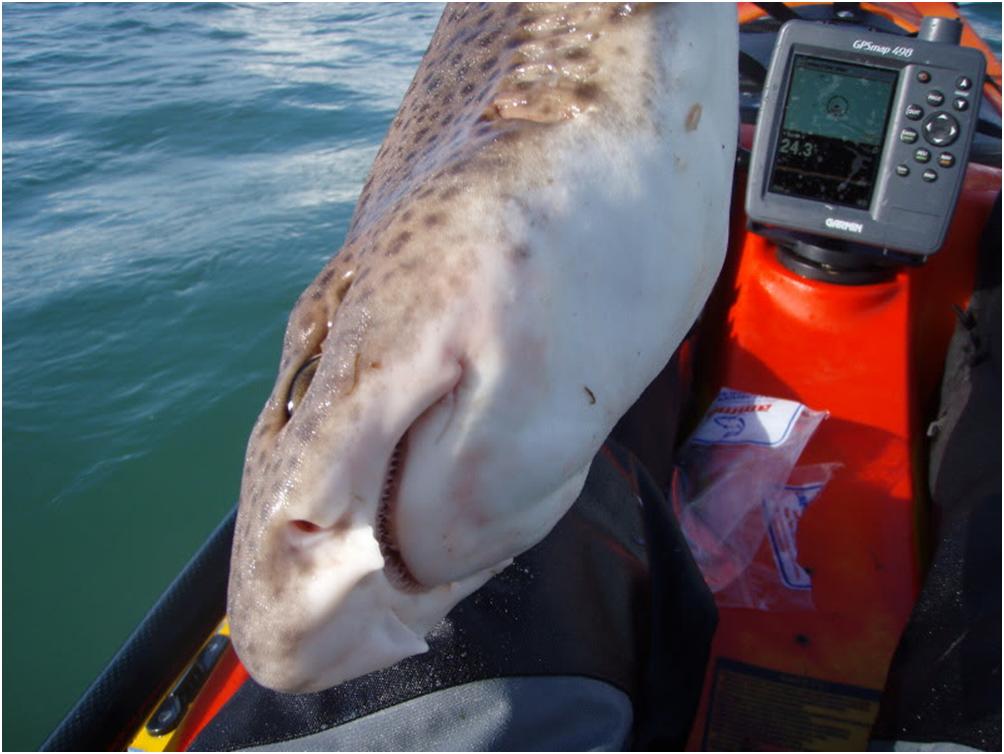 Finished dealing with him and Ian (Dizzyfish) shouted, could hear the ratchet. Paddled over for the pics. quality fish, quite amusing watching him leaning into the rod, while the Tope thrashed on the surface behind him, the other side of the Yak. Fish boated, another man well happy.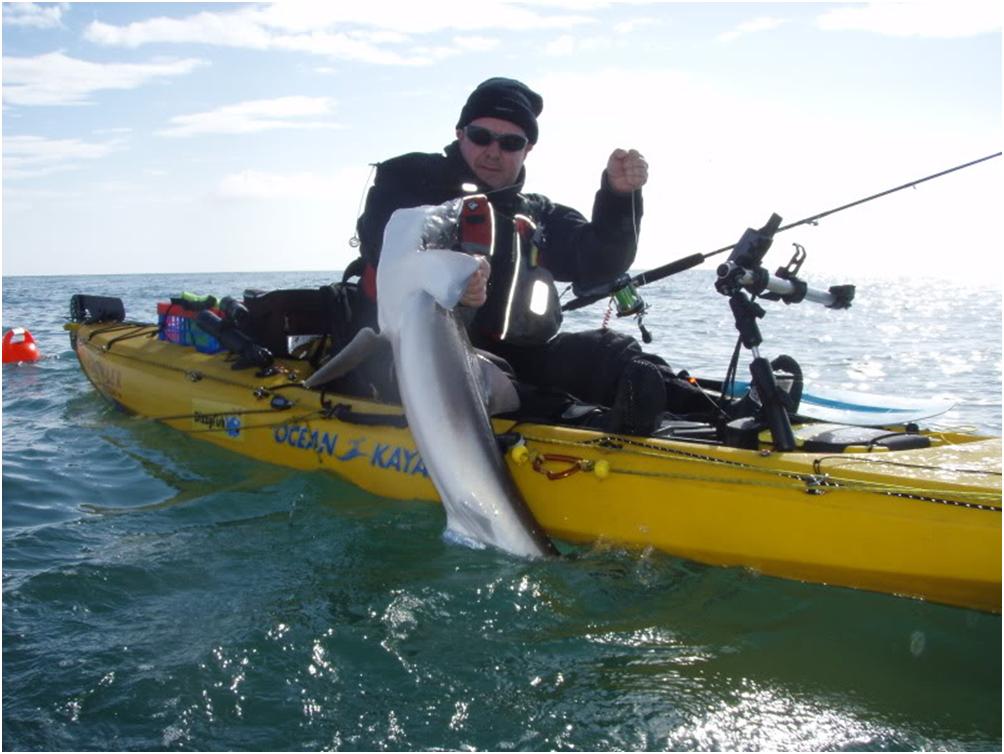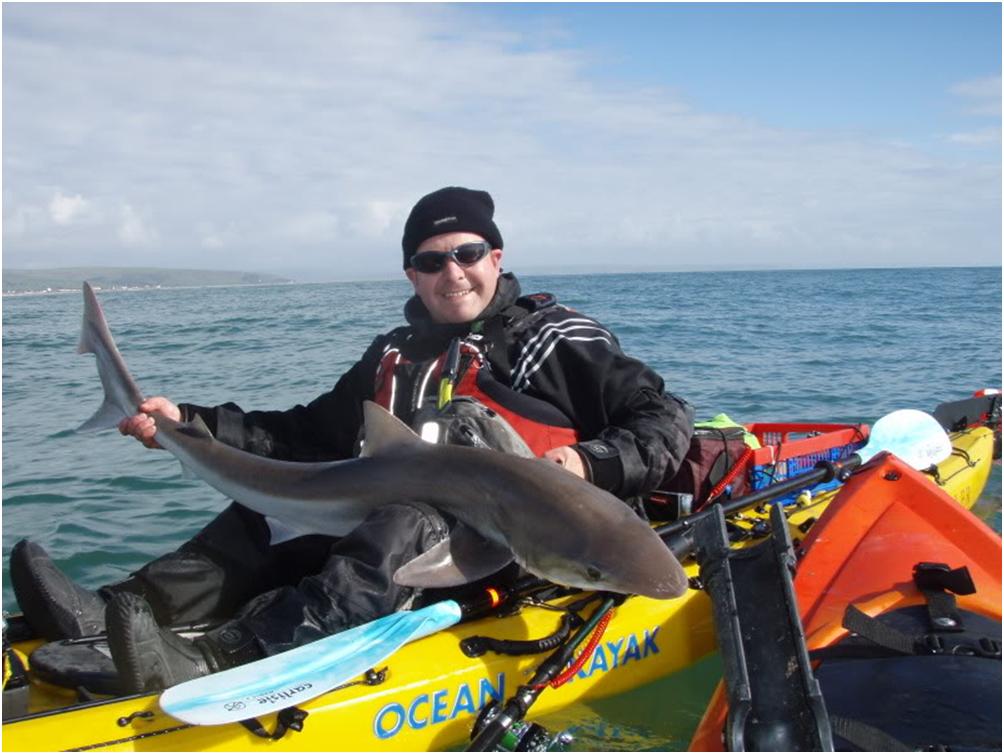 I think Adam had another as did Ian.
I was bothering the Huss and Doggies, 2 dropped runs that could have been a Huss or Tope, towards the end of the session finally hooked-up. A good scrap, did a circuit of the Yak, not of the same stamp as Adam's and Ian's, sub 20lb. Made a faff of getting hold and it spat the hook.
Became lumpy as a SW wind picked-up around 19:00, came in through a few white tops over the north end of the reef. Back at base, as we paddled in triumphantly, met MarcJ walking along the banks of the Dysynni with Stuart. Great, a bigger van to lounge about in, and later he cooked us food too!
A better night for all, despite the attentions of some yobbo's (bless 'em) beeping their horns, shouting, then wheel spinning up the road at 2:00AM.
Up at 8 for a full English, before heading out to another relatively calm day, not at all as expected. Stuart in first, approx. 400 yards downtide, he sounded pretty excited so we guessed it was a good fish. Then Ian kicked-off, closely followed by Adam. I stayed put unless anyone requested assistance. Bagged another big Huss, sure it was the same one from the previous day. Adam & Ian continued, while I watched, another 2 or 3 each again. Around midday the NW wind cut-in and started to build. After yet another Huss or Doggie, put on a whole big Mackerel. A typical Huss bite developed, tweaked it away and a big jerk back was followed by the line screaming off against the drag. About 75 yards away it breached the surface, "bloody hell, it's huge" Adam asked if I required assistance, "Oh yes, might be some time". Both hands on the rod, my poor old 6000C's drag jerked and jumped. After 10 minutes or so of runs, up and down tide, it was alongside on the surface.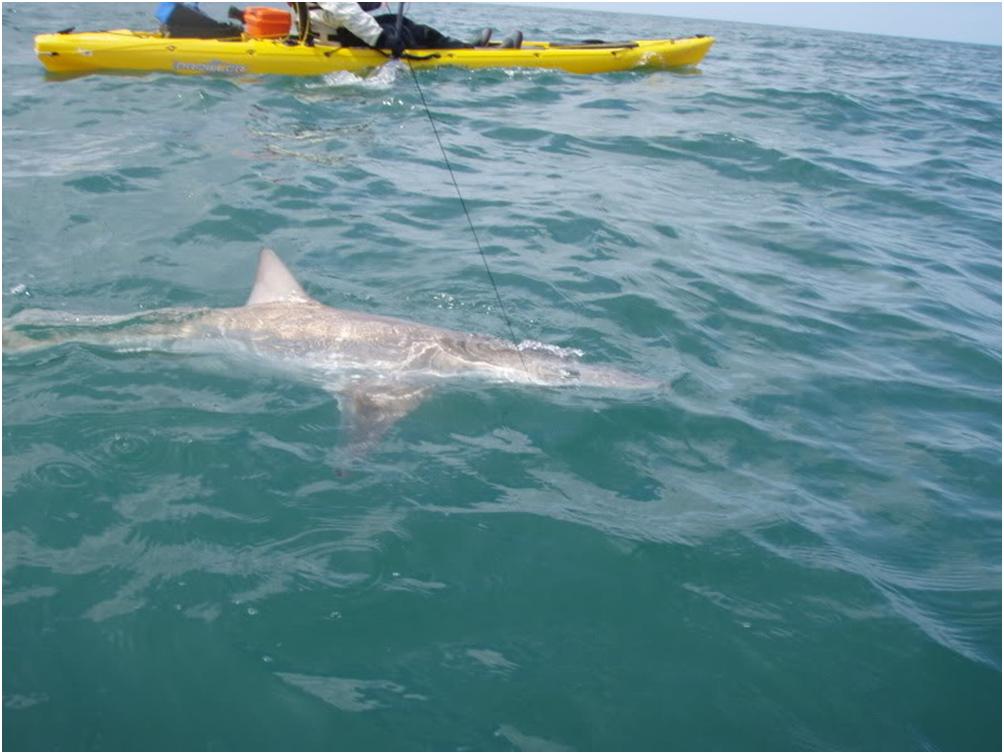 Certainly a big fish, Adam offered to raft-up, " you've got get that one in" he said.
First attempt didn't go well, needed both hands, Scupper visibly sinking under the weight

. Got the head on-board, so long couldn't hold it and remain upright, back in head first on the other side. Grabbed the rod and put the reel in gear, a lazy circuit of the Yak, it's tired. Second attempt, this time it's head ended up on Adams Yak, I had the body, while the tail dangled over the side. Difficult to photograph: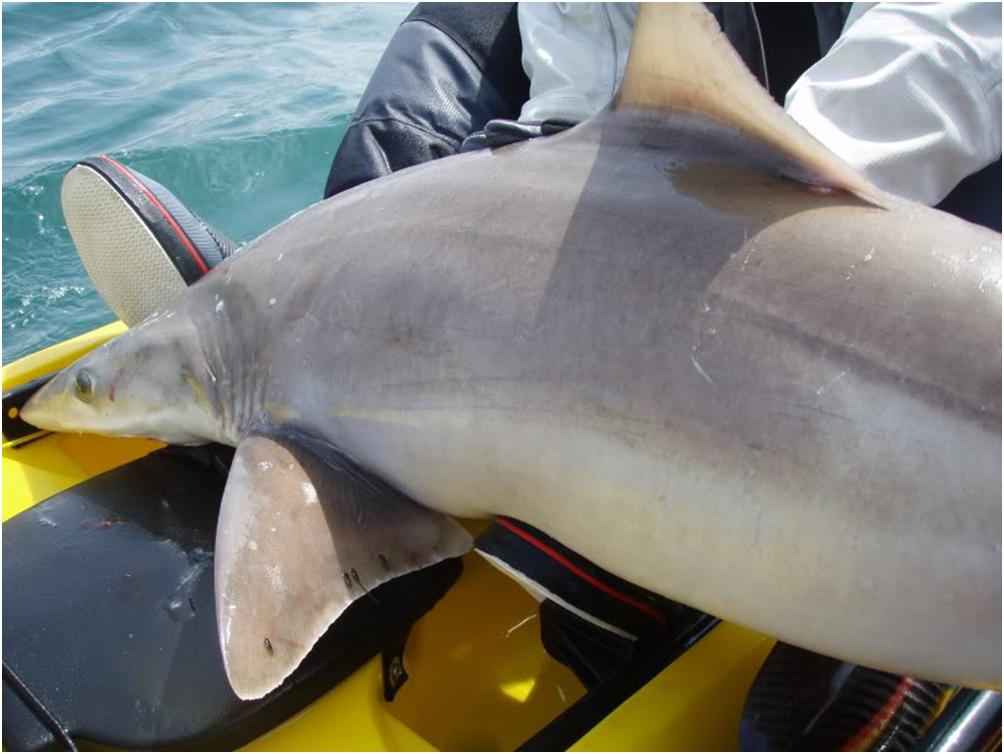 Adam unhooked it. No way was I going to lift this big old female, Adam took a few pics and it was slid back in.
NW wind slowly increasing, after two further runs both resulting in the line breaking very easily, decided to pack-up for the day. I'd up anchored and saw Ian appeared to be into another, he then radioed for help. We both paddled over, could see Ian hanging onto a tail, line wrapped all around the body. Stood by while he cut away the line. Another 20-25lber, we actually noticed it was a male.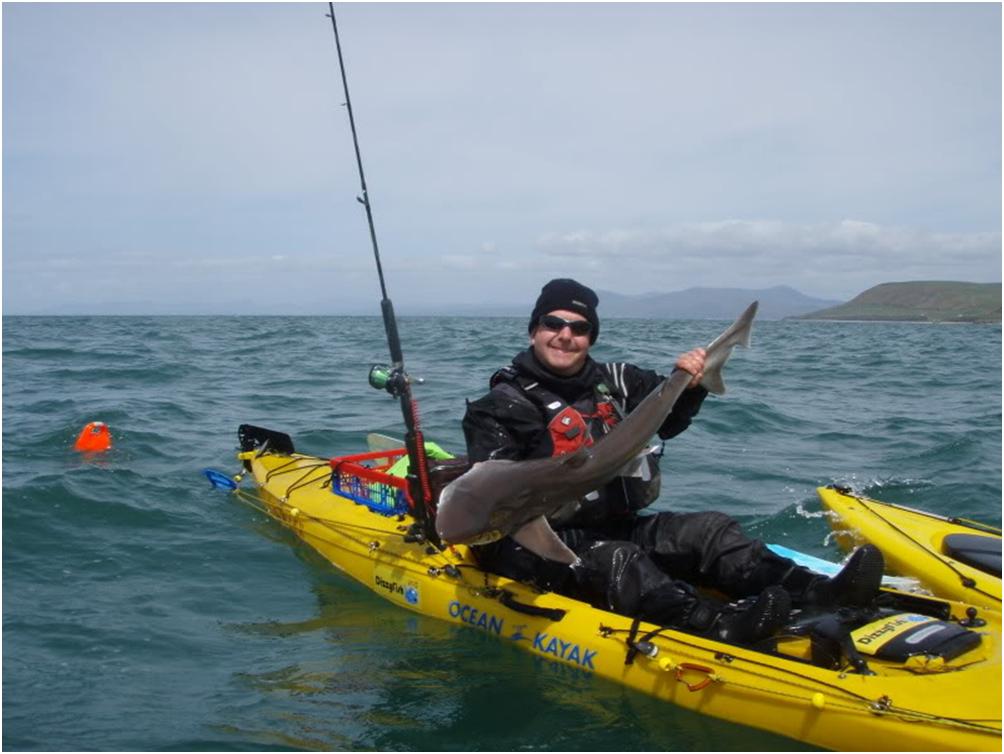 Said goodbye to Stuart and Marc, paddled back to land about an hour before LW, a long but happy pull up the river.
Thanks again to all for another amazing couple of days, I sometimes wonder if this Kayak fishing can get any better, …then it does.
Absolutely made-up for Adam and Ian, both catching their first big Tope in style, as for Adam, within seconds of the first drop, what can you say? It's Tywyn, where many a dream is realised.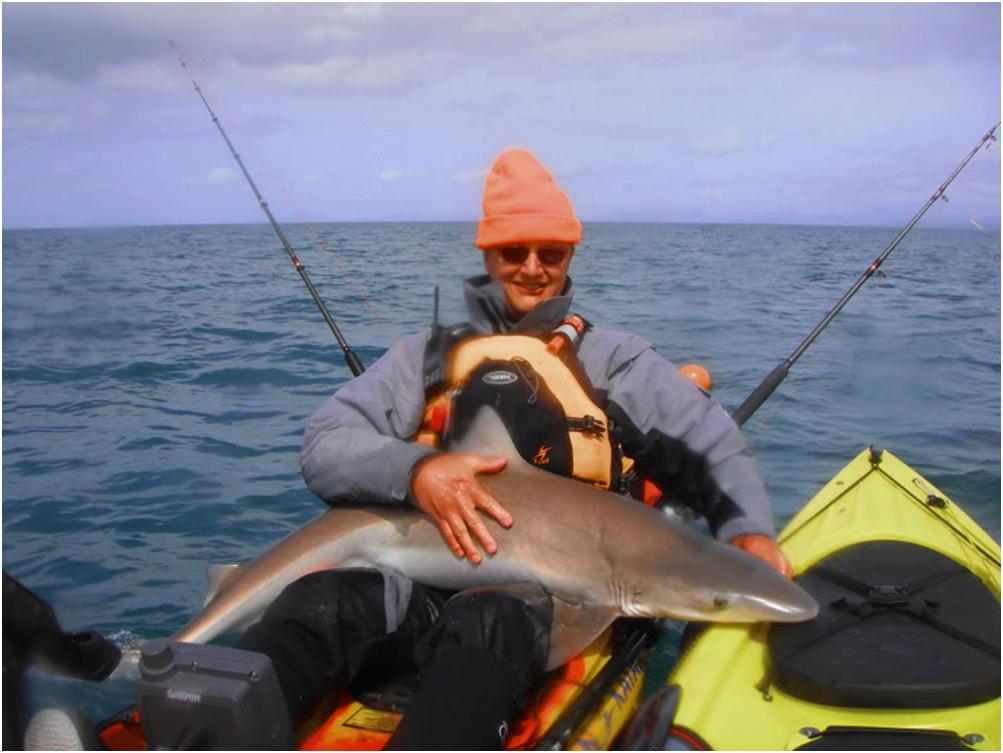 ==================================================

From me (Dizzyfish)…
A small Huss – James had one which could have eaten this tiddler for breakfast, and Adam was pulling them in one after another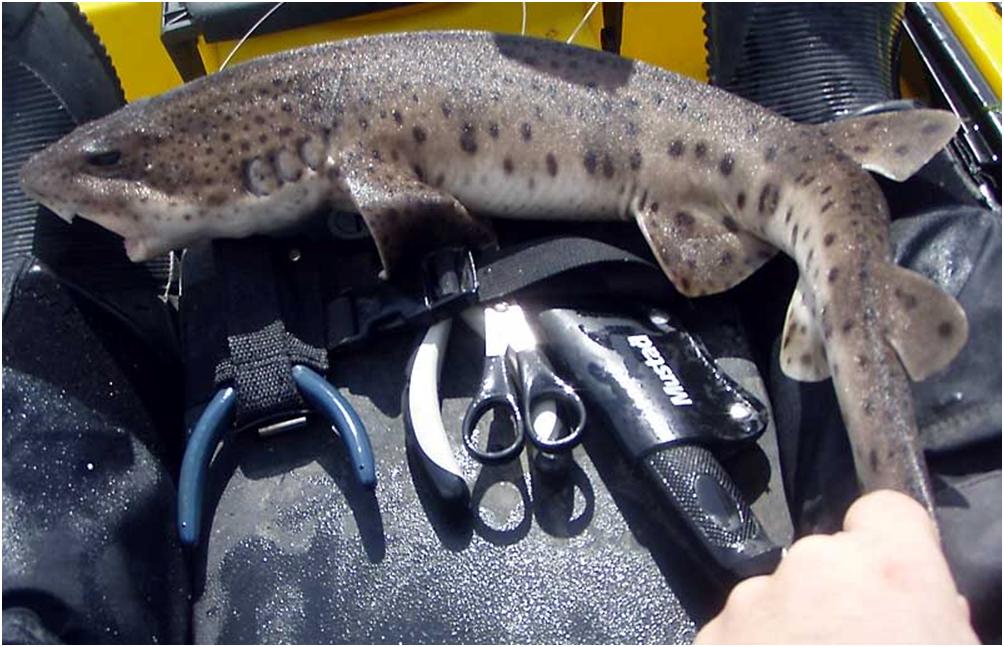 The smallest of the 3 tope I had, still had an impressive set of nashers…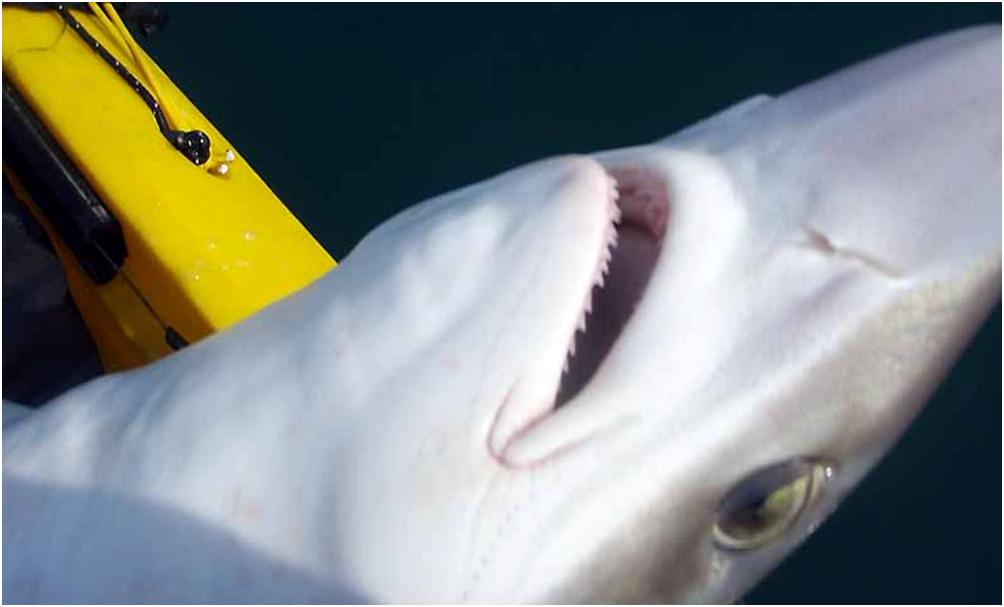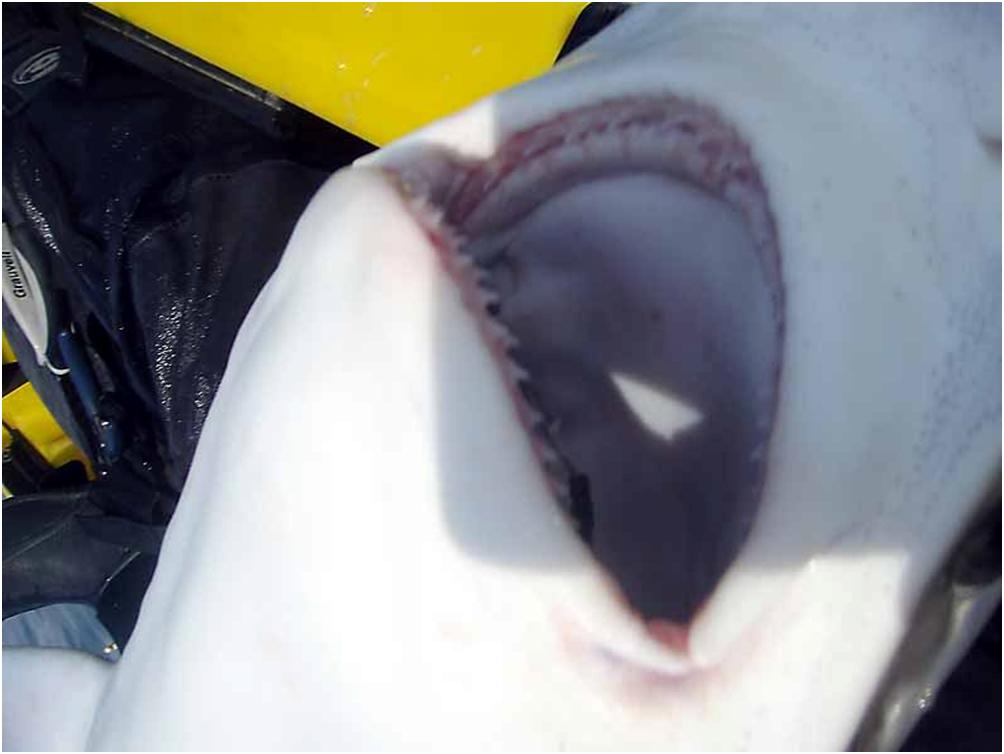 Some great pics of Adam with one of his tope…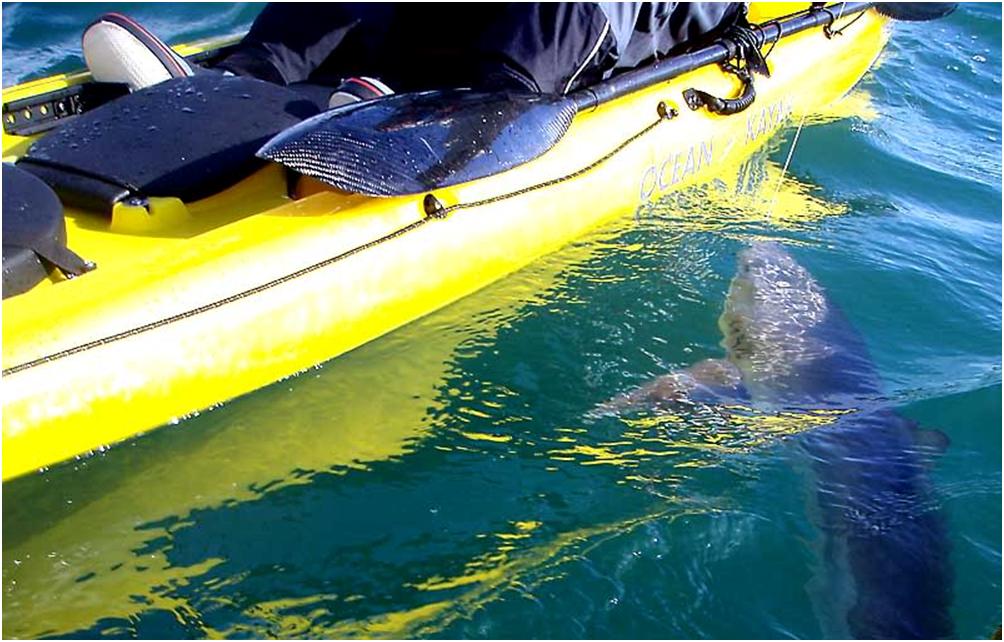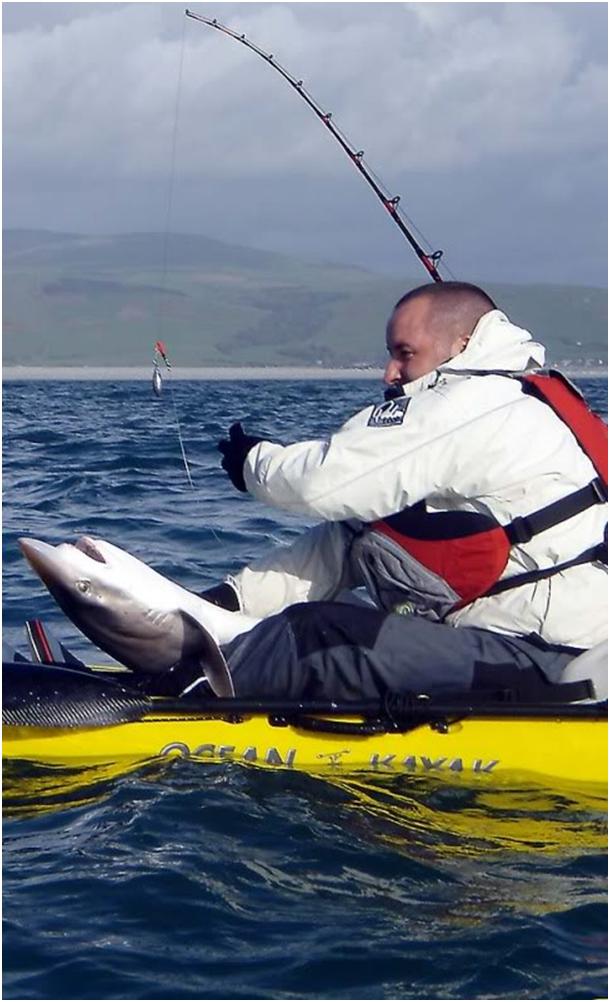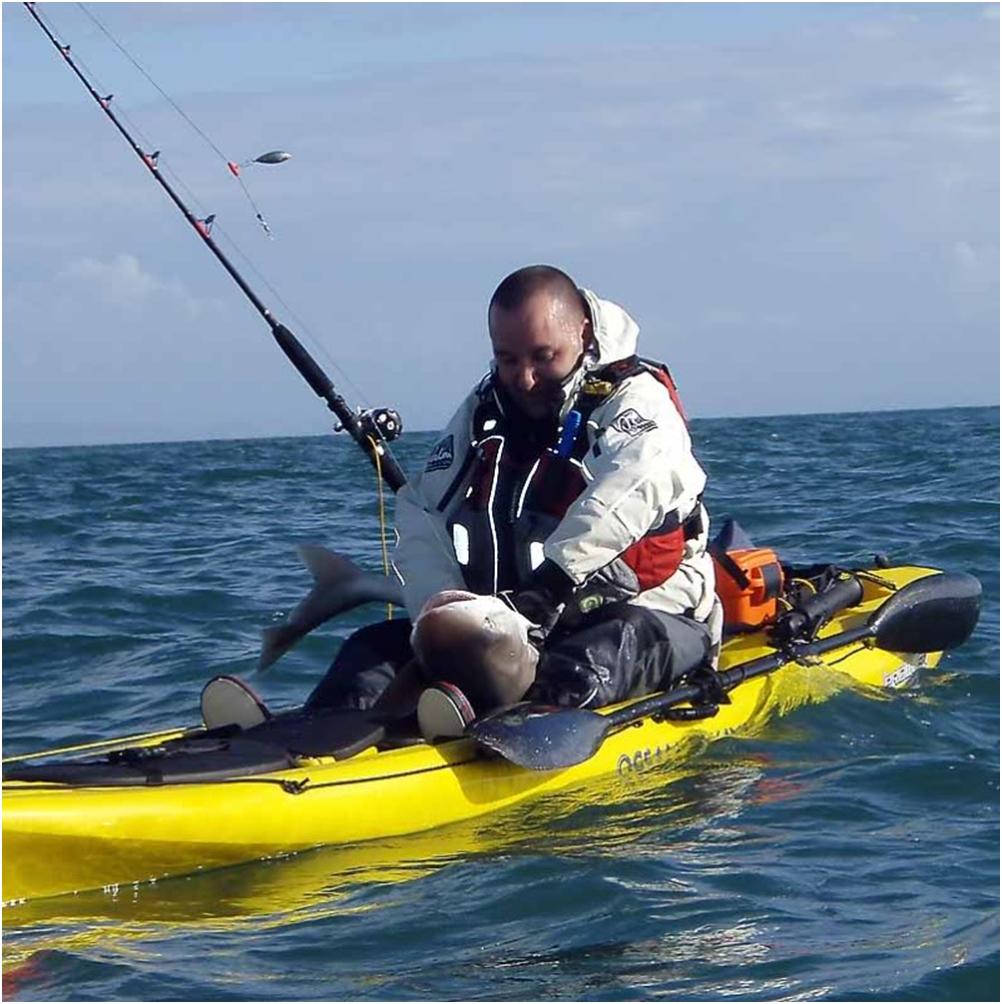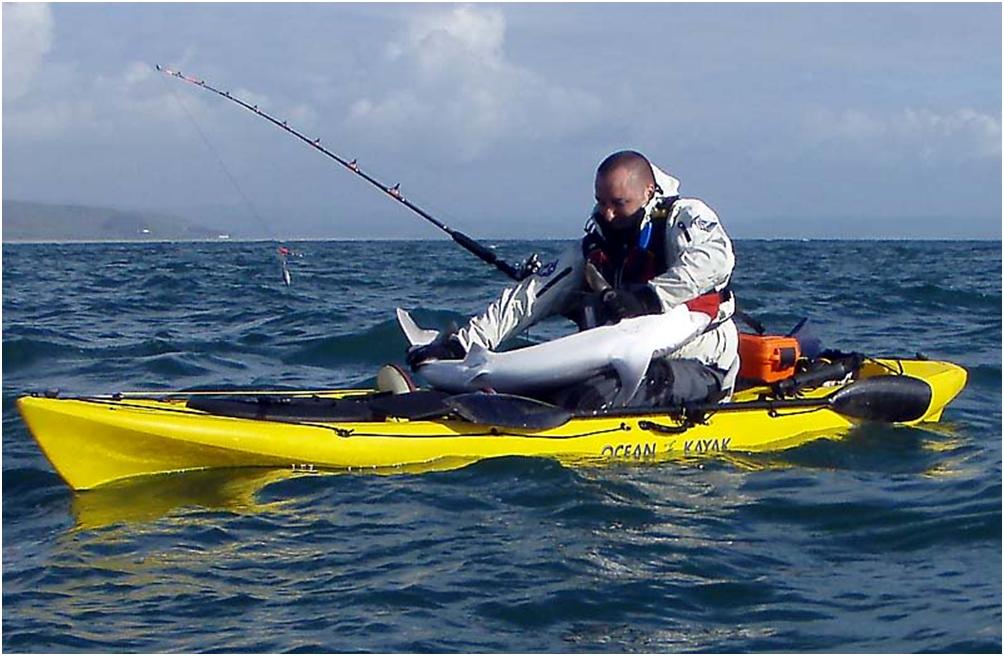 Ahhh, the money shots

…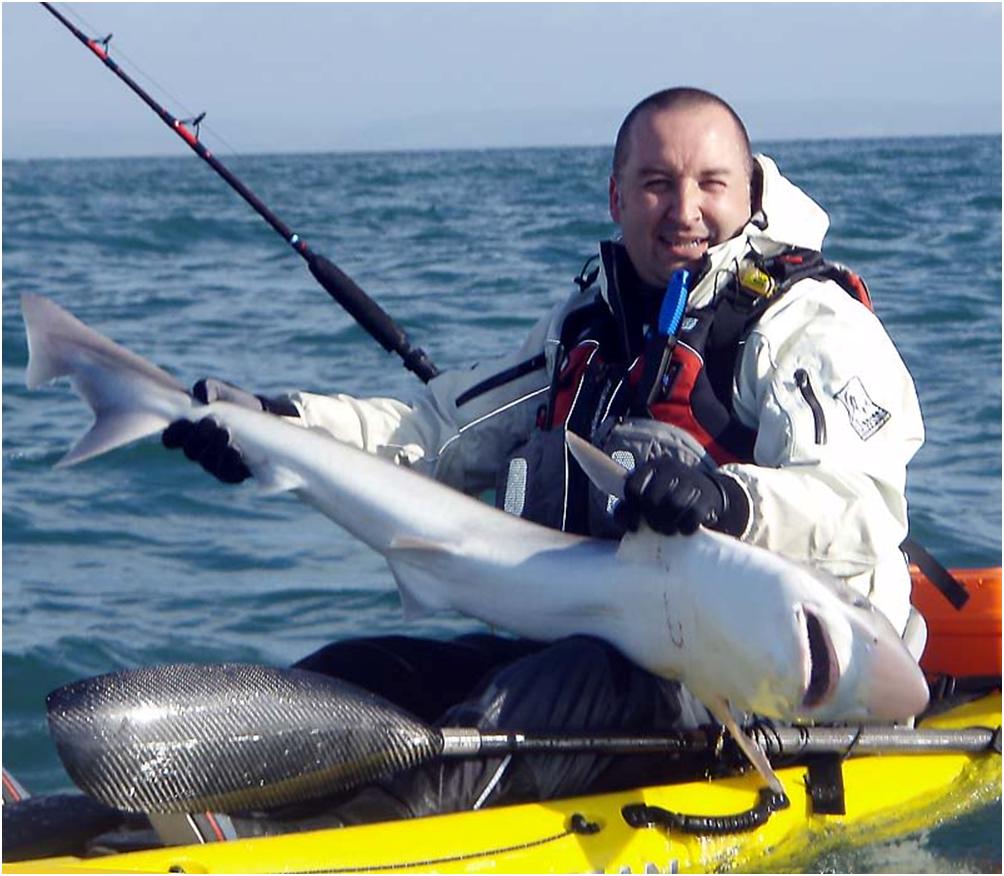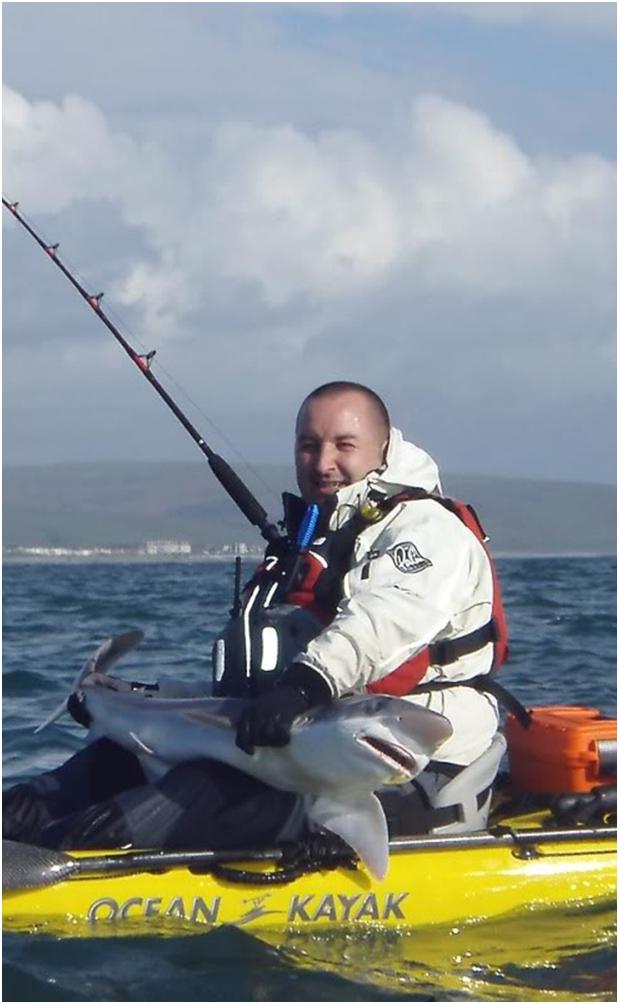 James; that tope you had looked like a monster

In great company…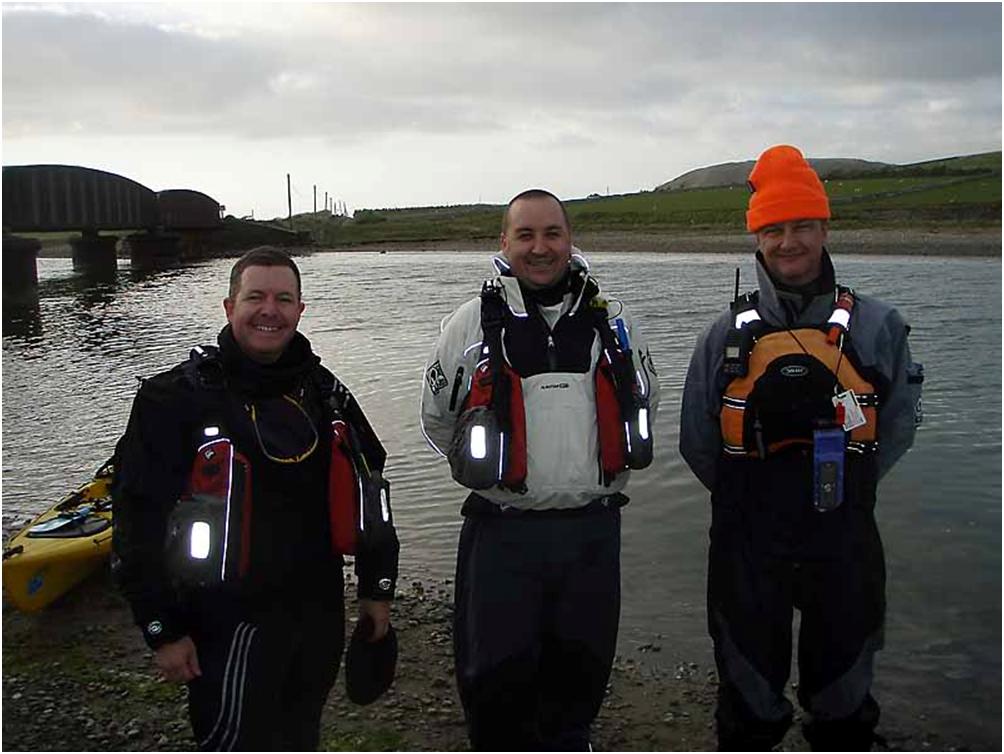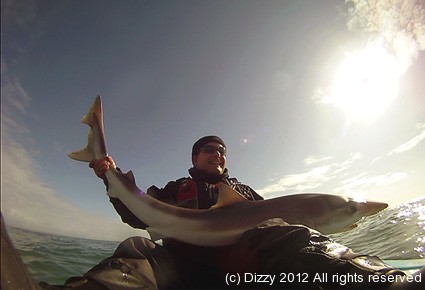 I created a video to capture the moment…
Category: Fishing Venues, Kayak Shark Fishing, Tywyn