Got down to Mudeford at about 9am on Fri with my son Connor. Not a great start – a stone (more like a small boulder

) hit the windscreen on the way down – looked like it had ben blasted by a shotgun !
Anyway – we met up with Richi and John and decided to take a paddle up towards Christchurch and try for some mullet – having spent an arm and a leg on a fishing permit – it seemed rude not to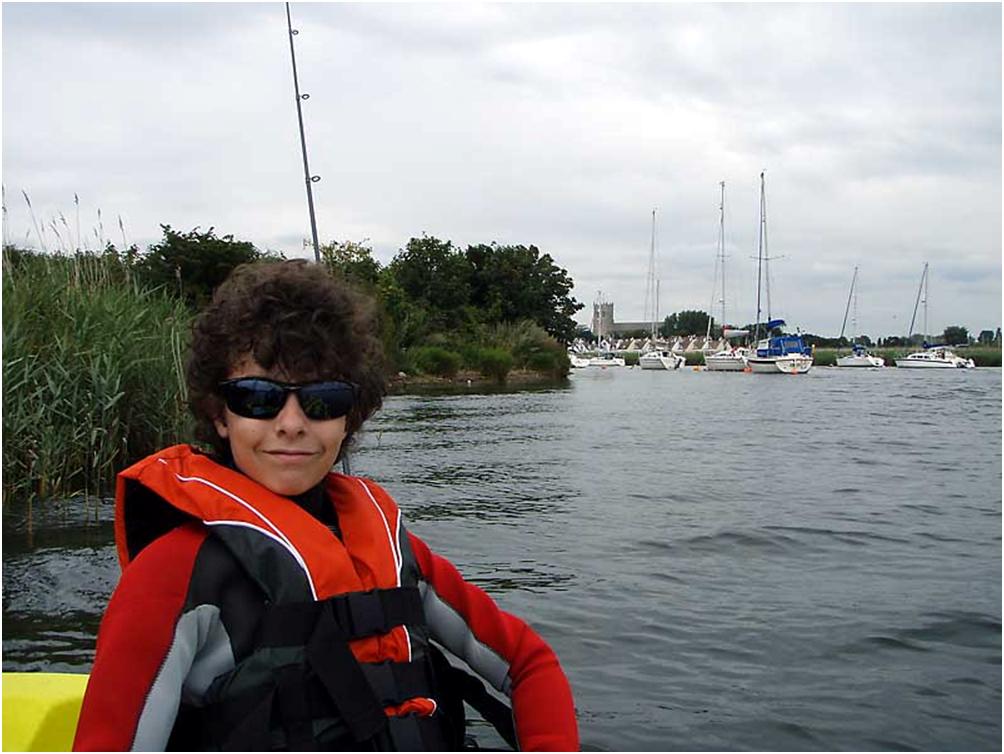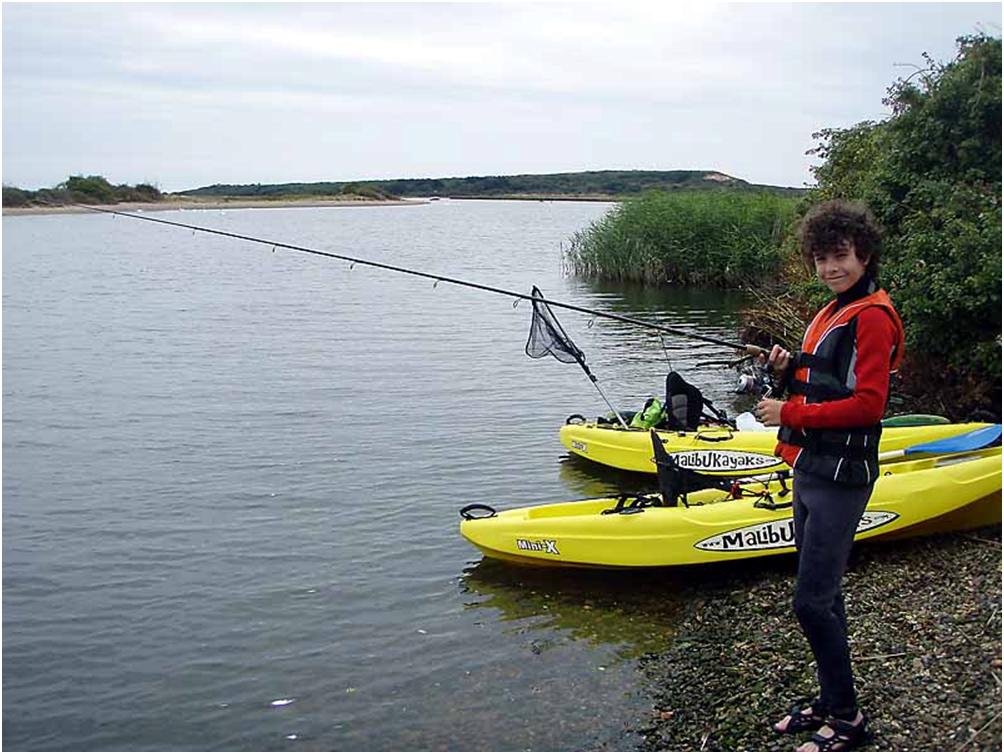 There were fish everywhere – mostly sea trout and mullet – jumping out – but not jumping on to our hooks – although we saw plenty following the baits in. A guy on the shore had a few – but we were starting to get frustrated with the lack of fish and never ending succession of pugwashes going up and down.
Then John turned up, with his sail and his new swish vid mount…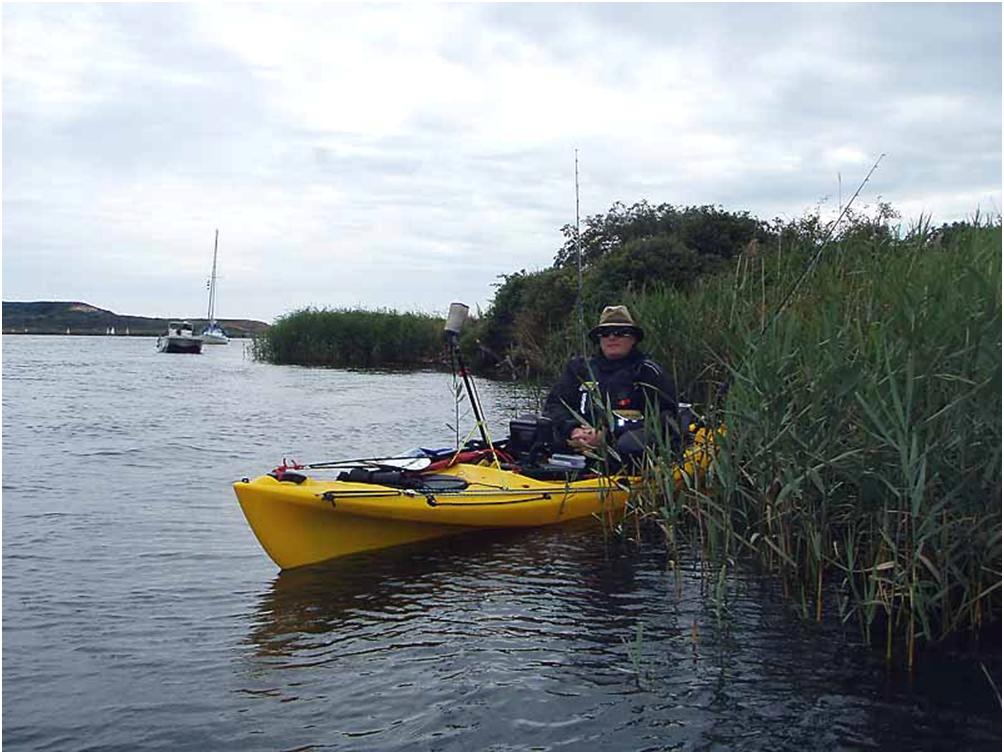 His appearance obviously switched the mullet into feeding mood, and soon we got what we came for…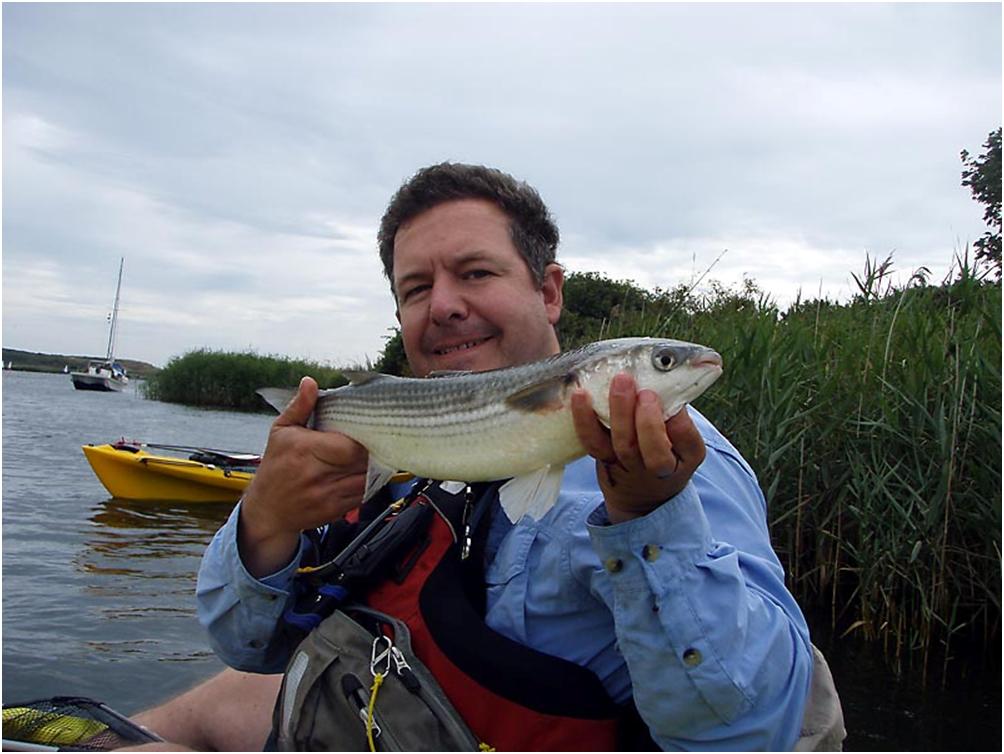 Great little scrap on a little spinning rod – that and Connor's constant "When are we going ?" were the sign to paddle back to the main event and meet up with the others…
Luckyrich was there, and everyone was having a good time trying out the kayaks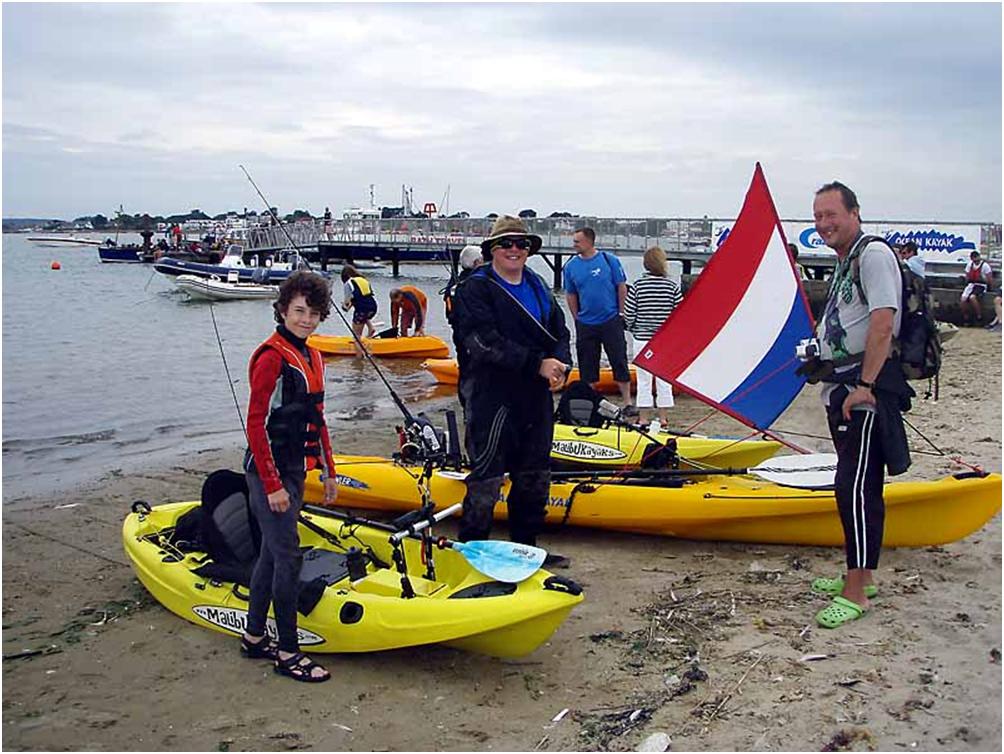 After stuffing our faces with sausage rolls and pasties it was time to call it a day.
Saturday started off a bit cloudy and drizzly – but spirits were high – it was great to see so many familiar faces in the car park – everyone was looking forward to the day ahead.
Mark and Richi towed a convoy of kayaks across the bay…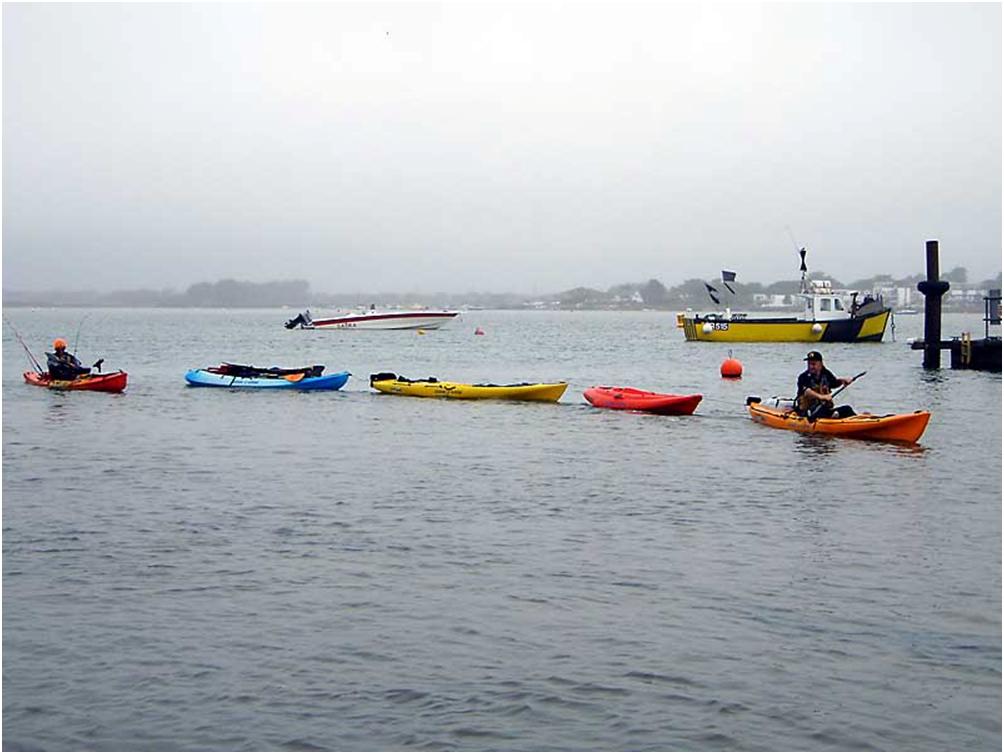 Connor had been badgering me to take him kayak fishing in the sea, so I duely obliged.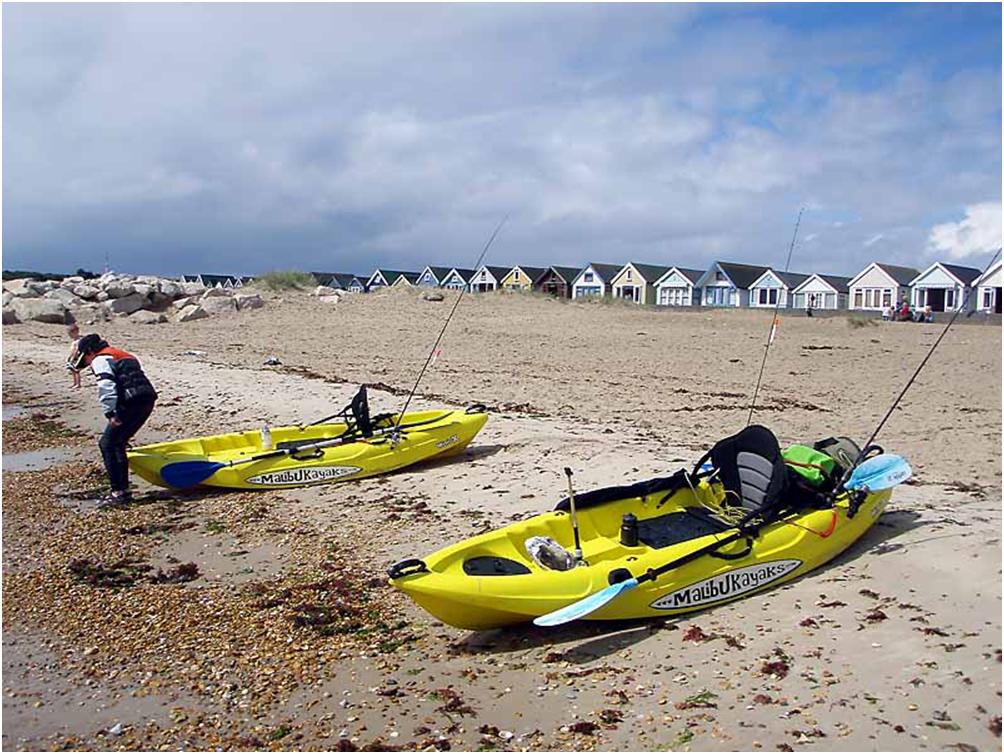 We paddled out to the marker post at the end of Clarendon rocks with a pile of stinking groundbait. Connor has not caught a fish from the sea in his kayak, so I was hoping that this would do the trick and maybe he would get a garfish or two. Well he hooked a garfish (which came off – as they often do) – but then I started to get bites deeper down on the float. It turned out they were bream – the groundbait must have attracted them – and Connor broke his duck in style…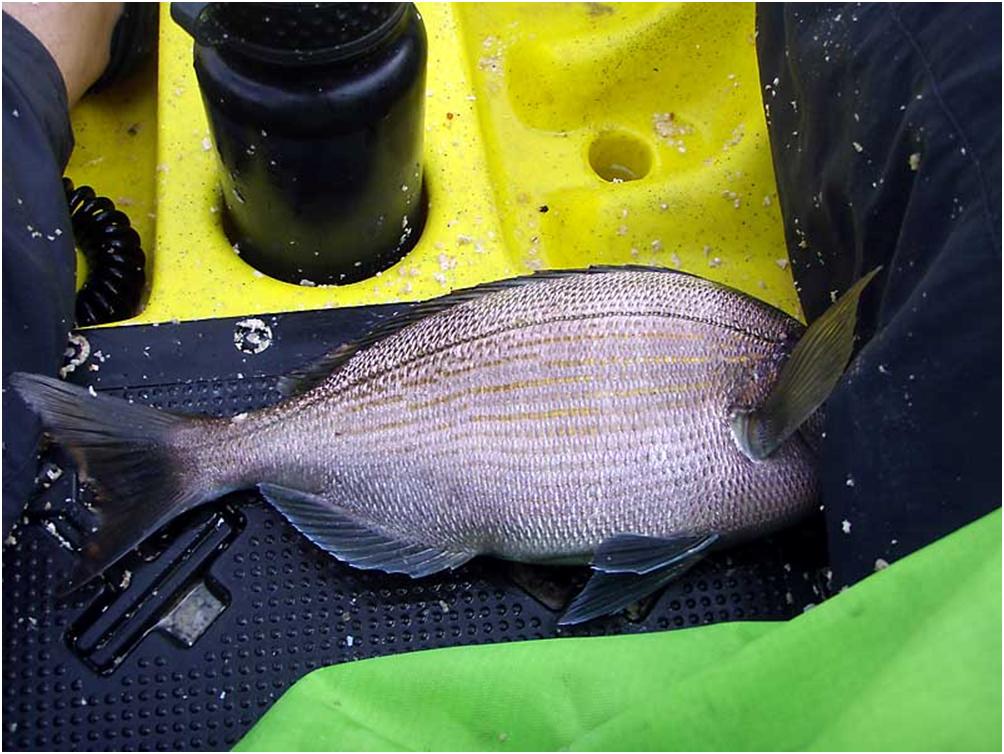 I got the whole thing on video – but my PC has broken and I am using a laptop which refuses to play ball with viedo – so will have to wait for that.
Anyhow – the lad was over the moon – then, just as we were coming back in, everyone else was going back out….. for the mackerel competition – I quickly rigged up some feathers and ventured out (if you look carefully you can see John bobbing around

)…

It was great fun – but I knew it was not going to be when as I was still paddling out, Simon was going back in with his winning mackerel

Then back to the harbour and the breeze had picked up, so I rigged up the wind paddle on Connor's mini-X – he coped with it really well, and zipped back to shore, leaving me behind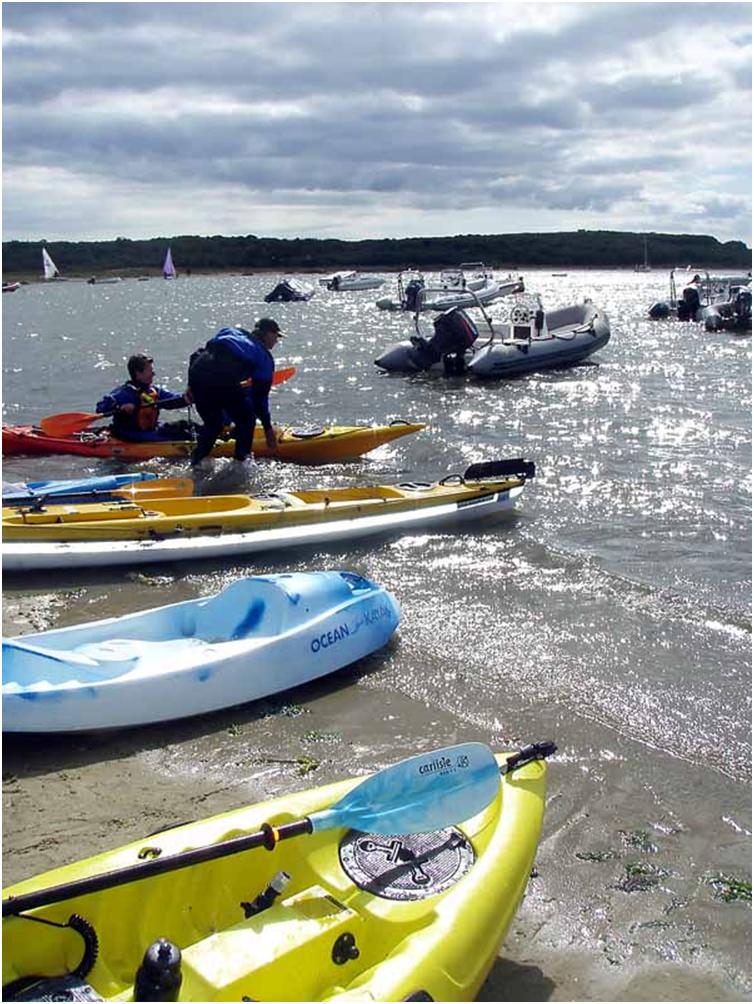 It was the perfect end to a perfect couple of days for me and Connor – great to meet everyone and see you all again soon I hope.
Category: Fishing Venues, Kayak Fishing, Mudeford