The exotic Gilthead bream is an occasional visitor to the shores of the United Kingdom. The golden gilted fish are sometimes seen on the fishmonger's slab, after being imported from Spain, where the fish are farmed. There are a small number of places where it is sometimes possible to catch these rare fish, and it has been my long term goal to try to catch one from this country. Over the years, it has turned into a bit of an obsession, which has seen me travel all over the place – this year, I was more determined than ever to catch one.
The other fish I have been chasing for a while, is the brightly coloured cuckoo wrasse, these fish are not big and not difficult to catch, but their lack of size is more than made up by the incredible vibrant colours – easily the most amazing looking fish in the UK.
First the Gilthead bream. The forecast was really not looking good. I had three choices 1. Stay at home, 2. Travel down at a reasonable hour the next day or 3. Leave at 1am with no sleep, drive down and launch before it got light. What to do ? Well, such is my obsession with this fish, that it had to be option 3 (the 'doomsday' option). It seemed like a good idea at the time, but after zero sleep and a long drive, I was starting to question my sanity. One thing was good – the weather forecast was completely wrong. As I got out of the car at my launch spot, I was greeted by a chilly 1.5 degrees – but no wind. It was still dark, and the moon was bright. Absolute silence was broken only by the occasional hoot of an owl. Perfect.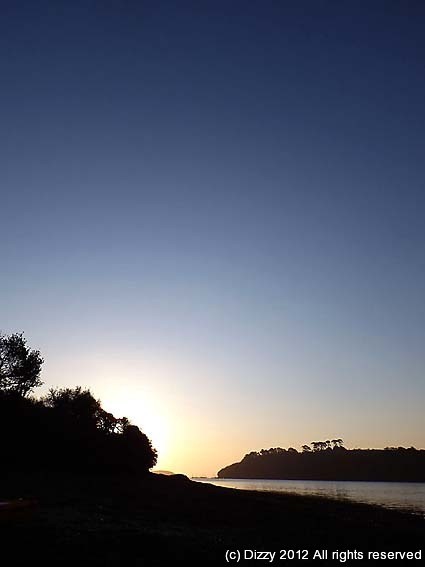 I had decided to leave the Trident 15 at home and take the Mini-X instead. Smaller, lighter, more manoevrable and more suited to this style of fishing. The downside was the lack of space for all the gear – it was going to get cramped.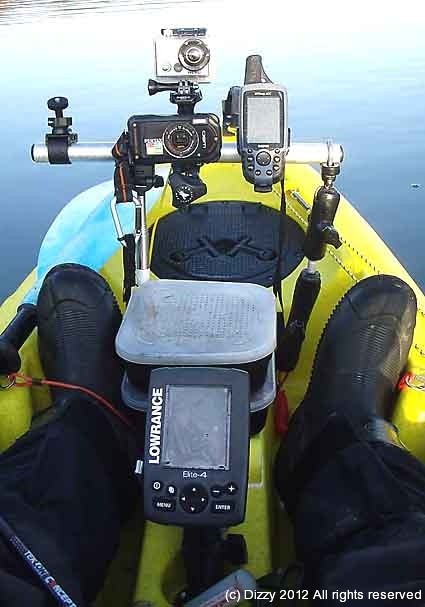 I launched into the calm waters of the estuary, the sun was just coming up and the moon was still visible. A thin vale of mist over the water made for a stunning paddle to my chosen mark. Occasional splashes from unseen fish pierced the chilly morning air – this was a day to be afloat. I paddled round in circles for a couple of minutes before attaching the kayak to a handy mooring bouy.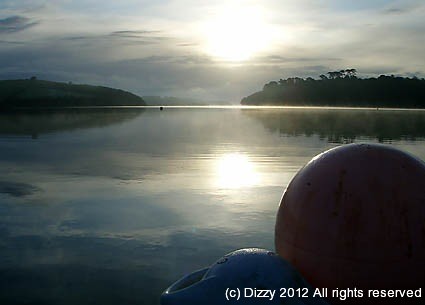 I was using 2 rods. A Teklon Concept 702 ML teamed with a Rovex Ceretec 4000 fixed spool reel and a 7 foot Savage Gear Bushwhacker (rated 10-30g) paired with a Shimano Stradic 4000 GTM. I was using braid on both reels and a short flourocarbon leader. One rod was baited with lugworm, the other with peeler crab.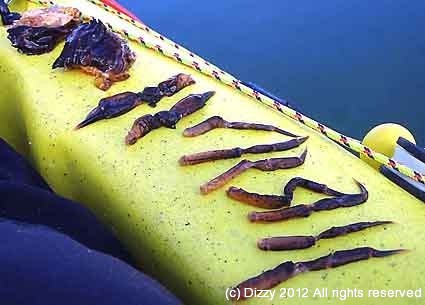 Both rods were cast out and left to fish. After what seemed like an age, I had a bite on the Teklon (baited with peeler) – it was the tell tale rattle of a school bass, which was duely released. Then it went quiet. A couple of hours later, I saw two fellow kayak fishermen, who came over and introduced themselves – it was great to have a chat and ask if I was in the right place.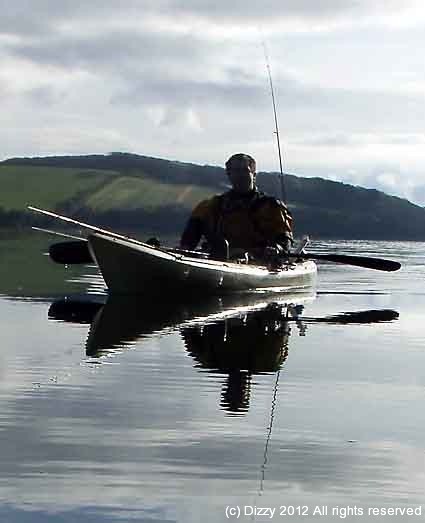 My newly found friends paddled off in search of a suitable spot.
After several more hours with only another bass to show for my efforts, it was time to call it a day. The paddle back to the launch spot was a pleasure. And so ended the first day.
The next day dawned with what felt like a lie-in for me – a mere 5am start. Back to try again for those elusive Gilthead bream. The weather was good, but a raw northerly wind was cutting through and my hands were starting to freeze despite the bright sun. I employed the same tactics as the day before. After a couple of hours without a bite, it was time to change things. I always try to make a change of some description if nothing is happening. I swapped the 1/0 varivas big mouth hooks for some smaller size 1 Kamasan B940s hooks and cast out again. A couple of minutes later, the Teklon (which was resting on the buzz bar) gave a couple of twitches, then a split second later, the rod buckled over and wedged itself into one of the camera mounts. I managed to pick it up and strike at the same time and was met with solid resistance – this was no bass. An unseen foe was powering away at a rate of knots and was intent on taking the rod and me with it ! I managed to gain some line, but in an attempt to put a bit of pressure on the fish, the hook pulled. Damn (or words to that effect !). I was convinced that it was a gilthead bream. I quickly baited up and cast out again. Two minutes later, a repeat performance. This time, I was ready. I had slackened the clutch off slightly on the Rovex. The bite, if you can call it that, almost pulled the leashed rod into the water. I struck, though I suspectthat the fish was already hooked. It powered off as before, with the clutch on the reel singing as the braid peeled off the spool. After a couple of minutes of heartstopping madness, I caught a glimpse of the silver flanks and then a flash of gold – YES, it was the prize I had been trying so long to catch – a gilthead bream. I was trying to stay calm, the fish had no such intention, and continued to dash around like a drug fuelled sprinter. Finally, I got the fish close enough to net it. SUCCESS – it was mine. And what a fish…
Well worth the wait. The gold crest on its forehead was glinting in the sun as I took some pictures.
But the most surprising thing was its teeth, if you can call them that. You really would not want to put your fingers in there…
What a set of nashers – and maybe the reason why I lost the first fish – very difficult to get a hook hold in there.
My mind was filled with a mixture of excitement and relief that my 4 year quest to catch a gilthead bream on the kayak was over. This fishing is the realm of the kayak. To me it is what kayak fishing is all about. These spots are difficult to fish from the shore and difficult to get to by boat. I smiled as I released the fish at the side of the kayak and watched it swim away. I was on a high…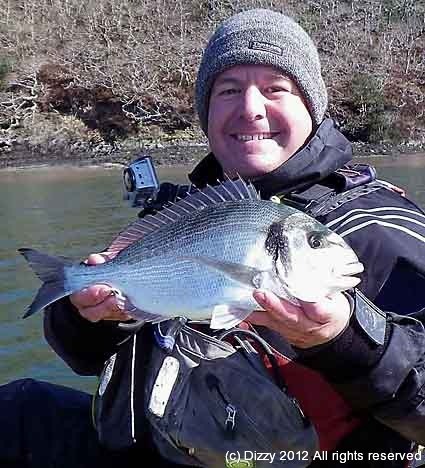 Now it was time to have a crack at those pesky cuckoo wrasse. The pressure was off now I had bagged the Gilthead. This was about enjoyment and relaxation.
The conditions could not have been better as we drove down the twisting road towards our launch. The sea was calmly lapping at the edge of the shingle beach as we pushed the kayaks out. After a short paddle we arrived at our chosen destination. The water was over 80 feet deep. We were going to be drifting over mixed ground. I say drift, there was no need for the drogues, because it was only a small tide and there was little or no wind.
The Lowrance Elite 4 fish finder was not showing any fish shoals which was a bit odd given the conditions. I had two rods set up. The Bushwhacker was set up for plugging with a Maria Chase. The 2 piece Cono-flex QT kayak rod was going to be my weapon of choice for the cuckoo wrasse. I was using a Shimano Calcutta 400 baitcaster loaded with 12lb mono attached to some baited feathers with a 3oz. weight. This was lowered to the sea bed and then the drifts commenced.
My good friend and local guide was the first to score. He had paddled out a bit further, and I suddenly thought I hear a bird singing. There it was again, I definitely heard it. Then the penny dropped… it was my partner in crime making cuckoo noises on the VHF. What the local charter fishermen must have thought when they heard that, I don't know ! I paddled over and admired the colours of the fish. Now it was time to get one for myself.
I paddled up tide and started my drift. Two sets of tackle were lost before I finally got the tap, tap, tapping of a fish on the end of the line. I reeled in, and the bright colours of a cuckoo wrasse could easily be seen in the clear water – amazing. I took some photos…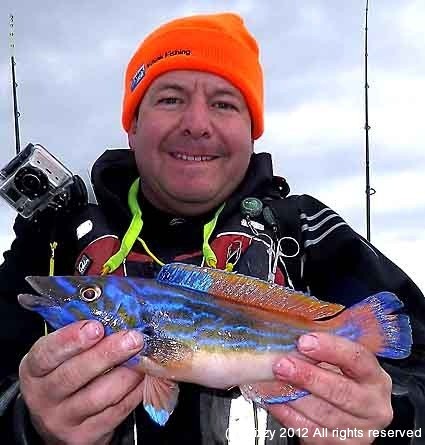 I had several more fish over the following drifts. Each one had subtley different markings – all of them beautiful…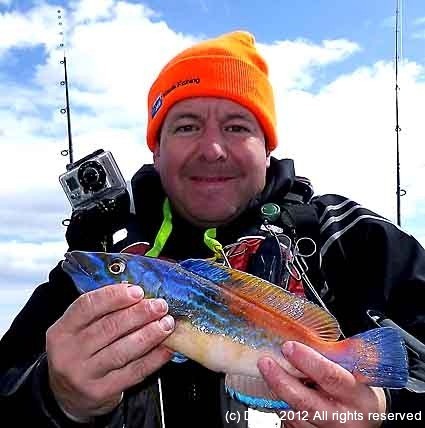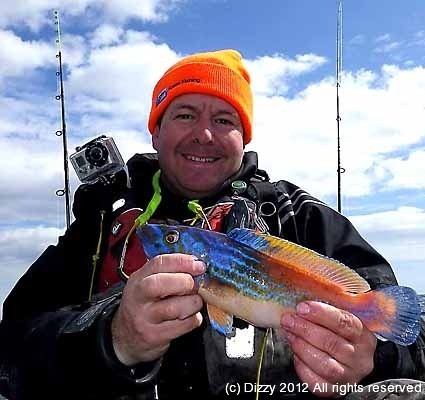 I couldn't resist taking some close-ups of these amazing creatures before they were safely released…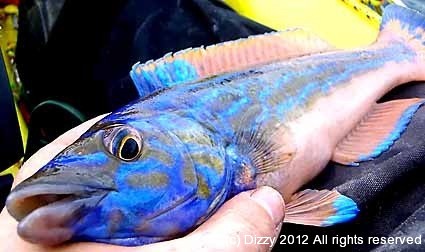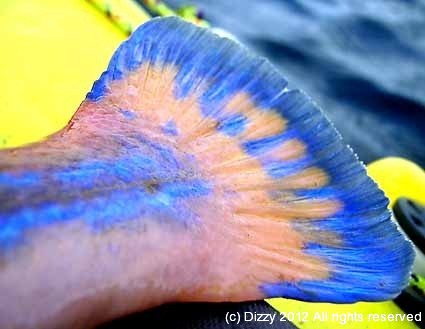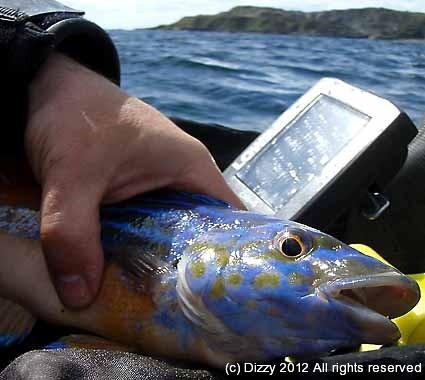 A great end to an amazing weekend. I think we are all used to seeing those great BBC wildlife programs where they go to the four corners of the earth to film marine life. I am sure if people in the UK realised the sorts of fish which were swimming around our shores, they would be blown away.
I have put together a video short, under 2 mins, so I hope you will check it out – it will give you a flavour of how brightly coloured the cuckoo wrasse are…
Probably one of the best weekend's kayak fishing I have ever experienced – and there have been some good ones over the years. I must say thanks to everyone who has given me advice. And a special thank you must go out to two people in particular, who helped make my trip possible and ended my 4 year obsession – you know who you are !
Category: Devon/Cornwall, Fishing, Fishing Venues, Kayak Fishing