It was a really bad start to the weekend… Connor's 6 year old guinea pig, Reggie had to be put down, my cousin'e father-in-law passed away, and a good friend had just been diagnosed with a serious illness (Hope all goes well James, if you are reading this). So, actually, I really didn't feel like going fishing at all. Especially as it meant a 5.30am start.
But life goes on, and I was due to meet up with Adam and Dave at Lynmouth – so I couldn't say 'no' and miss out on all of the kayak fishing fun.
The weather was perfect; and you can see why they call Lynmouth, UKs little Switzerland…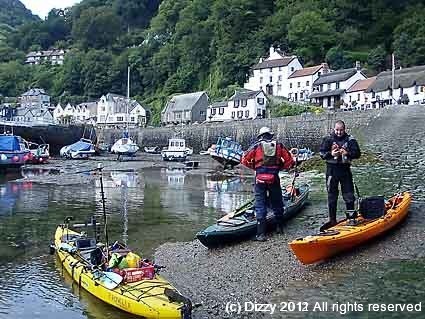 The Trident 15 was in full fat mode – 4 HD cams, GPS, Humminbird 987 Side Imaging fishfinder, and a new rod to christen (more of that later !)…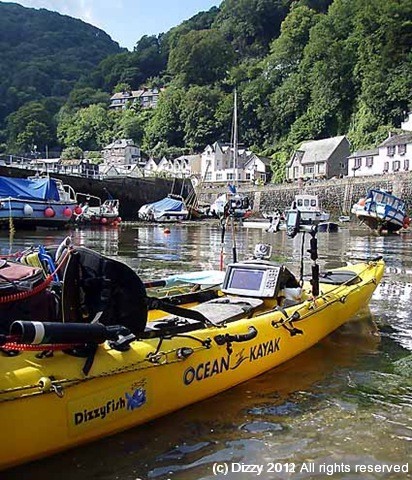 The water was really clear, most of the sea bed around Lynmouth is flat sand, but there are a few sand bars and some areas of sand ridges, as picked up by the side imaging…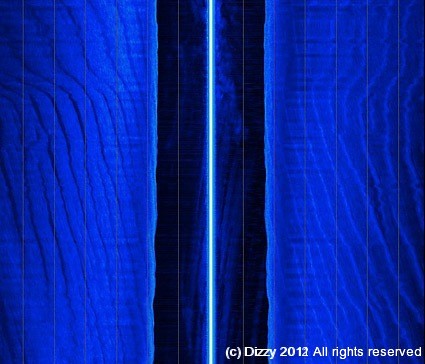 Adam and Dave paddled over to a charter boat which was fishing very close inshore. They had not caught much (which did not bode well for our trip).
Soon we were all fishing, and into the usual stream of hungry dogfish which snaffled the baits almost as soon as they reached the bottom. I tried to avoid this by using big baits and big hooks on wire traces (there is always the chance of a tope at Lynmouth).
After a couple of hours, Adam and Dave decided to up-anchor and move further out to one of the sandbanks. I stayed put, hoping ebbing tide would bring me some decent fish.
What little breeze there was, pushed the kayak across the tide, so I deployed the drogue to bring me back in line – more dogfish followed… some of the launce and mackerel baits were almost as big as the dogfish themselves.
Then the radio crackled into life – it was Dave, and he was into a spotted ray, then minutes later, Adam had a small eyed ray, then it just went mad…
Dave had a spotted ray, a gurnard, a small eyed ray, 2 bass then a decent blonde ray…. I decided a move was in order – and started to paddle over towards them !
After a couple of minutes, the replica of John Cabot's Matthew crossed my path; an amazing sight in the sun and blue skies…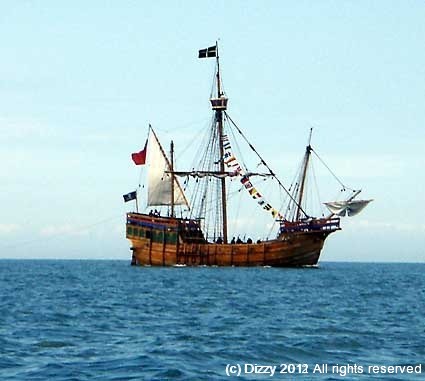 As I got closer to Adam and Dave it was clear that the tide as increased massively – it was really pushing through, and you could clearly see the edges of the sand banks marked by the turbulent tide as it passed over them.
My first attempt at deploying the anchor failed, after a long paddle to retrieve and reposition, the second attempt also failed, and I managed to snag Dave's anchor line at the same time (Sorry Dave !). The anchor was just not biting, despite letting out loads of line. My third attempt also failed, and I was still drifting. By this time, I was absolutely knackered, my arms and shoulders were burning from pulling in the anchor warp and the continual paddling against the strong tide. To add insult to injury, Dave was still pulling in fish left, right and centre. I did manage to paddle over and take some pictures and video of him boating another blonde ray…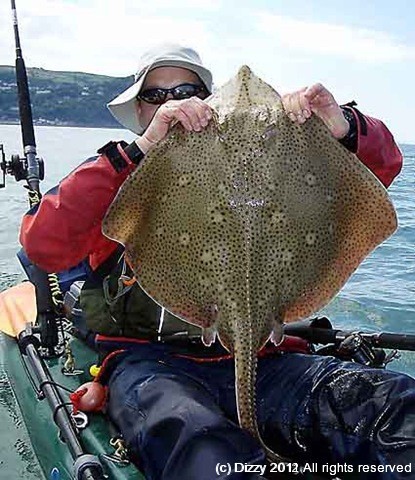 At this point, I decided that enough was enough – I was in two minds whether to even carry on fishing, but Adam persuaded me to paddle back to shore and take a break. What a star – he even followed me back in to check I was OK (I think he could see the steam/sweat coming out of my dry suit seals !). The beach landing was interesting but uneventful.
I decided to have some food and drink and stretch my legs – there was one bloke at the far end of the beach – and a sign at the top of the beach. I walked up the beach to see what it said…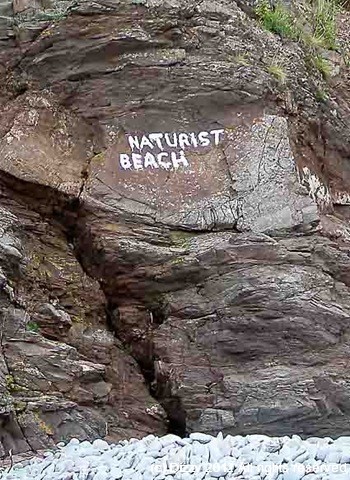 Time to leave is what it said – didn't wait around to see if the bloke was fully clothed !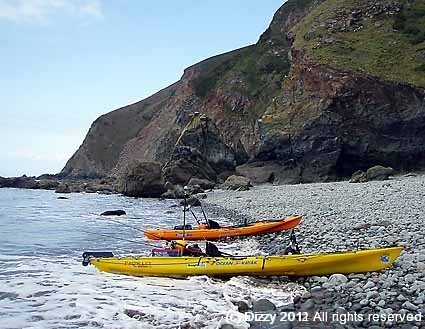 Before leaving, Adam suggested that the bridle on my anchor was not working and the anchor was being dragged backwards – so we came up with a DIY solution. Adam gave me some cable ties, and I fixed the chain to the bridle to stop it sliding – it worked a treat as you will see…
In our haste to leave, Adam lost a glove, just as I was about to enter the surf… I looked around, and in that split second, a large wave caught the kayak and knocked me sideways. I managed to hold the kayak steady and we both waited until a set of 4 or 5 waves (which had appeared out of nowhere) had gone.
I paddled back out to my original spot, and shortly afterwards, Adam and Dave came over to say they were leaving (I felt bad, because Adam had lost his anchor – the tide had pulled it under). We said our goodbyes and I decided to stick it out a bit longer, as I had lots of bait left, and really wanted to get into some decent fish (although it would have been much easier just to call it a day and go to the chippy !).
Next cast, I managed to pull in a hermit crab…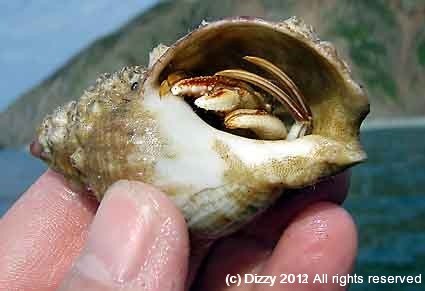 then 2 dolphins/porpoises came by (very close) – unfortunately, they were too far away by the time I got the camera out – but a beautiful sight none the less. I had noticed that there were lots of fry jumping out in the tide, and I had brought some old sandeels and bluefish in a bucket which I mashed up and threw into the strong tide – the oil from the fish was causing a bit of a slick on the water, and I decided to keep my feet firmly in the kayak !
Then my new Maxximus solid carbon rod hooped over and line started pouring off the spool of the Abu 7000 reel – the ratchet was singing… that has to be one of the best noises there is ! Tope I was thinking – my second thought was – "How the hell am I going to get this in ?" – especially as Dave and Adam were no longer around.
The fish was moving very fast and keeping deep, cutting across the tide, luckily I managed to steer it away from the other line, but I had to slacken off the clutch as it made several boring runs across the tide in front of the kayak. After a few minutes, the fish tired, and unusually, started to move up in the water quite quickly…
It was then that I got my first glimpse of the fish…. it was a bass, not a tope, and it was a monster – it looked easily into double figures – my heart was racing. It cruised across in front of me and I could see its silver flanks gleaming through the clear water. I mustn't lose it – but I could see the large bait hanging from it cavernous mouth.
At the same time as trying to control the fish, I was also trying to start all of the HD cams/cemeras going to capture the whole (disaster ?) on video. Two out of the 4 cameras had run out of juice…. "DAMN, DAMN, DAMN !" or something like that. I managed to get the forward one to start recording and then switched back to the fight.
The fish was now tiring and even though the flooding tide was still strong, I managed to get the fish alongside the kayak, and put my hands inside its cavernous gill cover….   "YES !" Its mine, easily a personal best; I have had quite a few bass around 5 or 6 pounds, but this one made those look tiny. It was a short stocky fish, really muscular and thickset, much more so than other large fish I have seen.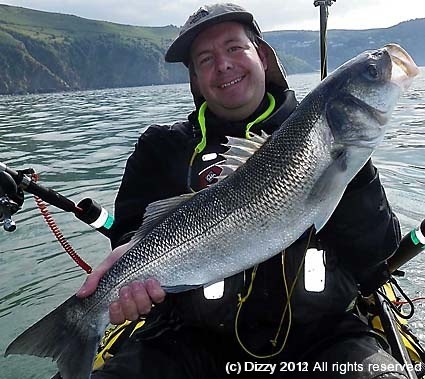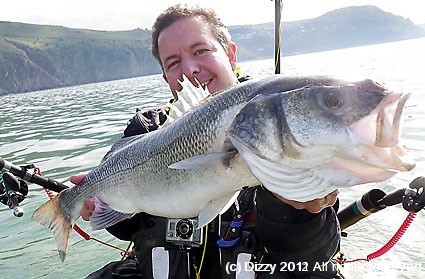 Its head and mouth were enormous, what it lacked in length, it made up for in girth…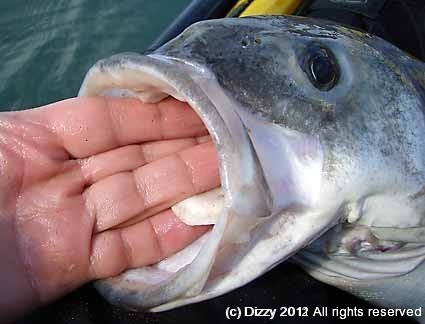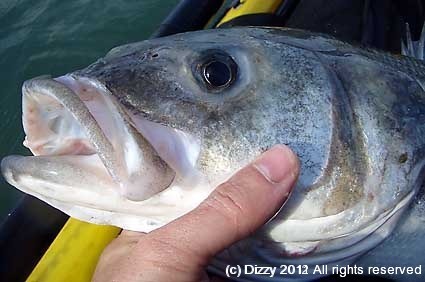 I could also see why it put up such a good scrap – a powerhouse of a tail…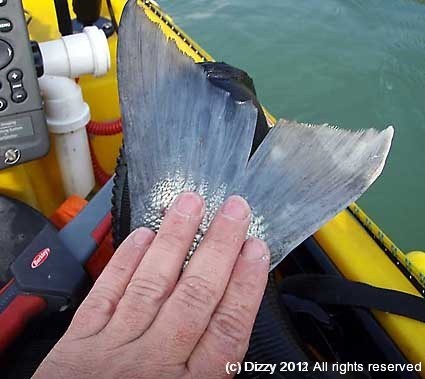 But would it be over the magic 10lbs ? I got out the trusty sampsons and weighed it – the scale showed between 10 and 11 lbs – for me, the fish that dreams are made of.
Unfortunately, by the time I had unhooked it and taken pictures – it did not look in a fit state to return. I have only taken 1 bass for the pot in 2 years of kayak fishing – and this would be my  second.
Please be very careful with this venue – we have fished it lots of times and even now, it throws up surprises. The tides can be strong and do not run in the direction you expect them to. When the surf is up, it should also be avoided – as some of our fellow yakkers found to their cost a couple of years ago. The whole place deserves respect and caution.
When I returned home – I looked at the pictures and video, and was slightly disappointed – it did not look as big as I remembered it. I check the scales and weighed it on a different set – still over 10 lbs, but only by an ounce now. But such a short looking fish – Denise summed it up well – she said – its got a head like a dog (the fish, not me !) – and she is right – a real beast of a fish – and one I shall never forget. What a way to christen a new rod too !
Postscript : When I gutted the fish, it had in its stomach, a bluefish and part of a launce – so my ground bait from earlier, really had worked a treat !
I hope you enjoy the video…
Category: Fishing, Fishing Venues, Kayak Fishing, Lynmouth, Sea Fishing