Kayak fishing in the UK in the middle of winter is not everyone's idea of fun. And I have to admit, that when I arrived at Blue Anchor Bay on the Bristol Channel coast and was greeted by a stiff North Easterly breeze, I was questioning my own sanity… It was freezing !
However, soon my buddies Dave (Fishboy) and Nick (Fruitcake) arrived, and the banter started – all thoughts of frostbite were quickly forgotten as we readied the kayaks for action.
Dave and Nick went on ahead – because I have a reputation for taking a long time to get everything ready – well I have alot of gear to sort out, what with the side imaging, GPS and HD cams !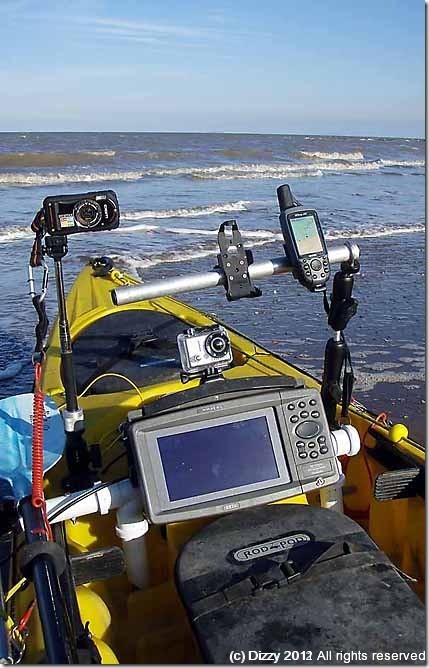 The kayak was looking good, and I was almost ready to launch…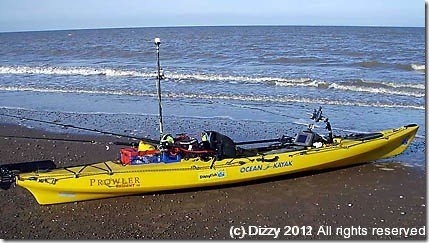 Although the sea looks calm in the pictures, once I got to the reef, there was a fair old swell running – and the wind was across the tide which made anchoring and fishing difficult and slightly uncomfortable. Nick and Dave were further out off the reef, and it was slightly calmer.
After witnessing Jim's (Massivo's) recent 26lb cod, I had decided not to mess around, and rigged both rods with big 8/0 hooks. Nick was using smaller hooks and he was already amongst the fish. I had a bite on my frozen black lug and squid bait, which turned out to be a codling…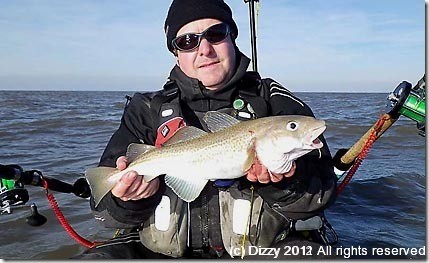 Before I returned the codling to the water, it coughed up a small sprat/whiting – proof that the fish are feeding on small fish…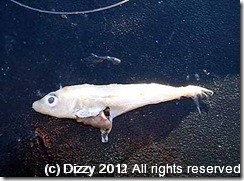 With this in mind, I decided to up-anchor and switch to fish and squid baits on both rods. I moved to a new spot which I had found when analysing side imaging footage from previous trips at home on the PC. A couple of drift and I was in the right place. It didn't take long for the fish to home in on the big baits – I had only just cast out the second rod, when the first one slammed down hard. A small ray was duely reeled in, and as I was lifting it aboard the kayak, the other rod bent over. I placed the ray on the deck of the kayak and struck into the other rod. This fish felt much better and was pulling hard in the strong tide. As I got it alongside the yak, I could see that it was a good fish – probably a double figure thornback ray – but the hook hold was no good – it was just hanging on. Rather than heave the ray using the rod, I decided it would be better to gently lift the ray into the kayak by hand. Success !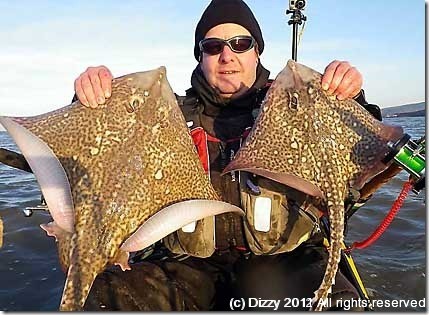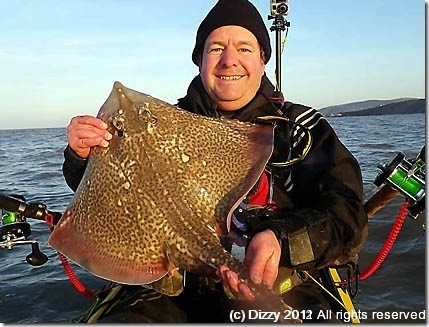 A double hook-up of rays – a great result.  I have had double hook-ups with pike, conger and now rays on the kayak.
Nick and Dave also had a great day – landing a load of codling and rays.
I was glad I made the effort in the cold conditions – it was well worth it. I know that if I had stayed into darkness I would have caught more fish, but i was happy with my catch; sometimes it is best to quit whilst you are ahead.
The sun was starting to set on a brilliant day of kayak fishing. As I made my way back to the launch site, the wind dropped ,and the frosty air chilled me as the darkness closed in.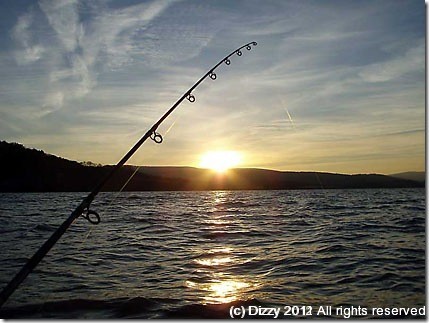 Enjoy the video…
httpv://www.youtube.com/watch?v=tw3EgeiGZ98
The following day I had to work, but my fellow kayak fisherman Rob (V8Rob) went out – the conditions were even better and Rob did really well. A funny thing happened when he returned – a stranger asked if he was Dizzyfish ! Maybe I have a stalker – I hope he can swim !
Category: Blue Anchor Bay, Fishing, Fishing Venues, Kayak Fishing, Sea Fishing