I remember saying last year that 2015 would be a quieter year for me. How wrong I was !!! 2015 has turned out to be the most incredible year for me, in terms of kayak fishing… I caught a 4lb+ perch, a double figure zander, helped to organise the most amazing competition, kayak fished in Holland, and China, twice ! And came 5th in the Hobie World Kayak Fishing Championships. Those are the highlights, and below I have included some of my favourite images from the year…
January
The year started with a trip which I had arranged with Trevor Gunning of Cotswold Angling. Trev was running a predator weekend at a Cotswold lake, and invited me to do a "Show and Tell" about kayak fishing. I was also able to ask a friend, so David did the honours and we put up a goo0d show… job done (David Wolsoncroft-Dodds, Gary Palmer, and Trev look on as David gives the low down on kayak fishing)…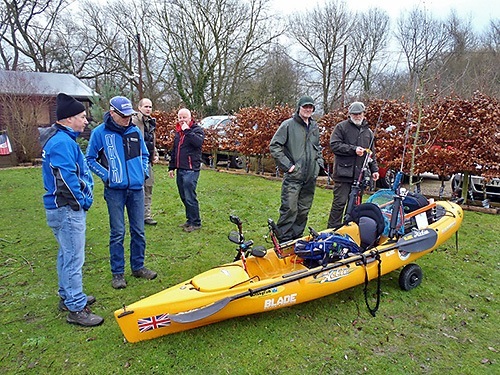 …That wasn't the end of the day though, as Trev allowed us to have a quick fish on the lake. I managed to catch a 3lb 14oz perch on a soft plastic… suddenly the bank anglers were very interested in kayak fishing. That fish made it on to the cover of Pike and Predator magazine (but it wouldn't be my biggest perch of the year).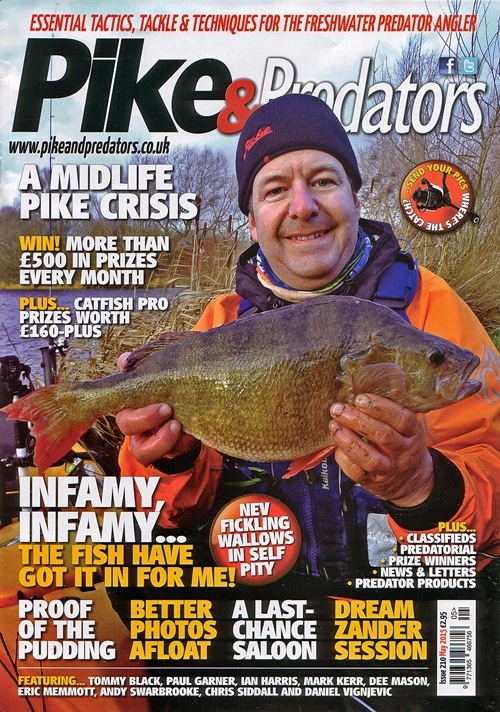 The following day, and I was helping to man the Hobie stand at the London Boat show…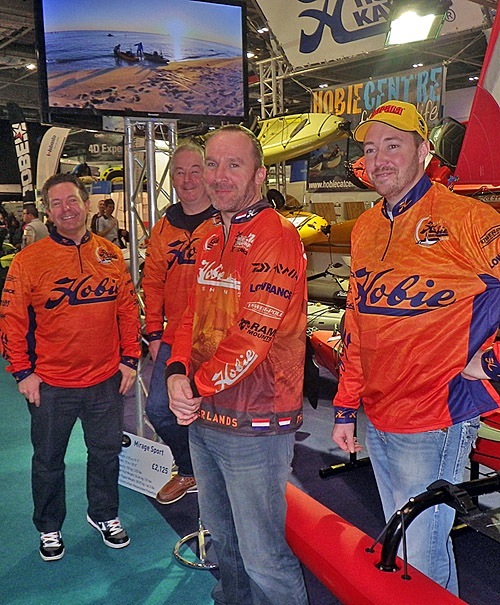 Then a visit to Rutland. It was a special moment as we were amongst the first to fish this venue. The weather was special too…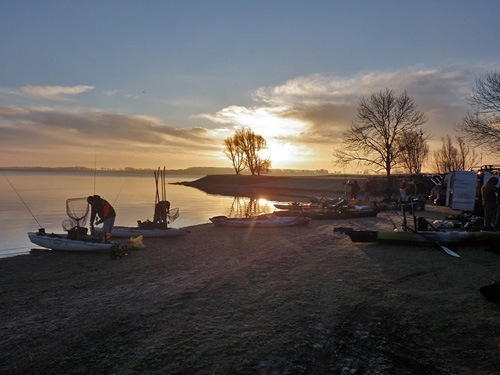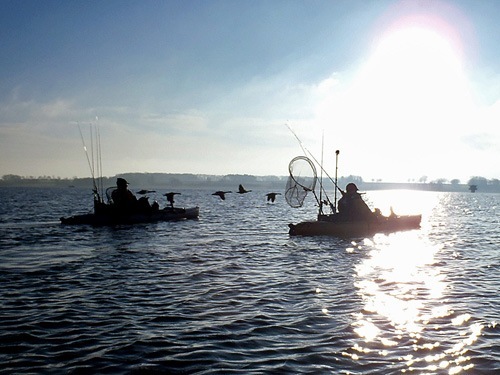 February
The first visit to my local river with Steve – we had a few fish…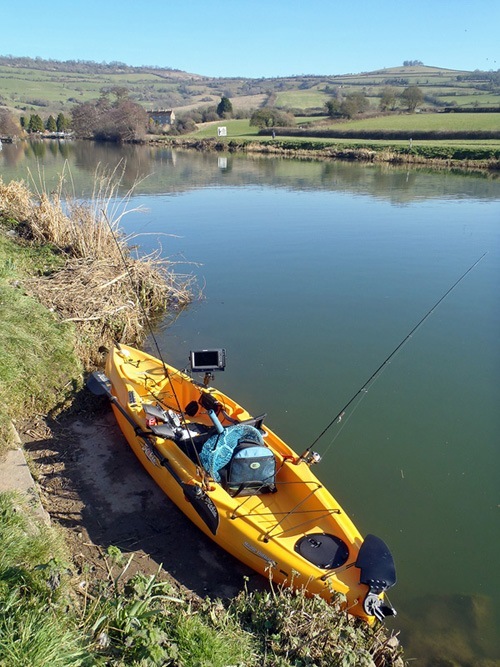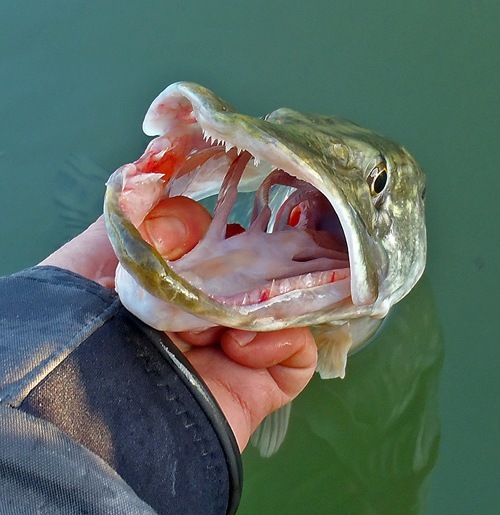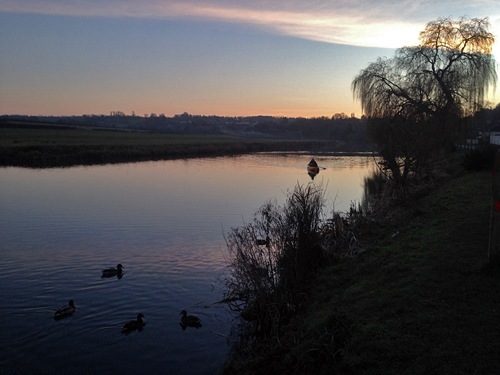 March
As part of my "Kayak Lure Fishing" Facebook group, I gave away a load of free gear, including some tickets to "The Big One" fishing tackle show. Each year this show gets better, and I managed to take a break from the Hobie stand to meet one of my favourite anglers Des Taylor…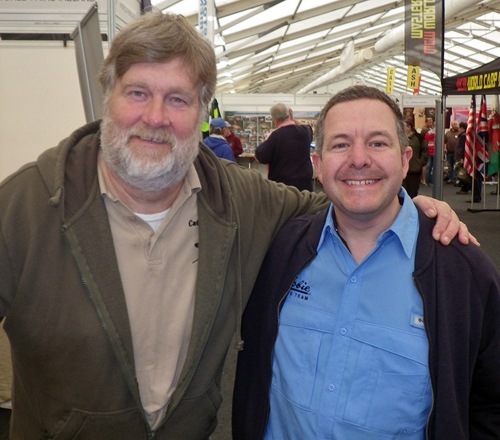 Then an article in another new publication for me. Kayak Angler is one of the best known kayak fishing magazines on the planet…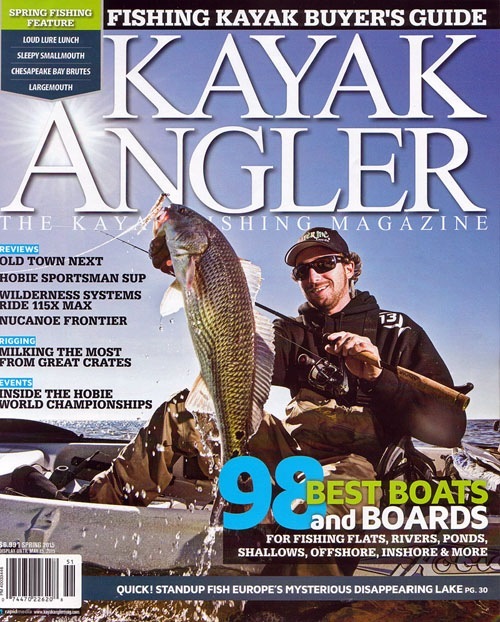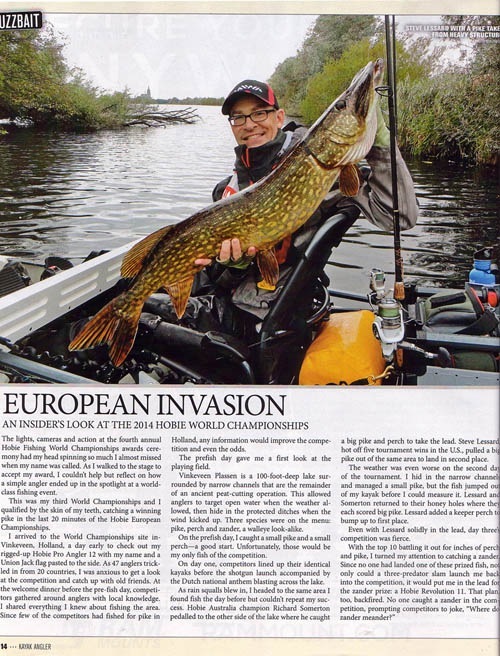 Then a visit to Llangorse lake, and I got to meet and old friend – Lars from Sweden. We had a blast, and he ended up coming second. This wouldn't be the last time that our paths crossed.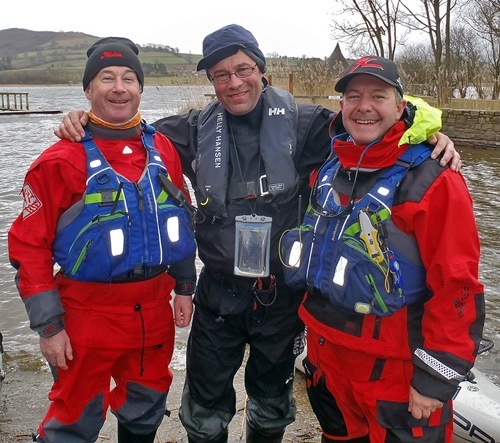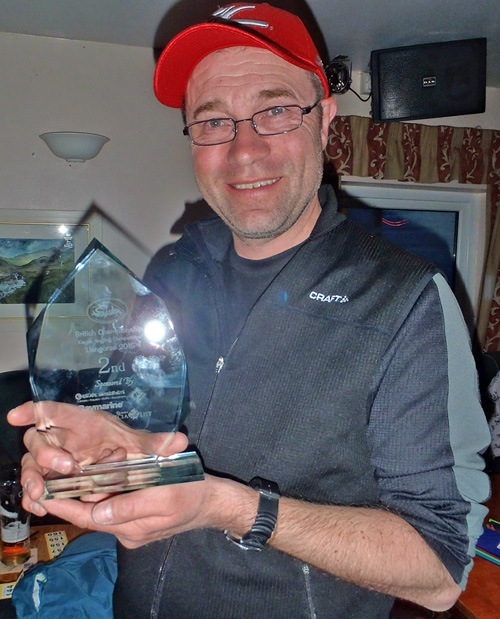 Pike and Predators magazine ran my story…

April
April was a busy month. It started with a visit to the beautiful Wimbleball lake, fly fishing for trout with Alistair on the edge of Exmoor. The fishing, scenery and company were all top class…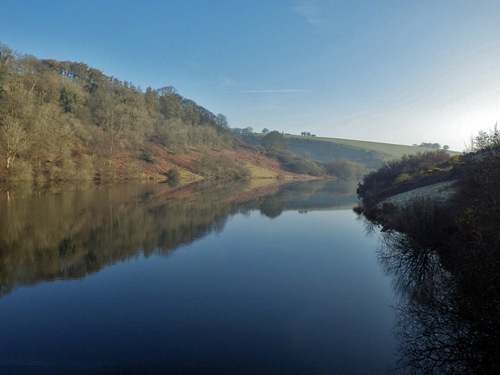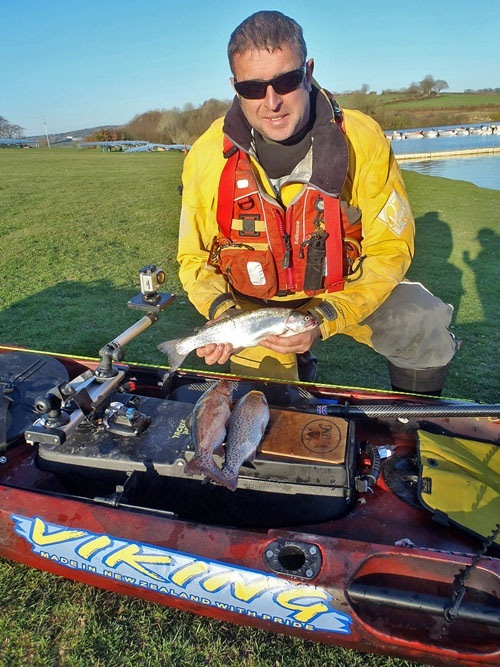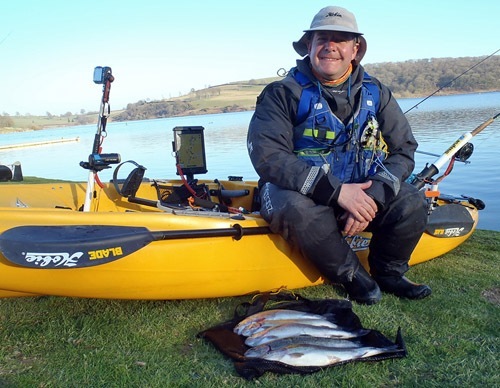 Back to some salty stuff, and an early visit to Swanage…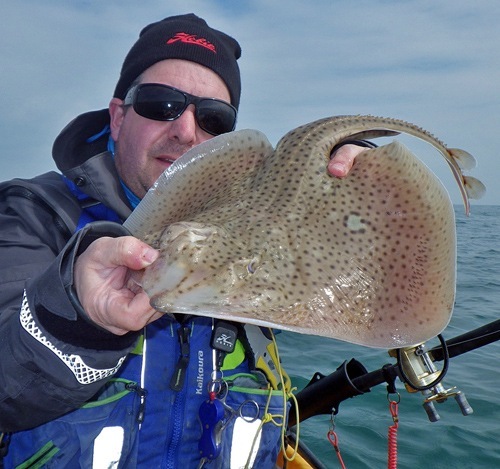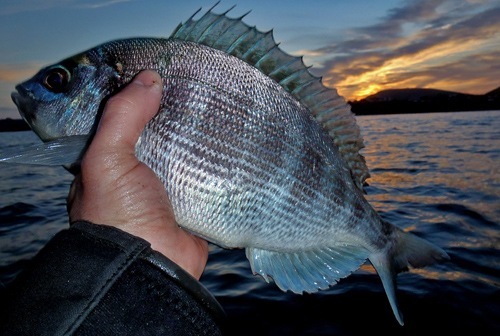 Another Pike and Predator magazine article about the Ravensthorpe visit organised by Terry…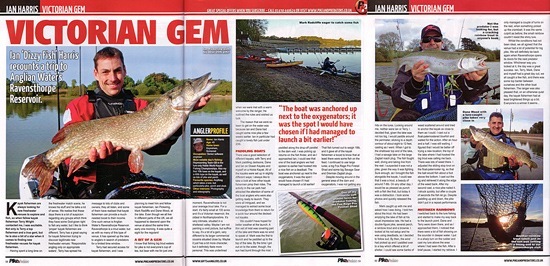 Then time to cash in on a couple of favours which were gladly accepted. I was gifted a visit to the iconic carp mecca of Wraysbury, and I was allowed to bring a friend… so David got an invite too. It was a pike fest from start to finish, I caught over 20 pike in the 2 days we were there…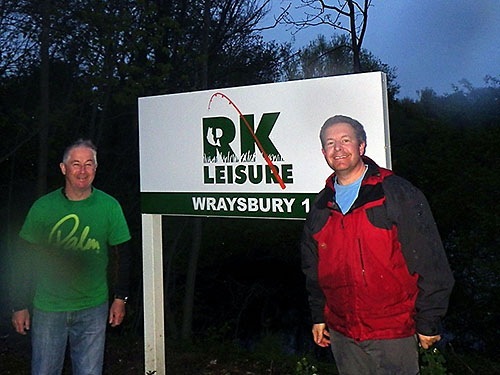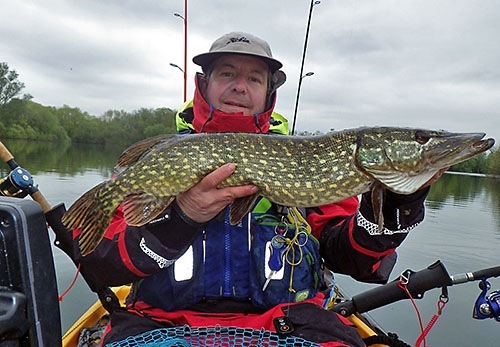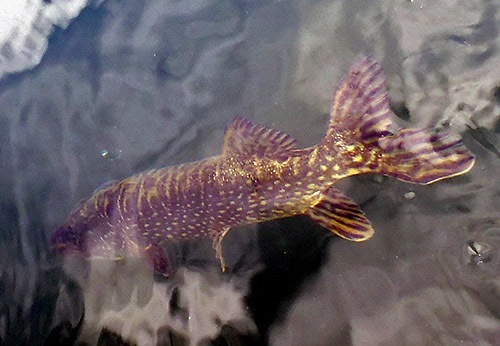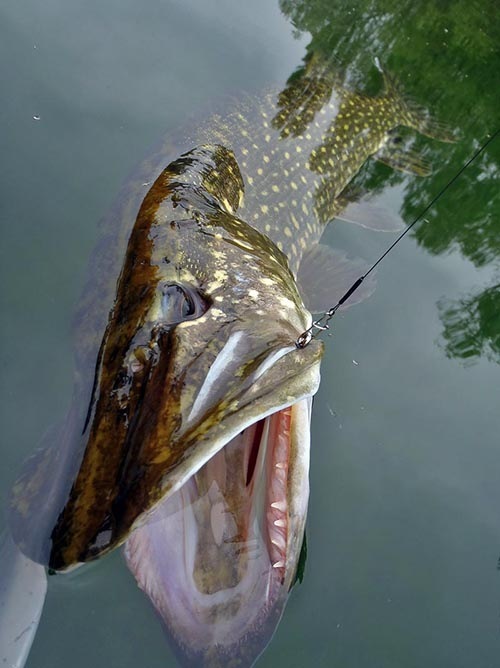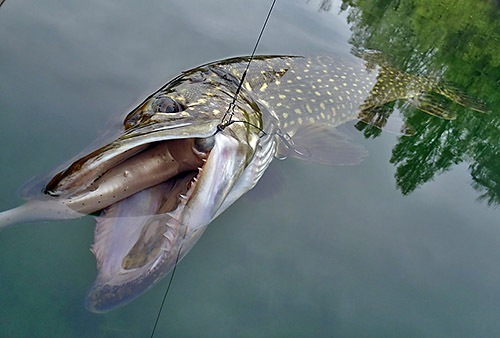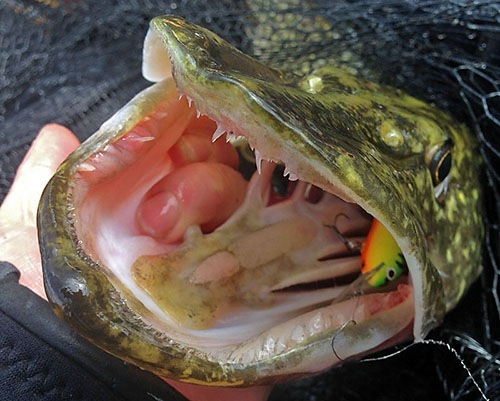 As if April was not good enough, something special came along. I had been putting alot of time and effort into catching big perch on small lures and ultralight tackle. I came close to catching a 4 pounder in January, and after coming so close, I thought it was never going to happen, that was until this 4lb 4oz beauty turned up out of the blue. I was chuffed (as you might be able to tell from the photo)…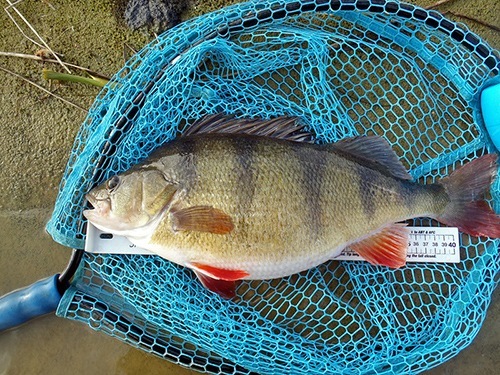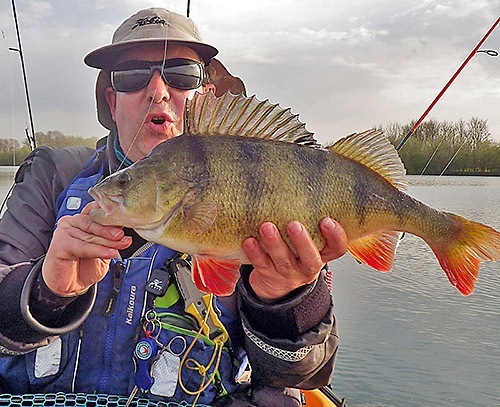 May
The annual visit to one of my favourite events, the Swanage kayak fishing competition never disappoints. I can't bring myself to fish for mini-species when there are so many quality fish around. Hobie did a great job and David's organisation was faultless, and Kayak Angler ran my article in the Christmas edition of Kayak Angler magazine…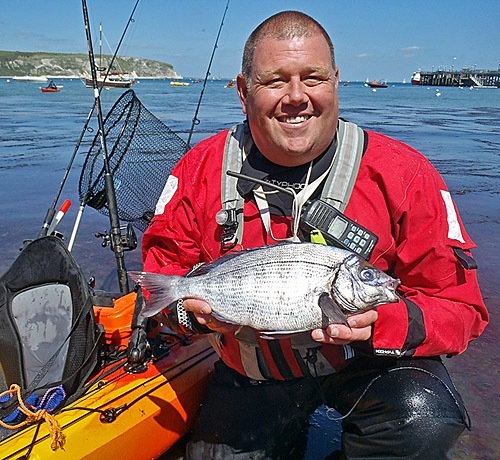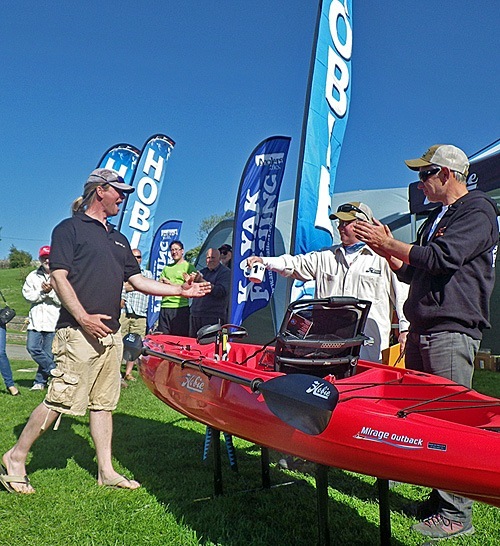 June
With my newfound love of lure fishing, I always look forward to the start of the new river fishing season. The lure action on the river can be electric, and 2015 would not disappoint. First outing saw a lure grand slam (chub, pike and perch) with some quality fish…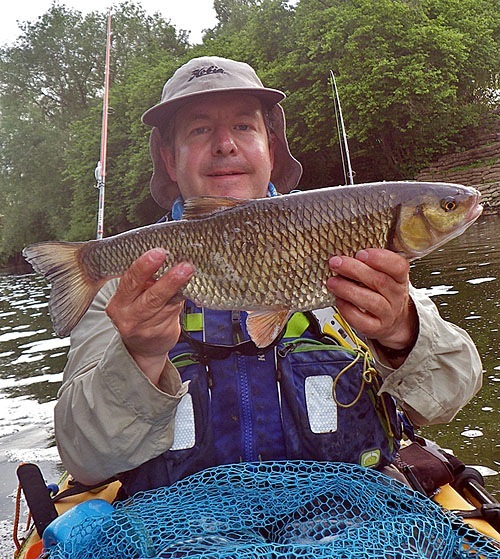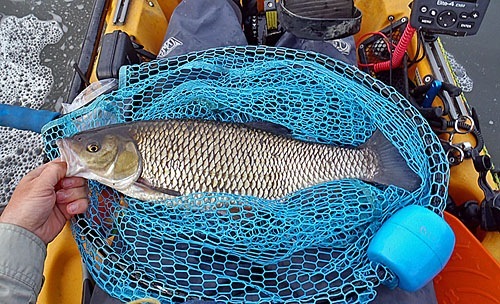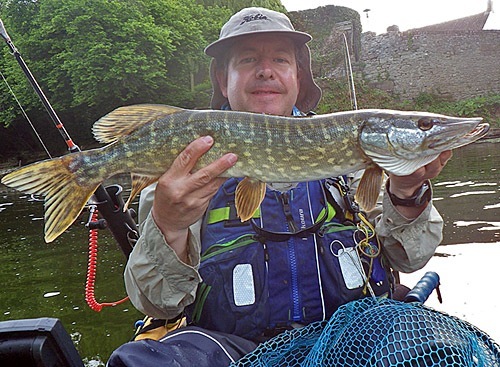 Then back to the salt for the first Plymouth kayak fishing festival. I had tried to catch the rare red band fish a number of times before. Thanks to Liam and Mark, I finally caught one during the competition.. It even made the Plymouth Herald…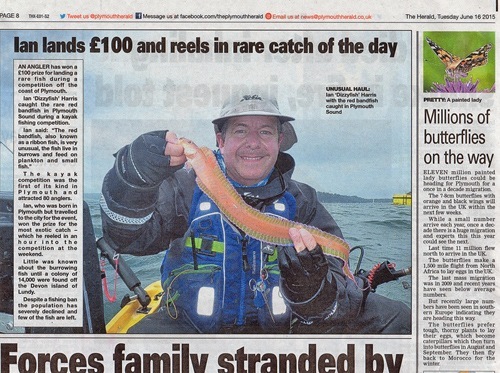 Then it was time for my first international kayak fishing trip of the year. This was my second visit to the World Predator Classic in Holland. My article made it into the tournament magazine…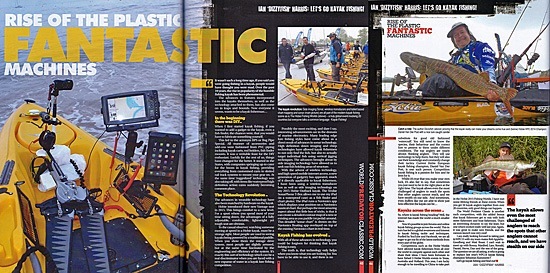 This is a serious international competition. It has boat, street and kayak fishing all rolled into one. Competitors from all over the world, and some impressive prizes to win. I stayed in a house with Daniel, Ronald, Rob and Matt. The fishing is tough, but the event itself is more than about fishing…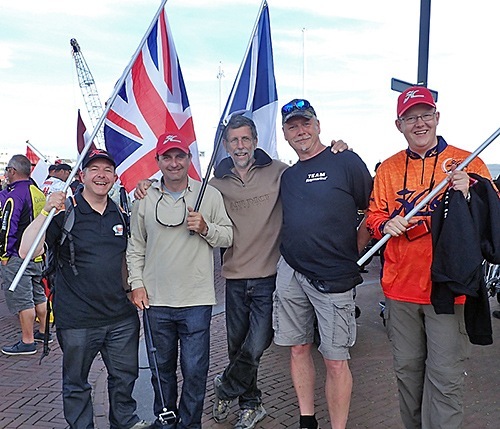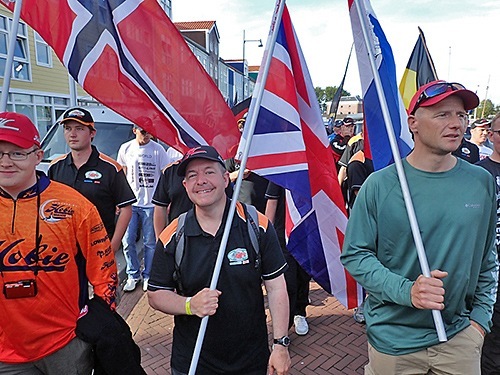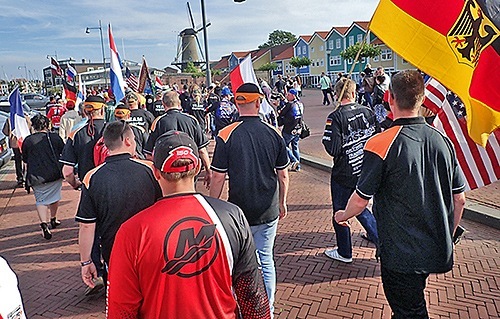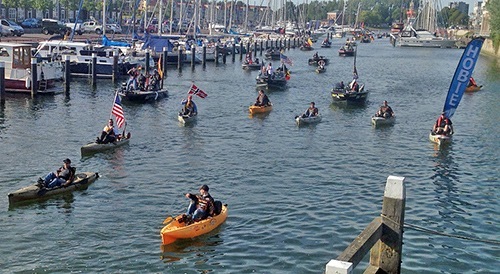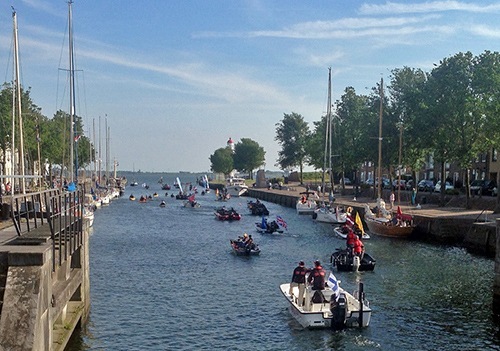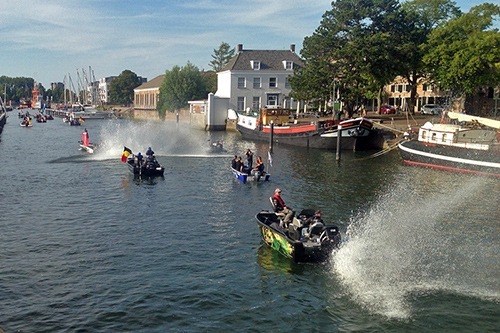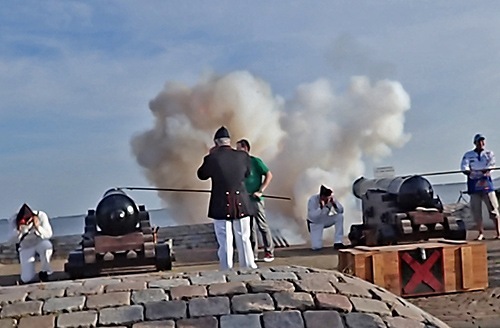 We don't have anything like this in the UK at the moment. In the event, I was really pleased with my performance, and more than that, I met up with alot of good friends like Herve, Ronny, Manfred and Lars . I had some nice perch, and a stonking great double figure zander…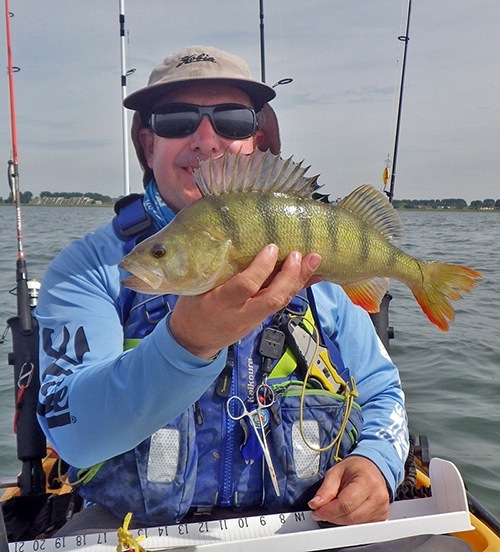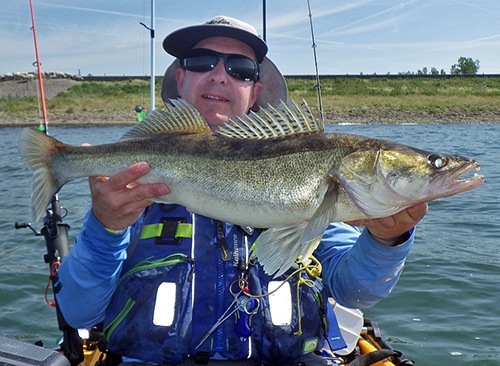 The German kayak fishing team did really well – and I would become good friends with them later in the year in China. Daniel won the event on his home turf; he's a great kayak fisherman…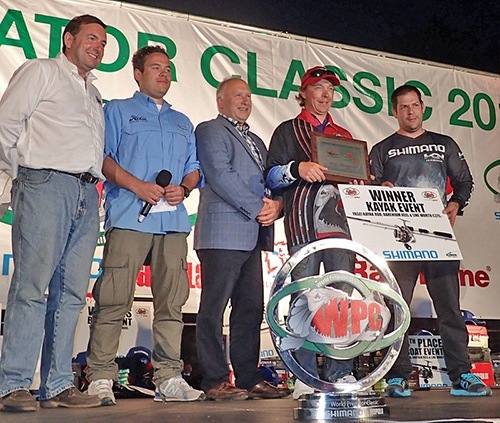 July
As the water warmed up, the top water lure action on the river increased to boiling point. I think at one stage, I had 10 consecutive grand slams in a row, mostly down to the knowledge I had built up over the last couple of seasons. Big chub were coming out regularly, sometimes 3 or 4 in a session. Big perch were scarce on this stretch of river, but I was starting to crack the perch code…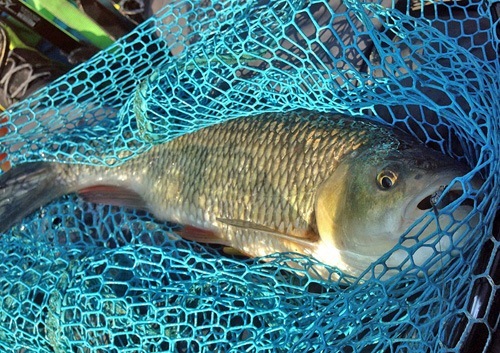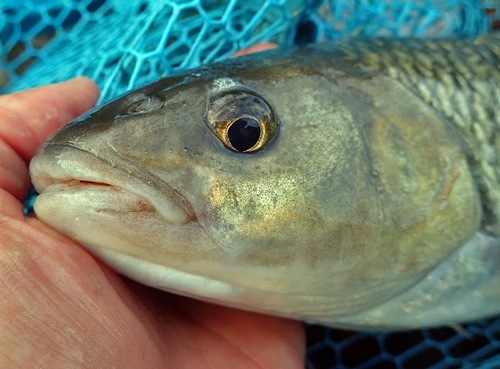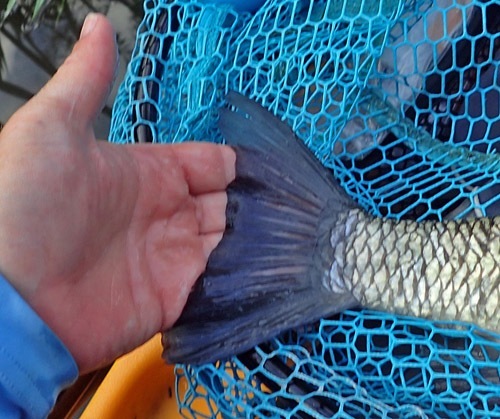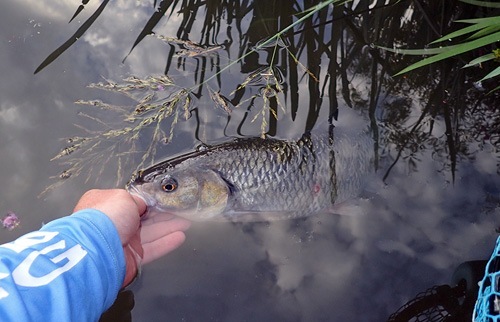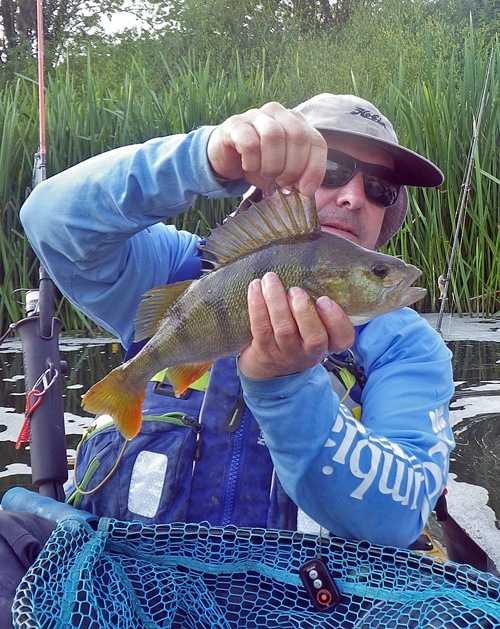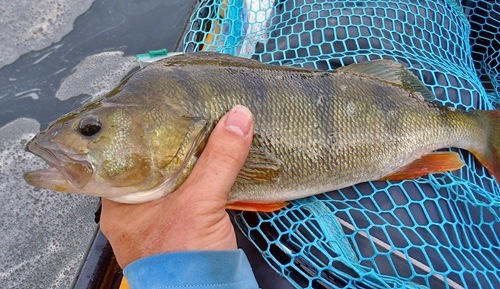 With the longer days, I was able to fit in the odd trip or two after work. It was on one of these trips, on a warm summer's evening that it all came good. I had the grand slam with some decent chub, and then managed to hook a decent pike, which dragged me down the river. Just as I landed the pike in the net, I noticed some fry being chased out of the water, by an unseen predator. I unhooked the lure, and with the pike still in the net, I cast to the scene of the commotion. No sooner had my lure hit the water, it was slammed by a decent fish. It turned out to be a half decent perch, which had to share the net with a pike ! I don't know which fish looked more surprised; I was over the moon…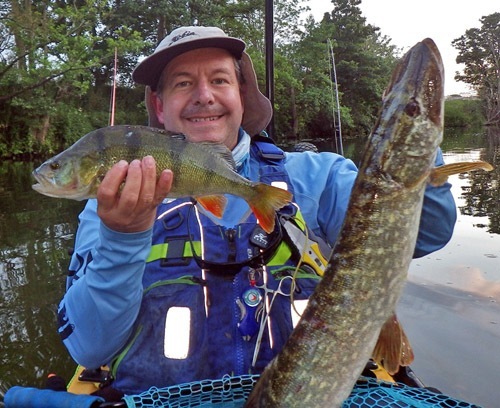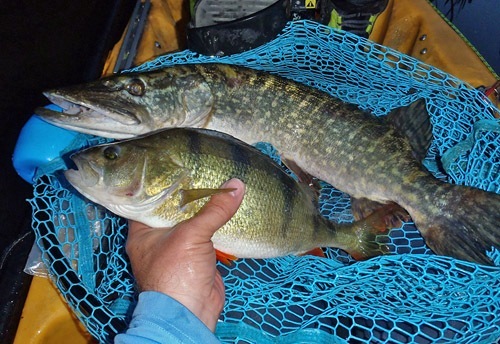 August
I realised I had not fished one of my "special" places, Lynmouth. So a return to the salty stuff was due. You can't have a bad day at Lynmouth, and this weighty small eyed ray definitely made the trip worthwhile, and reminded me that deep down, I am a saltwater kind of guy…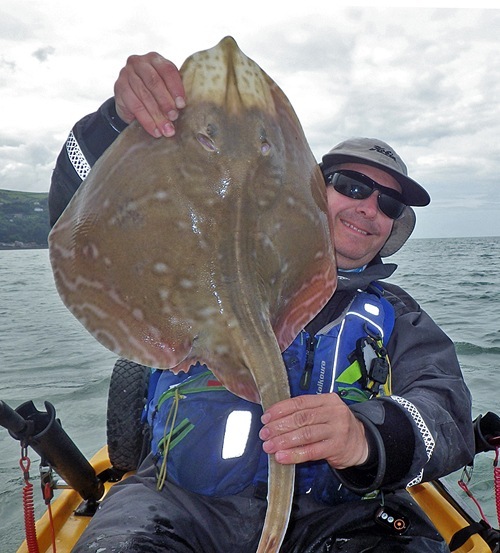 Back to the river, and I needed a new challenge. I decided to fish two different areas in one day. I learned alot about a new stretch, and managed big chub, pike and perch on both stretches. More than that, I saw some much bigger fish which I would be back for later…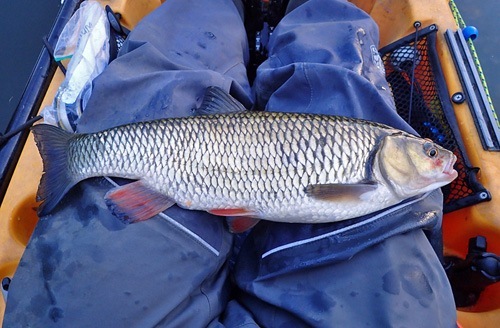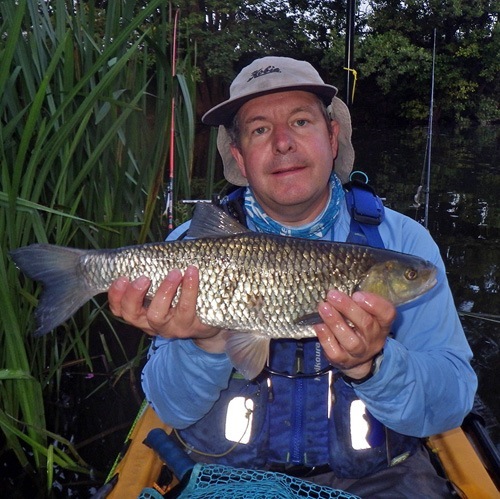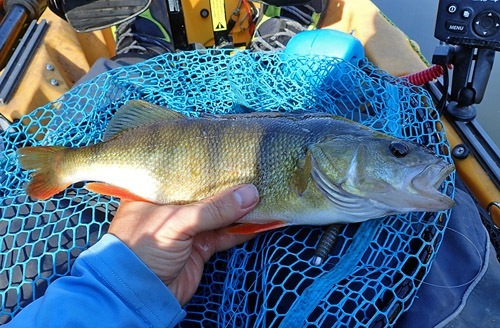 …And so I returned to the new stretch, determined to hook one of the bigger perch I had spotted on my previous visit. Mission accomplished, and a 2lb 7oz stripey in the net (big for that stretch of river)…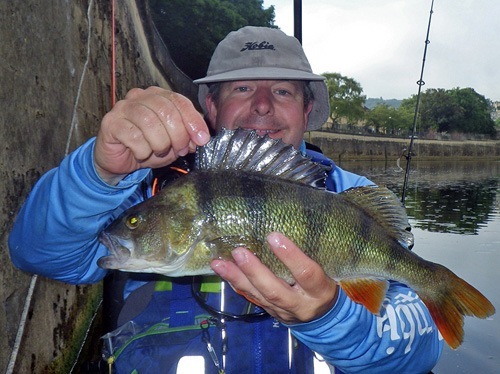 September
Another return to the salt, in the form of a quick LRF session down at Portland harbour. I caught the usual suspects, but also a couple of unusual ones – a male cuckoo wrasse and a goldsinny, very pretty…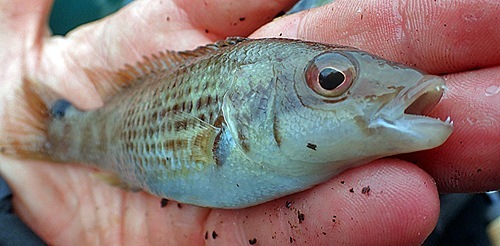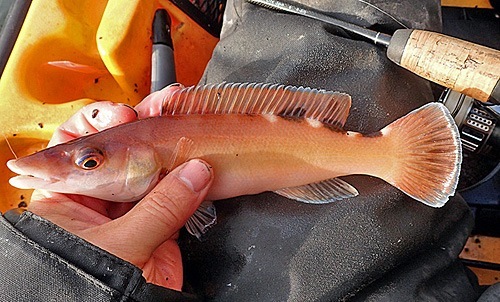 I also managed to capture some stunning images of some of the Portland wrecks using my Humminbird side imaging sonar on the Hobie Outback…

September was the time for one of the trips I had been looking forward to for so long. It was a trip to China, to compete in an amazing lure only kayak fishing competition organised by my great Chinese friend Sam. I needed to get back on the river and practice before I left. This huge chub provided the confidence boost I needed…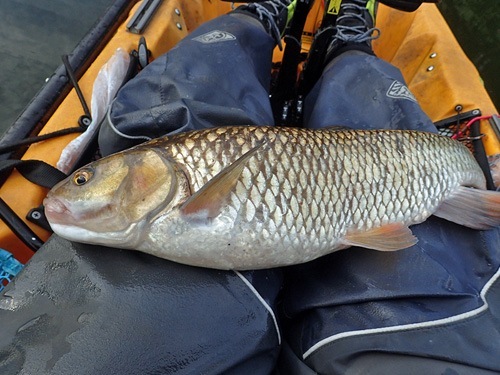 The Chinese competition was such an adventure. Even getting there was crazy. We were up in the mountains, miles from anywhere in a place called Shengzhong.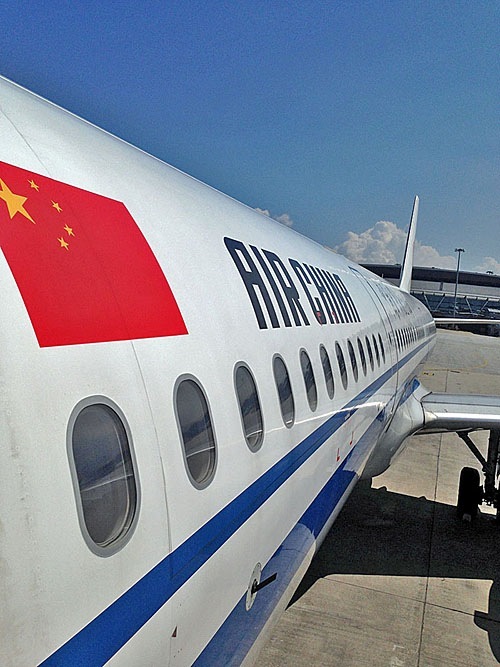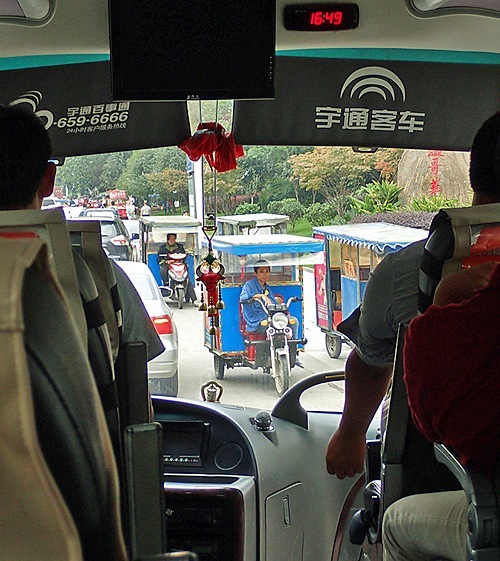 Many of the locals had never seen Westeners, and we were treated like rock stars. This extended to the opening ceremony of the competition. Its a moment which will remain with me for the rest of my life. Over 20,000 spectators in a open air amphitheatre by the side of the lake. All cheering for the fishermen. Fishing is massive in China. A bit like football in the UK. We went into the local tackle shops an saw ourselves on the TV – very funny, and slightlybizzare…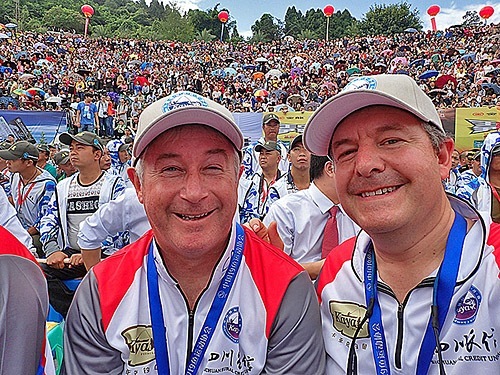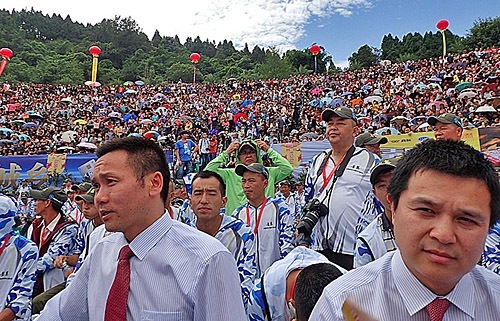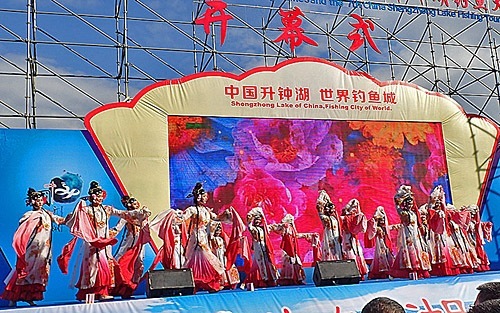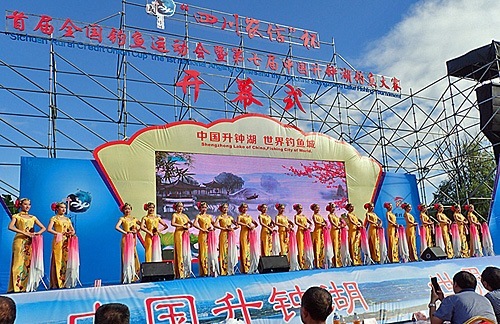 Myself and David were having a great time, and as well as meeting up with many old friends like Lars and of course the (always brilliant) Aussies, we also made some great new friends too. Such an incredible place, the food, the people, the scenery. I had to keep pinching myself to check I wasn't dreaming…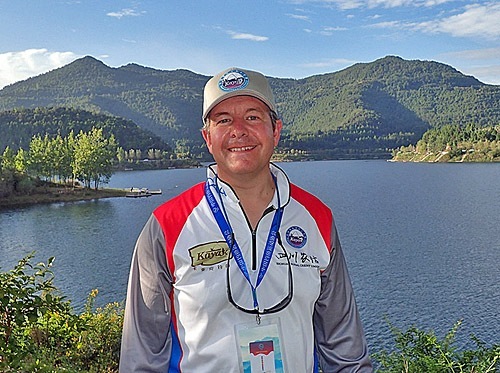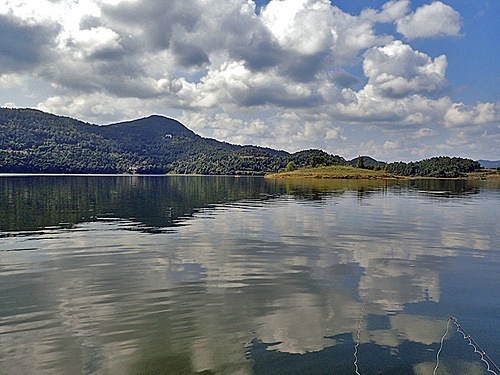 Oh yes, the fishing ! The fishing was tough, and very different to what we were used to. By the second day, I had changed tactics and adapted, and managed to catch my full limit of 5 red tails (small mini-tarpon type fish)…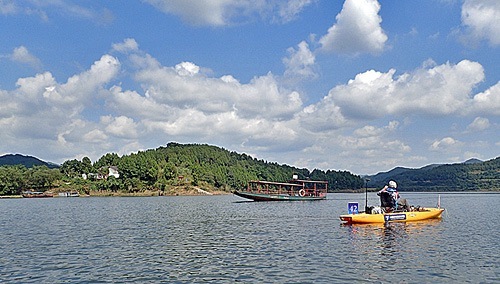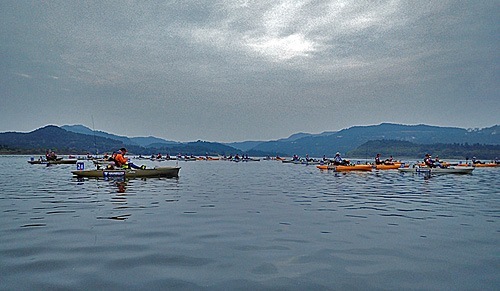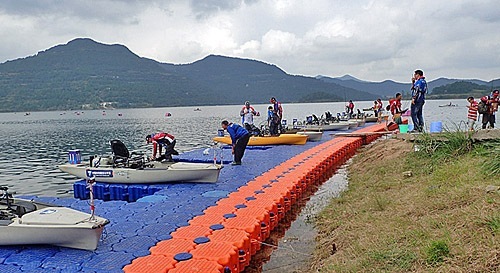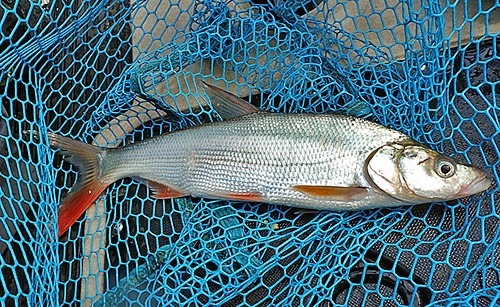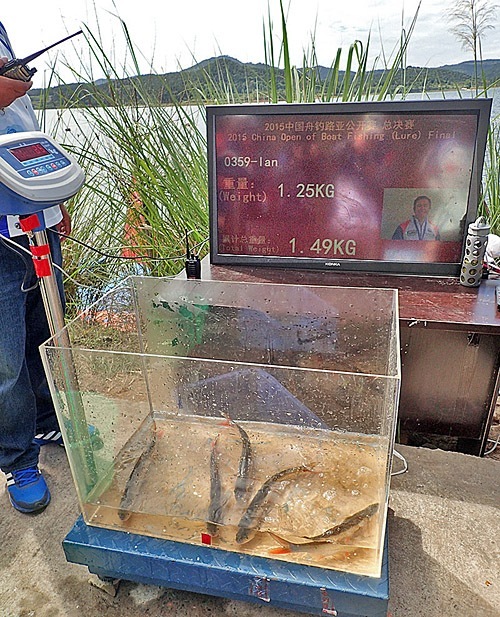 But by that time it was too late. My good friend Ma from the Chinese team won the event – and everyone agreed he was the best fisherman on the day. Lars managed 10th place, which was pretty good considering there were 60 competitors (mostly locals).
I have so many amazing memories to take away with me from that event…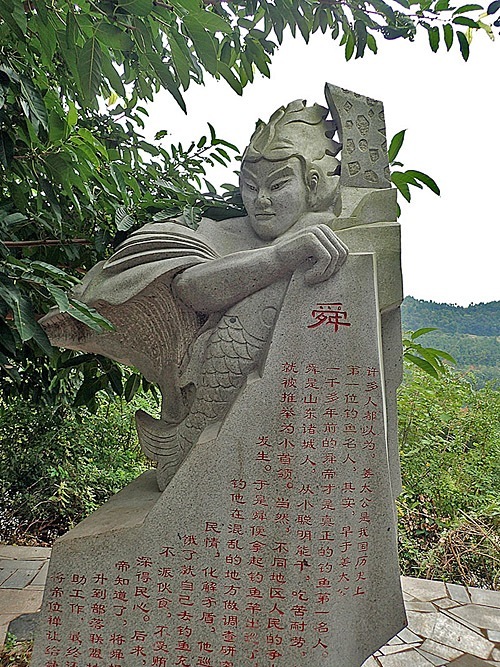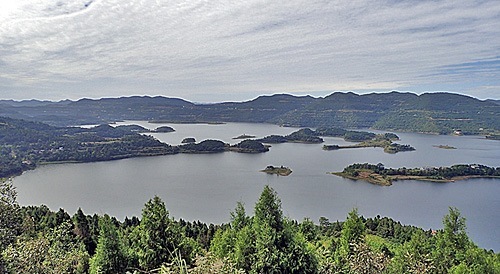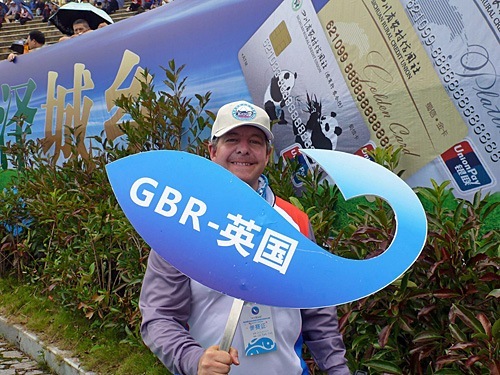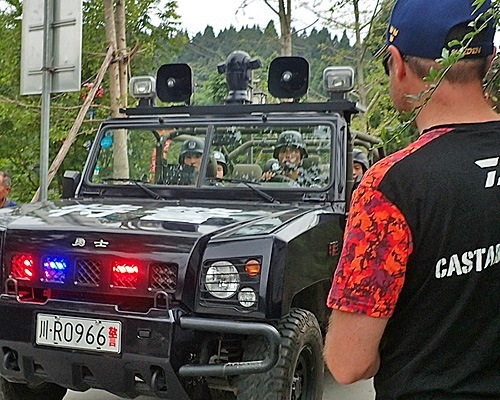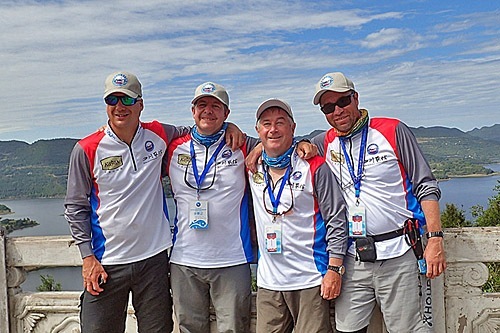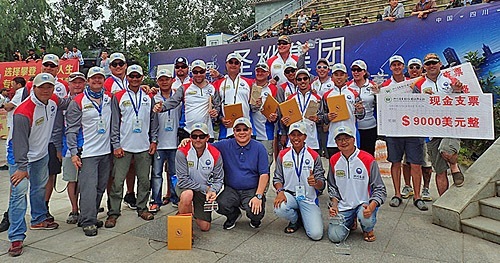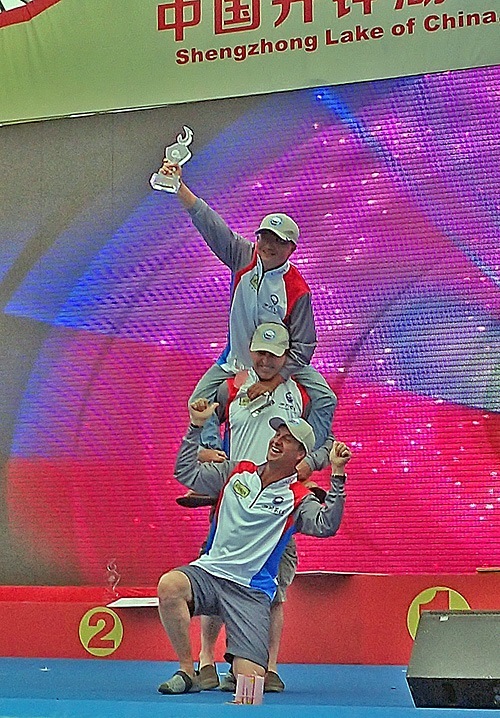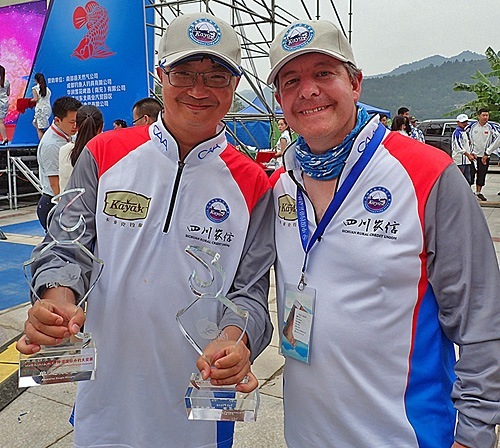 October
After returning from China, I needed something a bit special to look forward to, and the Cotswold predator weekend was just the ticket. Trev had asked me to organise the kayak side of this special event. I obliged, and rounded up a merry band of lure hardened kayak fishermen, who were eager to fish this very special venue. Rumour had it, there were monsters in the lake…. Well there were plenty of these monsters…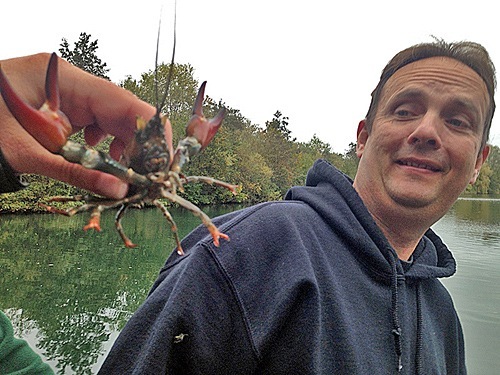 After the first day, many of the guys were disappointed; the weather was not great, and no monster fish had shown… yet ! But, as most of us fishermen know only too well, it only takes one special fish to make everything good with the world. Well the following day, we had three very special fish…
My good friend Charlie (Big up the Keynsham Possie !!!), caught a 4lb 12oz perch…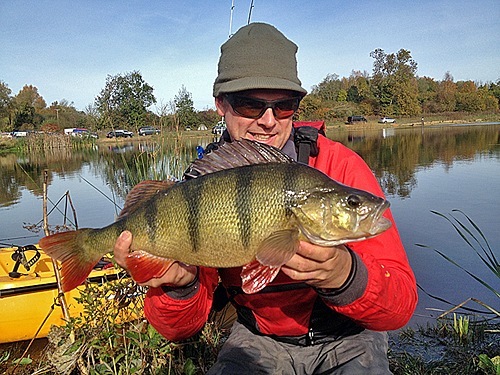 Then Lee Garner had one of 5lb 4ozs…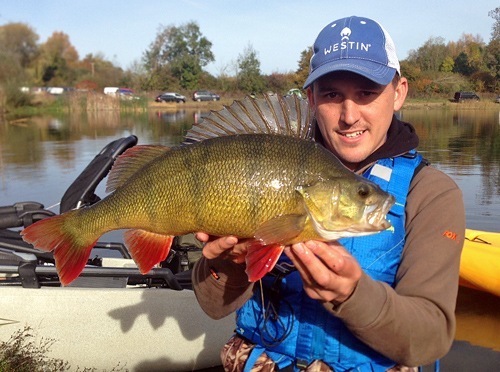 Only to be trumped by Tony Chesworth with one of 5lbs 7ozs…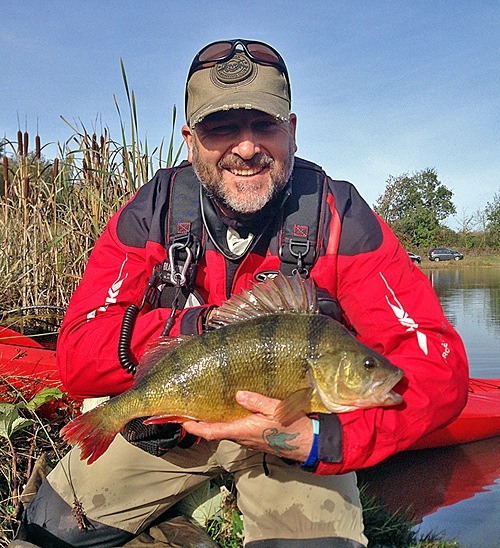 Stunning fish I think you will agree, and the whole event was great fun, I was just pleased to be a part of it. Big thanks to Trev, and just desserts for sticking by the kayak fishermen I'd say…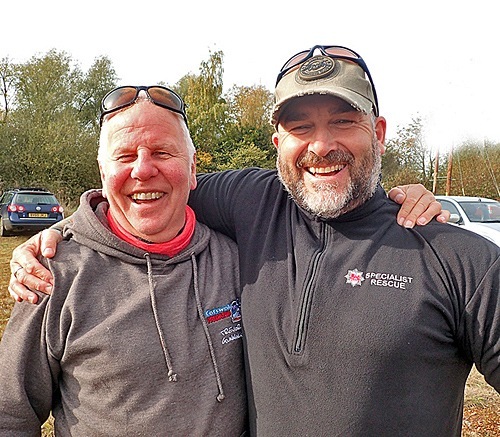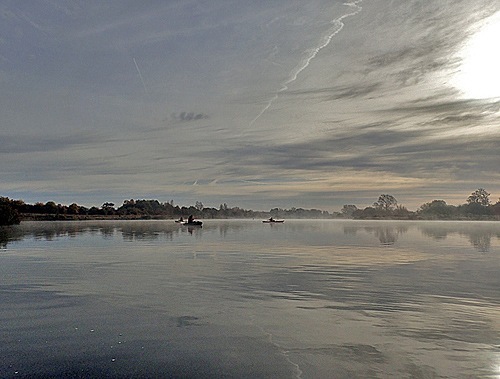 Difficult to top that, but then the river is full of surprises, and its that special time of year, when anything can crop up. After seeing the crayfish in the lakes, and seeing the remains of one in my local river, I decided to give the soft plastic crayfish lures an outing. So glad I did; a new river best 2lb 9oz perch and half a dozen chub all over 3.5lbs…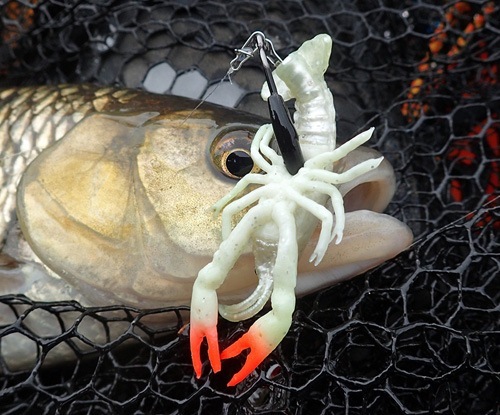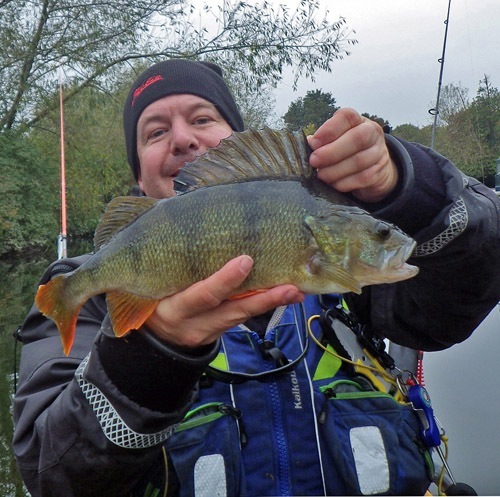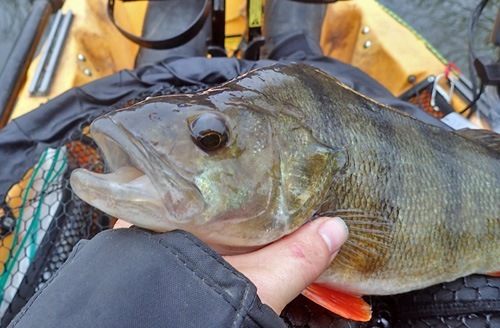 The Hobie fishing team had seen these catches, and wanted a piece of the action. As is so often the way, the fish never played ball, but we had a great day out on the river.
The 5th Hobie Worlds in China was now looming near. I had managed to qualify by winning the Hobie Sportsman award at the last Hobie Worlds event in Holland. This was to be my 4th appearance at the Hobie Worlds, and I desperately wanted to do well. A river monster was needed…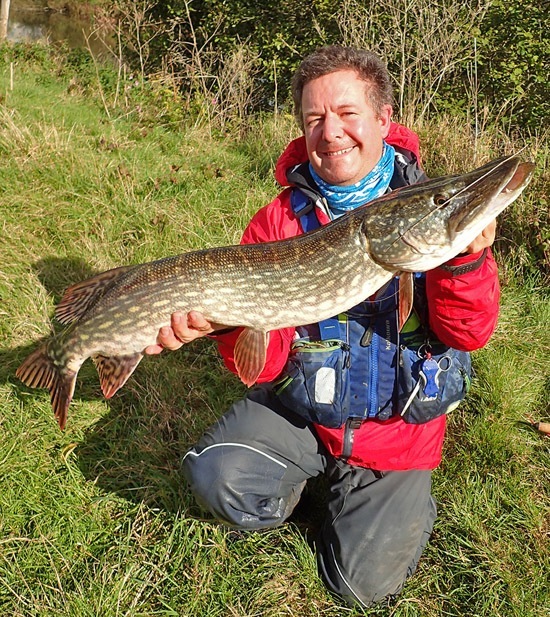 The river gods have been good to me this year, and this 12lb pike was a great reward for all of the hours I put in this year. It gave me the most incredible fight on 4lb line, and more than once, I thought I was going to lose it.
The month was rounded off nicely by my article in the autumn special "Kayak Fishing" edition of the LAS magazine…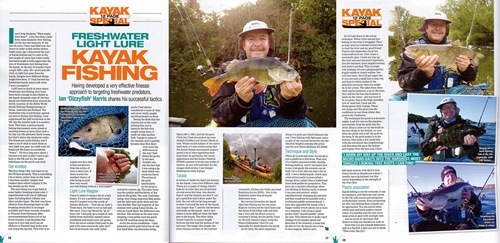 November
Whilst I am a specimen hunter rather than a match fisherman, there is one event in the kayak fishing calendar, which never fails to excite me. The Hobie Fishing World championships is a unique event in which the best kayak fishermen (and me !) from all over the world compete against each other, lure fishing from identical Hobie kayaks. The 2015 event would be held in China, near Shanghai, and would see 48 kayak fishermen from 20 countries take part. Matt Boast would be my Hobie GB team mate, and we would be part of a 12 strong European Hobie team which would take on the rest of the world. The event location was stunning. The competition took place in an ancient lake, surrounded in tradition and mystery.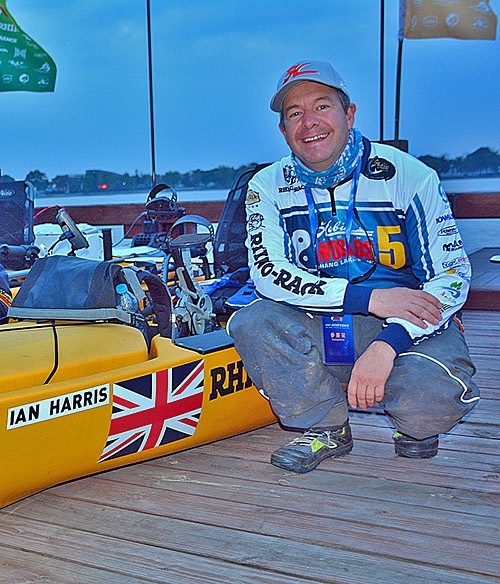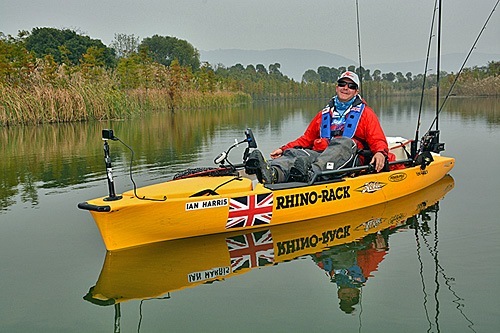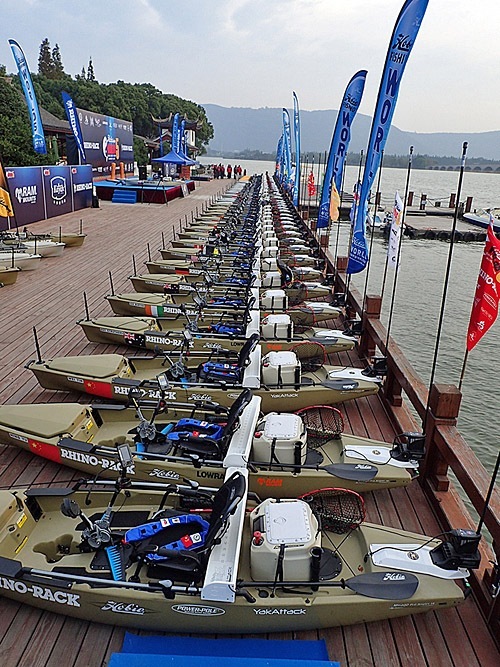 The week long event saw some incredibly tough fishing, interspersed by the occasional giant fish. We could see some of these goliaths jumping out of the water, but it was our European team mate and Team Wild out member Finn Sloth-Hansen from Denmark, who was the first person to witness first hand, the size and power of one of these fish. On the practice day (!!!) he hooked and landed a massive 50lb yellow cheek carp on a surface popper lure and 10lb braid…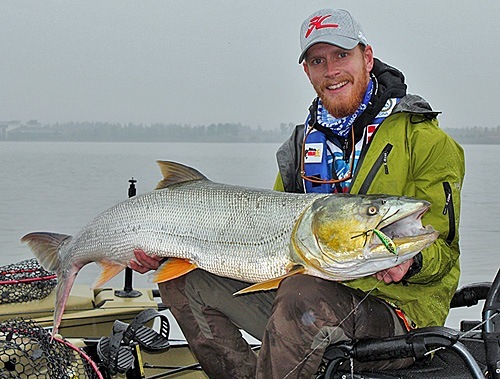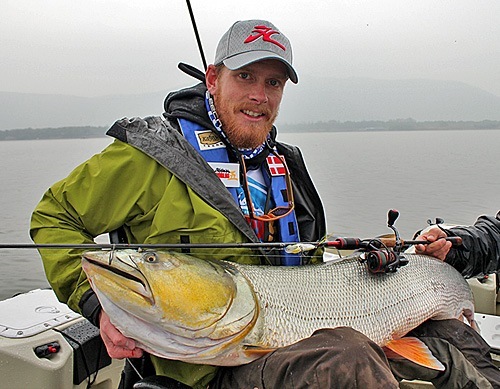 During the actual competition, fishing was tough. I somehow managed to sneak out a fish on the second day, and found myself in second place (much to the amusement/surprise of my Aussie friends !!!).  This caused quite a stir, and I was interviewed live on Chinese TV – I was told after the interview that over 30 MILLION people watched the interview – cool !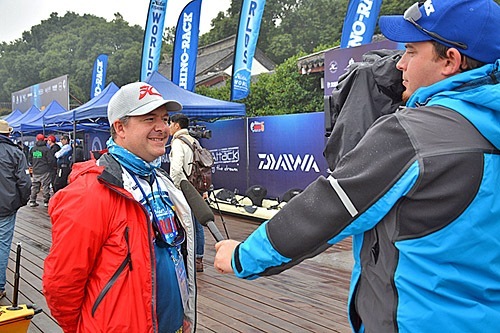 Going into the last day of competition, I was pretty confident that I could build on my 2nd place.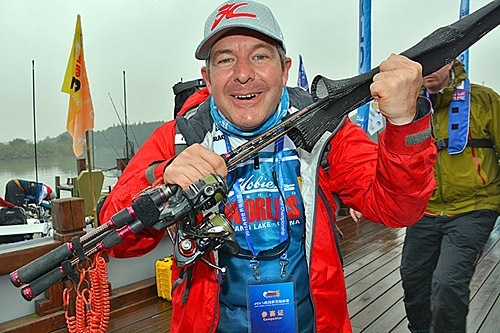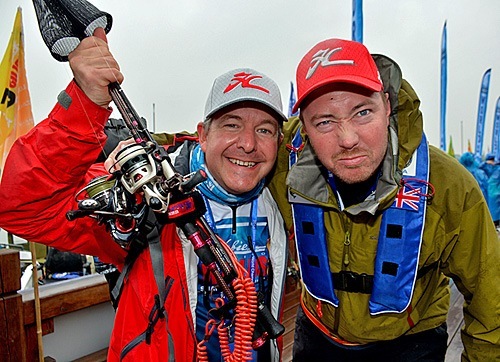 The last day of the competition dawned, and Finn caught a super top mouth culter…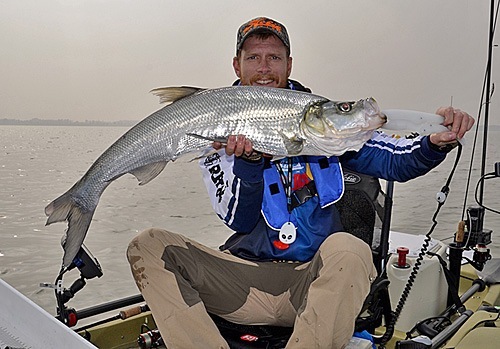 This gained him 3rd place; and I have to say that he is such a nice guy – everyone was pleased for him, especially after his big fish in practice. But the winner, was my old mate Ma again, who caught a yellow cheek carp. Now he would add World Champion to his existing Chinese Champion prize…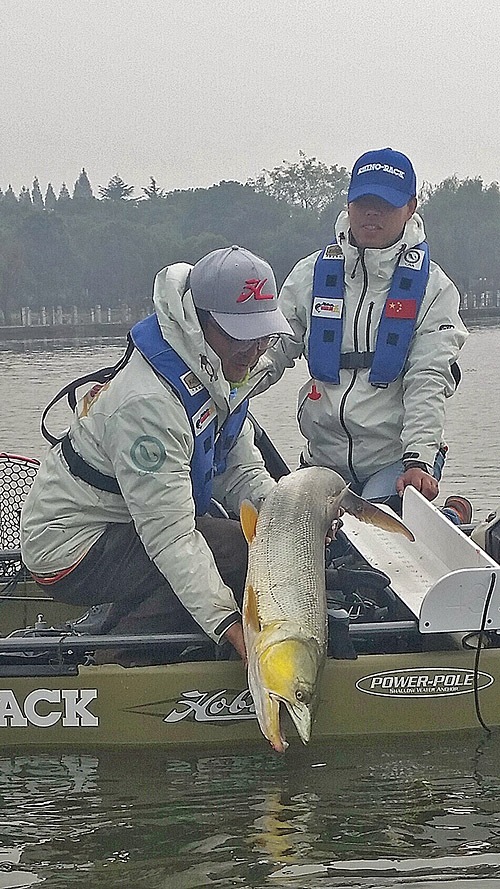 I was incredibly proud to get 5th place. To be able to share this moment with my friends was very special for me – not bad for a little guy from the UK…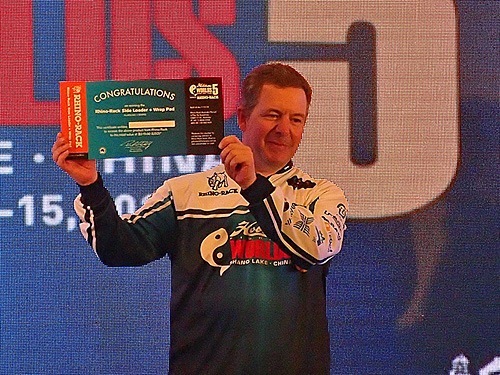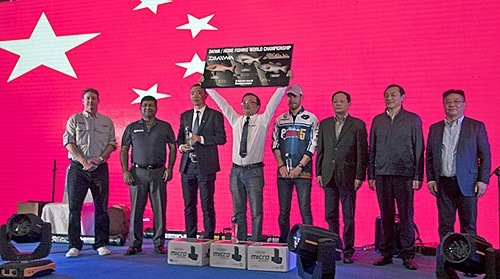 Such a stunning location, yet another series of memories which will last a lifetime…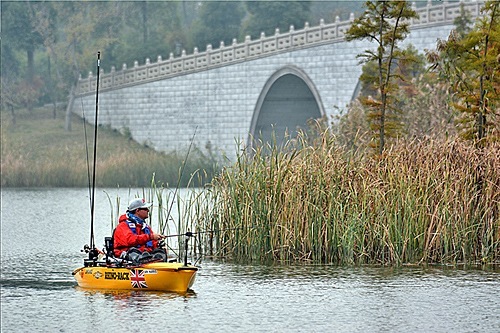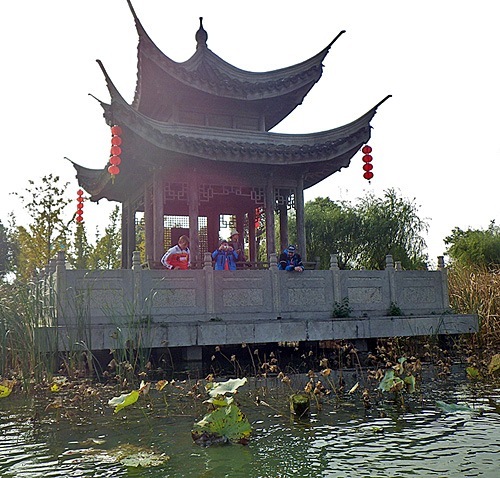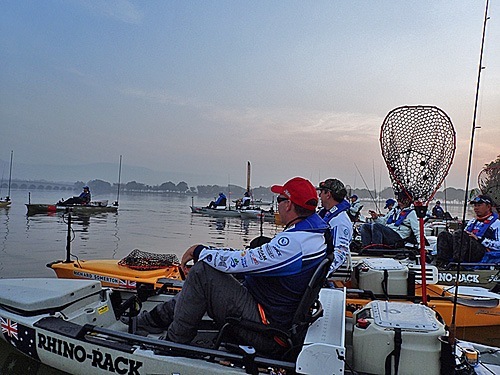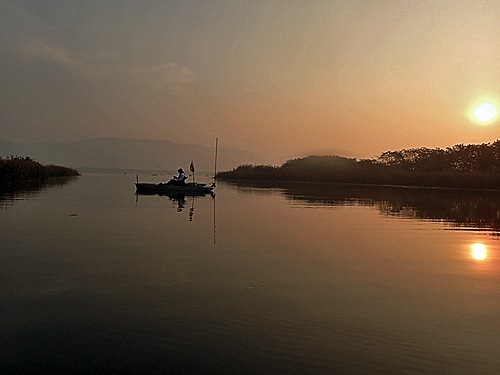 December
I made the annual trip to the Poole flounder meet, its an event I always look forward to. Its the last kayak fishing event of the year, and there's usually a good turn out. This year was no exception, and 45 kayak fishermen turned up. I managed a couple of small flounder, but was just happy catching up with friends to be honest.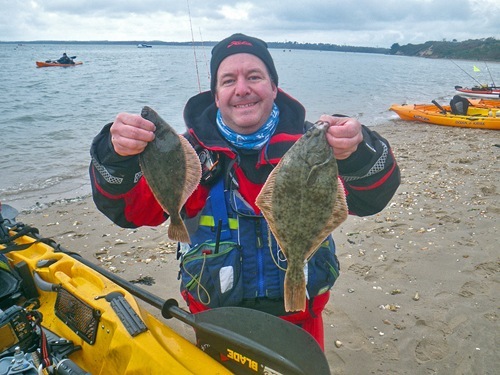 I hope you have enjoyed watching and reading about my escapades during 2015; its been an incredible year for me, and I would like to thank everyone who has been a part of it, especially Steve, David, Charlie, Rob and Trev. Also a massive thanks to those who have supported me this year – Reuben Heaton, Navionics, Palm and especially Steve Beard at the Hobie Cat Centre in Poole.
2016 is going to be an epic year – there are a couple of events planned which will be massively exciting, trust me… Watch this space, and keep following me on Facebook on the "UK Kayak Fishing" and "Kayak Lure Fishing" groups. I wish you all the best for the coming year, and hope to see you on the water.
Category: Fishing, Fishing Venues, Fly Fishing, Kayak Fishing, Kayak Fly Fishing, Pike Fishing, River Fishing, Sea Fishing, Stillwater Fishing