A couple of months ago, I returned from a kayak fishing trip to North Devon, only to find lots of crazy messages on my phone. What was going on ? I thought it was my mates having a laugh, but it turns out I had been selected to represent Hobie Team GB in the World Kayak Fishing championships in Texas. My close friends David Morris of AnglersAfloat and Rob Appleby of SaltwaterKayakFisherman were also coming along with me.
All too soon, it was time to leave for the airport…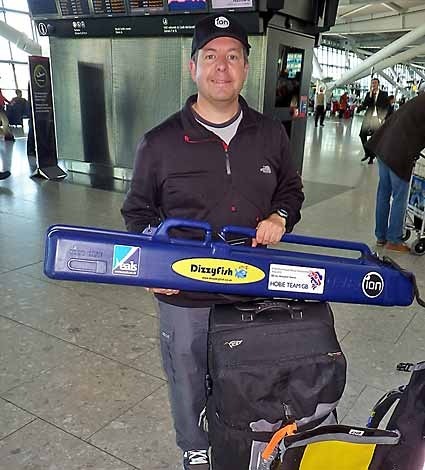 How the plane managed to get off the ground with the amount of tackle Team GB had taken, I will never know. But very soon we were touching down in a much more agreeable 80 degrees in Texas.
The first hurdle for Team GB to negotiate was the utter rubbish (sorry, "trash") sold to us as a "SatNav". A blind man in a cardboard box could have done a better job than this box of tricks. But Rob managed to tame it…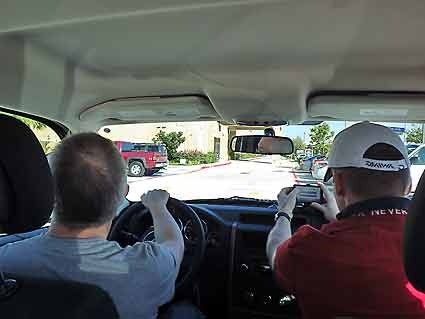 And so it was off to the Hotel for some well earned kip (little did we know, that this would be our one and only decent night's sleep !). The next morning saw us shopping for essential supplies… yep, that's right… the Bass Pro store a couple of minutes away from our strategically selected hotel (Good job David !!!!).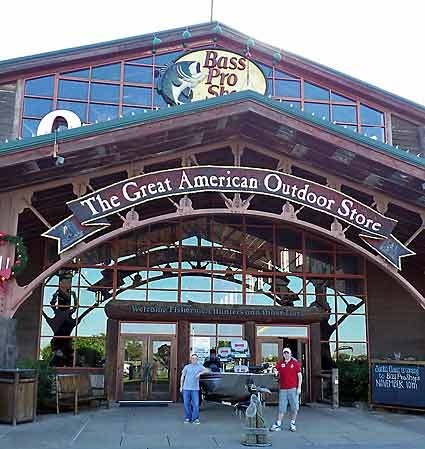 If you have never been to a Bass Pro shop, then you have missed out. Its a bit like a giant sweet shop for grown-ups. I had already pre-ordered a couple of things prior to coming over, so I met the manager of the store, who gave me my presents (High Def Side imaging sonar transducer – suits you sir !). He then proceeded to provide me with my own personal fishing shopping guide – who supposedly knew alot about bass fishing. All I know is that is cost me an arm and a leg.
Loads of great stuff in there…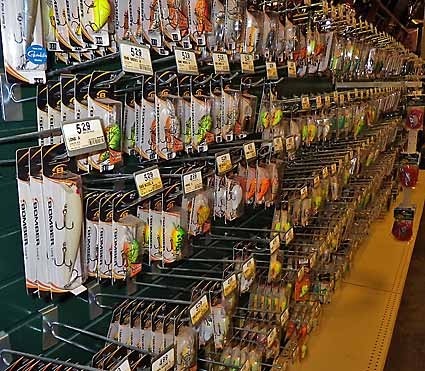 A man could go a bit crazy if left in there too long…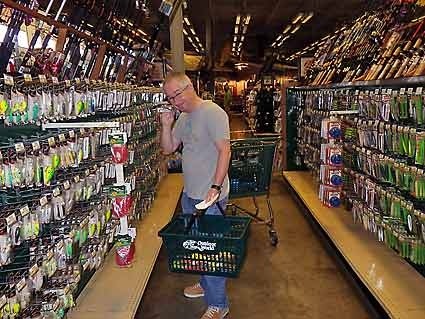 A bird in the hand…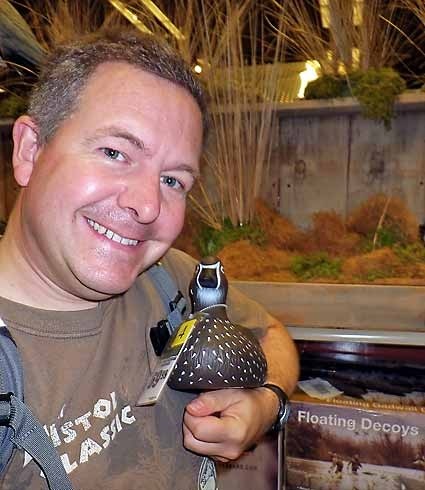 Everything is bigger in Texas – including the lures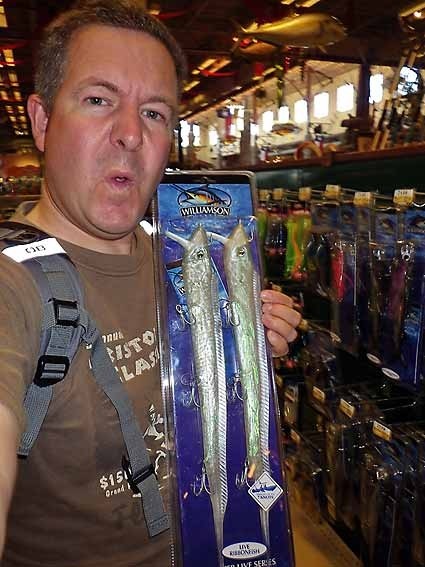 Then eventually, we calmed down and started to blend in with the locals…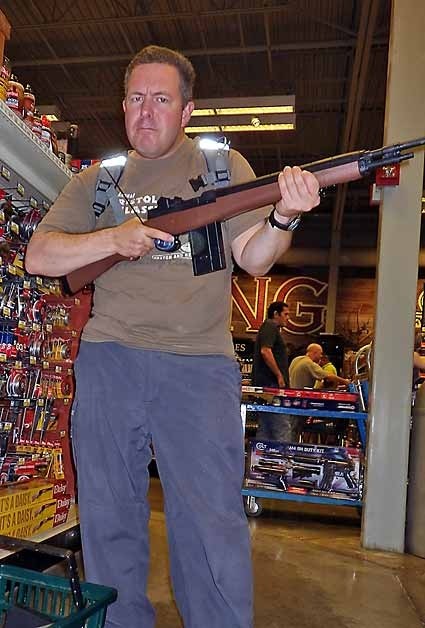 All too soon, it was time to leave, with our ample supplies of fishing tackle.
Next it was on to Austin Canoe and Kayak centre to meet up with everyone. Great fun, a barbeque and lots of goodies, including hats, sunglasses and fishing tops with our names and flags all over them (and more fishing lures too !). We certainly looked the part ! We met loads of new friends, including Nathan and Ashley from team Canada. Ashley had just been pictured on the back cover of the Hobie catelogue, and she was over the moon…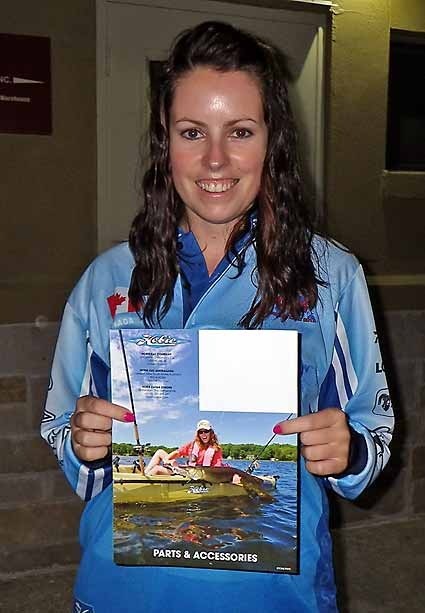 We went back to a new hotel to get ready for practice day at Lake Bastrop. We were split into mixed teams for practice day. The US team were going to split up and look after each of the teams and give us some hints and tips on how to fish for our quarry; the largemouth bass. As it turned out, fishing was quite tough, but Brendan Bayard and his pals did their best to help us. I managed a tiny bass – so I was happy. The weather was brilliant too, all in all a good day on the water. The kayaks had been personalised with name stickers and flags, a RAM camera mount and Lowrance Elite 4xDSi fish finder as well as a Hobie live well, should anyone be lucky enough to catch a trophy bass.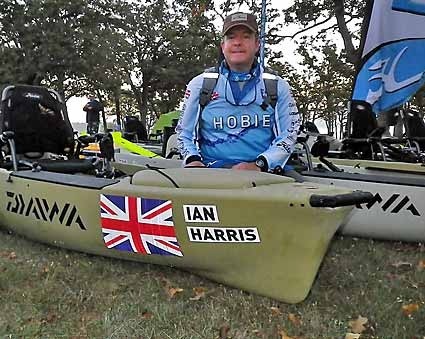 Day 1 Bastrop Lake
We arrived bright and early for day 1 of the competition proper. All set and ready to go.
I decided to try one of the spots that we had been shown the previous day, and David joined me. It turned out to be a good decision, I had a couple of nice fish, including one of over 19 inches (if I had realised how to measure it properly, it would have been the biggest fish of day 1 – doh !).  Hooked on a Rapala shad crankbait well after the fish should have been feeding near the surface. I had cast to the same spot about 10 times, so it just shows that sometimes the fish are there, but you really have to annoy them before they will hit a bait. It was a high risk strategy to fish around the tree stumps and reeds – heavy cover, but the fish were there.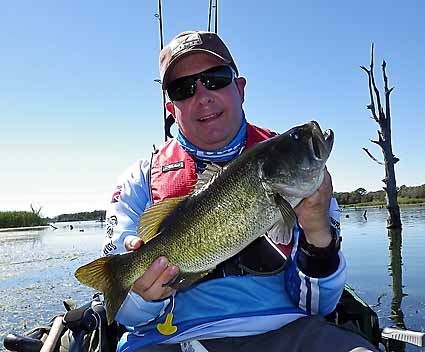 I also thought I had hooked the monster of all catfish…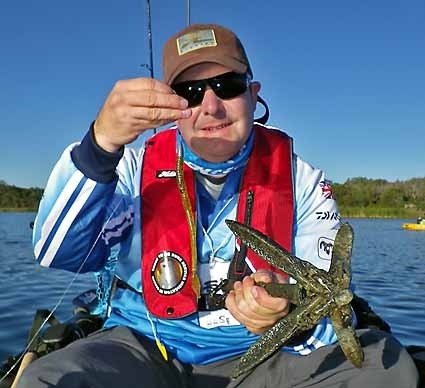 It turned out that my Texas rigged watermellon paddleworm had hooked a rusty old Texas anchor ! I also saw a couple of fish which were much larger, sadly I never managed to hook them.
Most of the competitors then moved on to lakeside lodges at the next lake – Fayette. Team GB were staying in a hotel close by with the Dutch team. The Dutch team were a great bunch of lads and we got on really well with them – if there had been a prize for craziest atire, then they would have been the winners…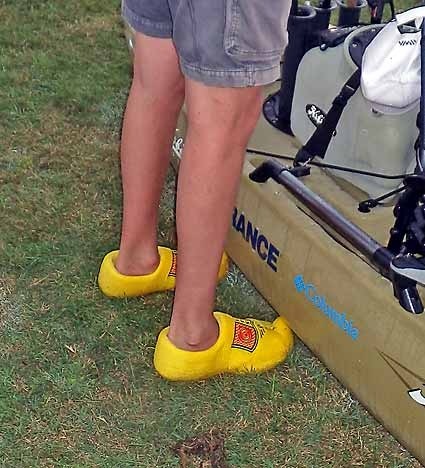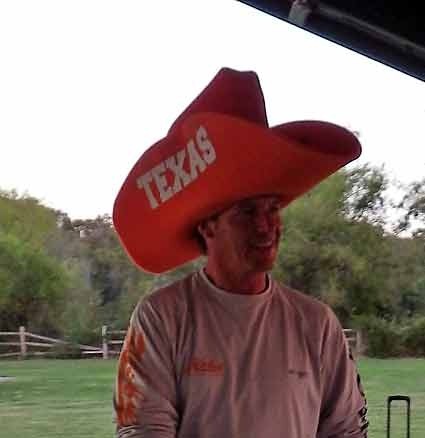 Day 2 Lake Fayette
Another 4am start, and we arrived at the lake to be greeted by perfect conditions. The kayaks were lined up by the lake – they looked great in the early morning sun…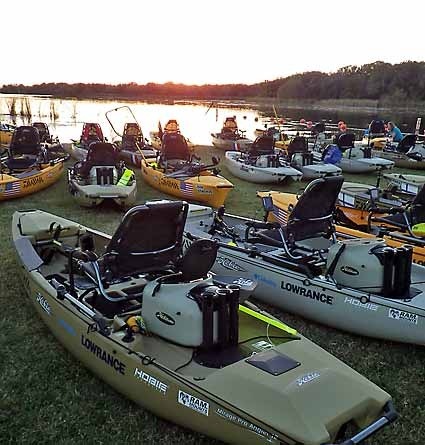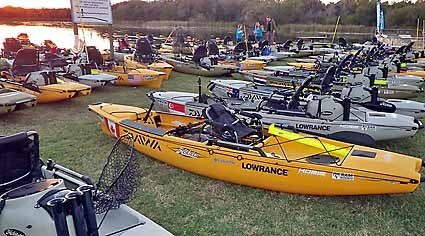 We had all agreed that this would be the pivotal day of the championships. In anticipation of this, I had been doing some homework. I had ordered a detailed scale fishing map of lake fayette which contained all of the best fishing marks together with a description of which methods worked best for the fish at certain times of year.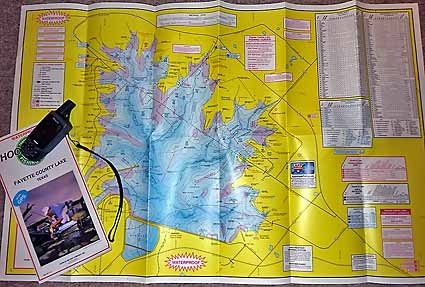 Whilst back in England, I had programmed my trusty GPS with some of the best looking marks in the lake.
The evening before, myself and David analysed the information on the map and formulated a plan of action. We were going to visit the marks using the GPS and as we returned, we would cross over and fish the ones closest to the launch point at Oak Thicket. Well that was the plan ! The reality was very different; after paddling out about 200 yards, I switched the GPS on – after 2 minutes it packed up. Must be dodgy batteries I thought, so I changed them for fresh ones. I switched the GPS unit back on just long enough for the unit to get a satellite fix, only for the LCD display to dim and the unit failed once and for all. With no plan B, I looked at the map and decided to try a wood pile around the corner. David followed me, and Rob was close behind. There were fish around, including some sizeable ones for the Aussie kayakers. But I stayed in that single spot far too long – when I came to my senses, David had disappeared, and with no GPS to direct me to the marks, I found myself drifting around the lake aimlessly trying out as many spots as possible to no avial – very frustrating.  Thrashing the water to a foam with my Teklon Concept and Mitchell Pro Extreme 2000.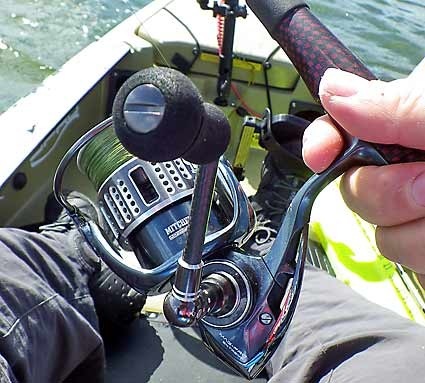 As I returned back to the launch point, the one high note, was that Rob and David had both bagged up (ironically only a short distance from the launch point – I wish I had spotted them earlier). Rob has some big fish, which put a big smile on his face. David also had a good day…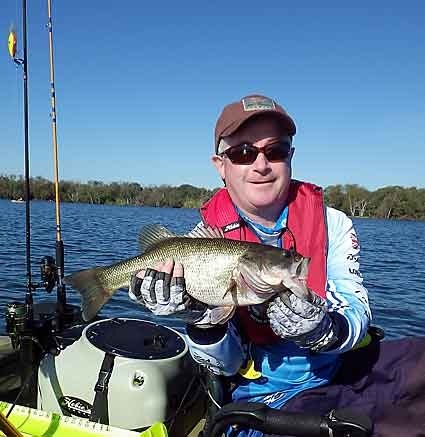 The sunset created a magnificent backdrop to what was turning out to be a great event. I had also made alot of new friends, including one of the US Hobie Ambessedours called Jackie Smith – he was a great guy, and one of the drivers behind getting Hobie to design fishing kayaks.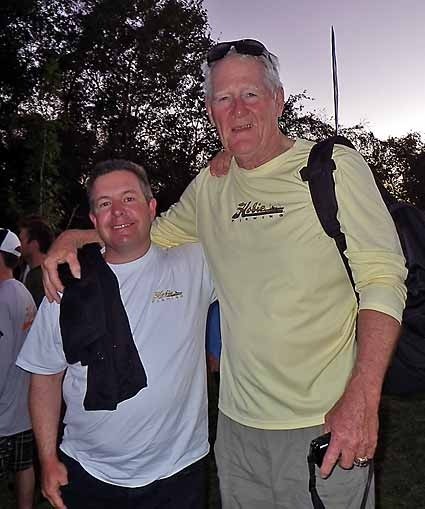 As he said – its easy to get on with people when you have a shared interest – I couldn't agree more.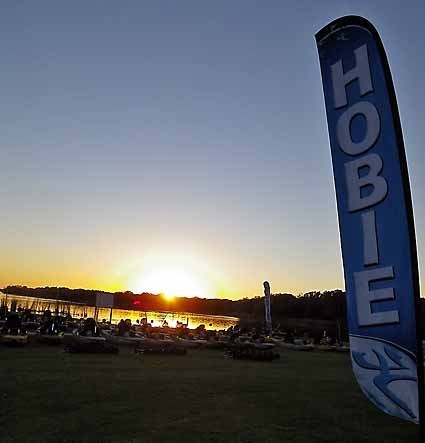 In the evening, we went out to a Mexican restuarant…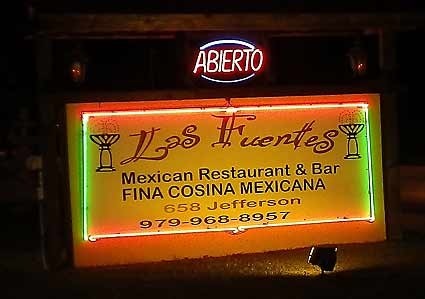 The food was great, and the owners were very friendly…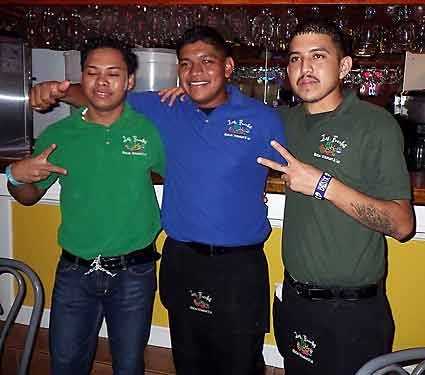 Day 3 – Lake Fayette
This was to be the final day of the championships. The weather was again fantastic – there was a thin mist rolling in across the surface of the water, which only added to the atmosphere of the moment. And to top it all, my buddy Jackie Smith sang the star spangled banner whilst we all stood up on our kayaks – it really was a special moment and the pictures only go some way to conveying the mood…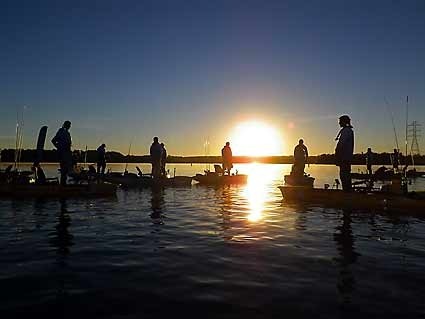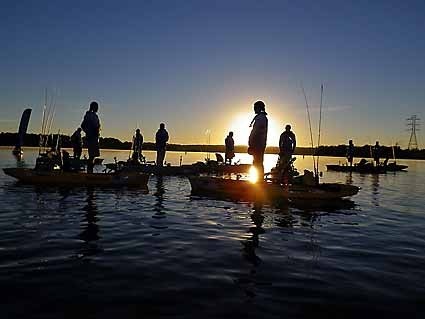 I later found out that Jackie was a big hero in Texas – he played American football for the Dallas Cowboys and was in the American Football Hall of Fame. A very understated and modest man – and a great singer too.
We took to the water for the last time – you could sense the excitement…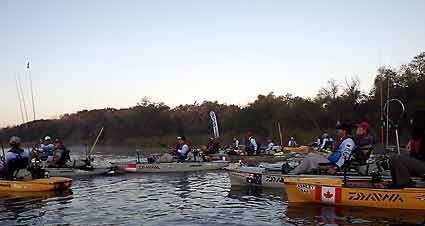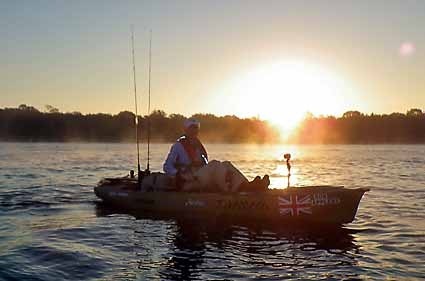 Topwater lures were scoring early in the day, and I had been dying to try out a ribbet weedless lure which many of the other competitors had been doing well with…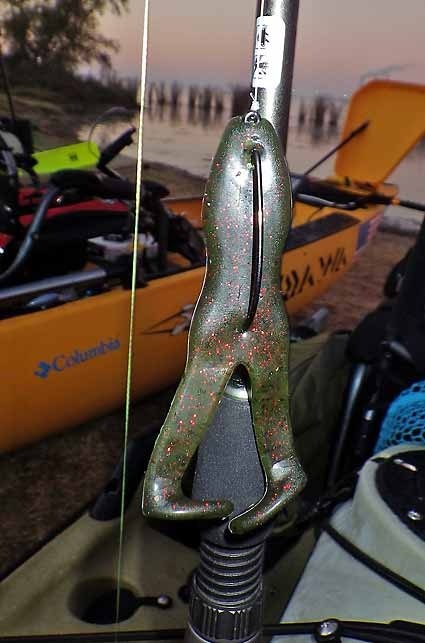 It didn't work, so I moved over towards some structure where I had seen fish the day before and switched to my trusty crank baits again…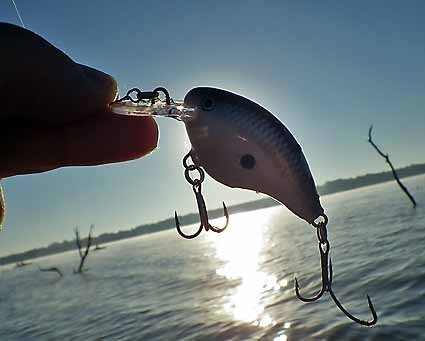 I was sure that the fish were amongst the trees…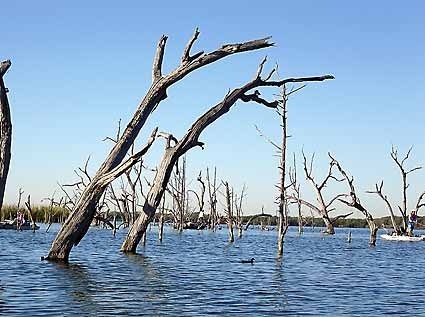 I heard a shout from the other side of the trees – it was Ashley Rae from Canada with a nice fish – I paddled over and took some pictures…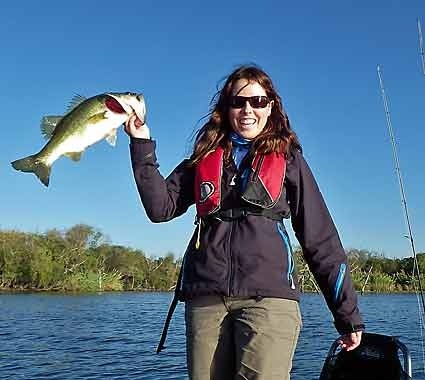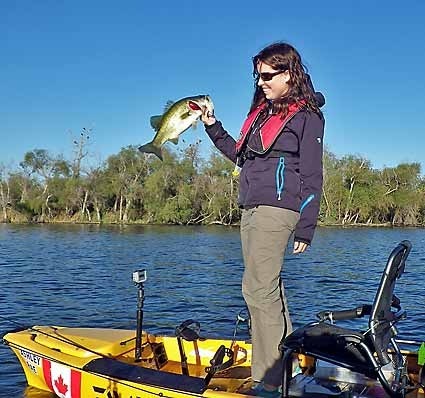 As you can see, she was quite happy !
I paddled back towards the trees and made a cast only meters from where Ashley had hooked her fish – bang – fish on ! I reeled it in and went back to the trees – within 10 minutes (and only just gone 8am) I had my 3 measureable fish.
I then paddled out to join David and Rob at the same spot they had been at the previous day. Rob had also caught his 3 fish, including one decent sized one. I switched to a red senko worm Texas rigged with a conehead, and drifted along in the breeze. I had a fish on my first drift.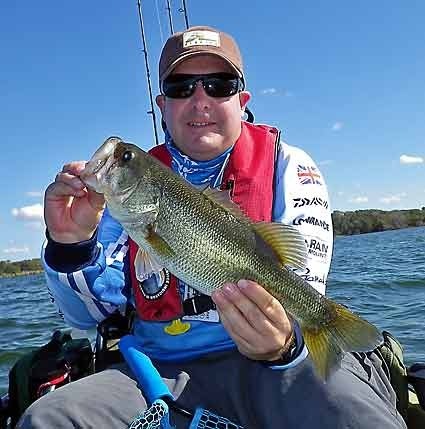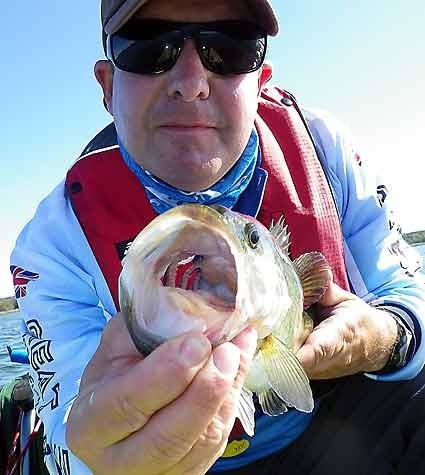 And David followed suit…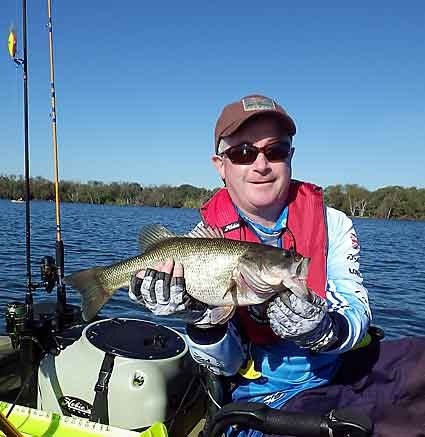 I knew that I was never going to do very well after my disaster the previous day, but the fishing was addictive – and I just couldn't stop. The largemouth bass fight quite well and they love to jump, which always brings a smile to my face. I lost count of how many fish I caught that day – all I know is that is was great fun. I passed a few other competitors on the way back – and everyone was smiling – what a great day…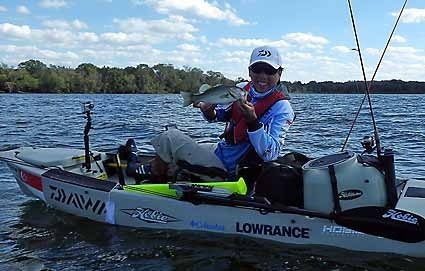 When we got back to shore, we couldn't resist breaking out the union jack… come on the Brits !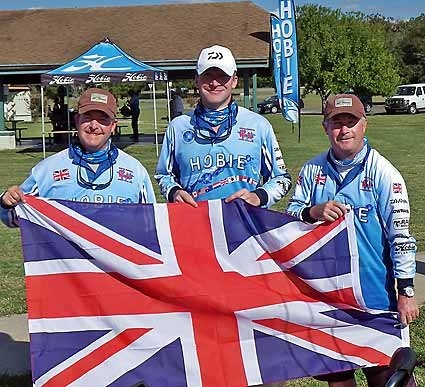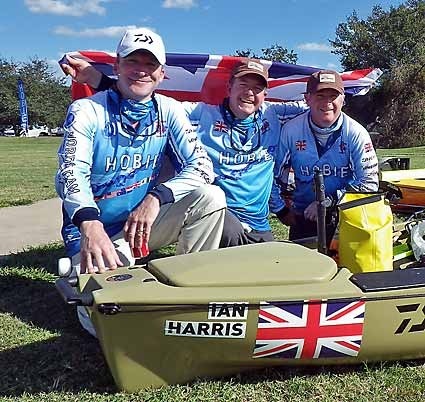 The prizes were presented in the evening, and we all got a chance to have pictures taken with some of the new friends we had made. Here are just a few of them…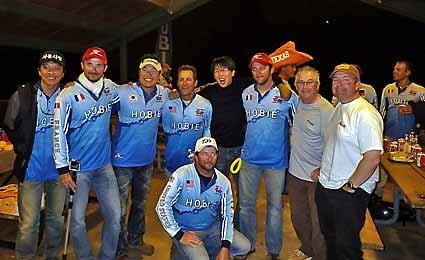 I will always remember my time in Texas representing Hobie Team GB – and I hope to keep in touch will all of the people I met whilst I was over there – they really were a great bunch of lads and lasses. I know that Team GB will be remembered for all the right reasons, and I am sure that with the knowledge we have gained, the team will go from strength to strength.
Hobie Team GB would like to thank the Hobie Cat Centre at Poole for giving us the opportunity to travel to Texas (if you want to experience hands free fishing from a Hobie kayak – then give them a shout – you will not regret it). We would also like to thank our sponsors, in particular Dave Box from Veals mail order for the rods and reels, iON for their brilliant Air PRO High definition Action cameras (loads of video of the Texas event – will edit soon), Palm for their kayak friendly clothing and boots, Overboard for their great waterproof bags, Daiwa for their reels (David has a very soft spot for his Luvias reel !) and the event sponsors Hobie, Lowrance, Daiwa, Gamakatsu, RAM etc etc.
For myself and David, our Texas adventure was not quite over – we managed an extra day of kayak fishing on the saltwater flats near Houston… and it was great… watch this space to read all about it.
Category: Fishing, Fishing Venues, Kayak Fishing, Stillwater Fishing, Texas