Review of ABU SORON STX 40 Fixed spool reel
The Soron is a high-end reel from ABU which promised much in terms of quality and performance. It is designed with the new breed of super lines (braid) in mind, and I suspect it is an attempt by ABU to return to their halcyon days, in which they were renowned for such quality names as Ambassador and Cardinal. The reel we are reviewing is a 40 size, and is supposed to be up to the job of working in saltwater as well as freshwater.
Now, I wanted to give this reel a proper workout, and given the claims which ABU are making, I wanted someone who knew their stuff, to give it a damn good thrashing. There was one person I had in mind… Stephen Henry (or 'Lureman' to his friends). Steve loves his spinning, and when he is not catching specimen chub, pike and perch from rivers, he is pulling in tope, double figure cod and smoothound from the kayak… all using his preferred fixed spool reels. He really knows his stuff when it comes to using quality gear, and I knew he would give an honest apprasial of the reel's capabilities. The only instruction I gave him was…
"Go and catch a monster, and let's see what this reel can do !".
A few moments later, I was almost regretting my words, as I imagined Steve destroying the reel on some unseen monster of the depths, but no matter – the seed was sown, and it was time to see how the Soron would cope with Sea, Salt and Steve – and the kayak.
From Steve….
Abu used to have an excellent reputation for producing top quality fishing reels from their Swedish factory, this one although made in the far east it looks like a return to better things.
The reel comes with two spools both alloy. One is designed for use with what Abu call superlines (braid to you and I). It has rubber 'O' rings to grip the braid. The other spool is for use with traditional monofilament. Also included is a small neoprene reel pouch.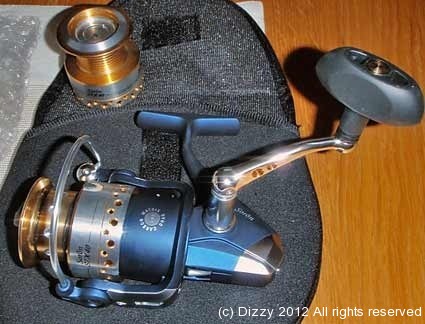 Reel specification :
Gear ratio               : 5.1: 1
Line capacity        : 10lbs 210yrds
Weight                     : 11ozs
The body of the reel is made of what Abu call X-Craftic; an alloy body cover and rotor arm giving unmatched corrosion resistance. As this reel will be used for kayak fishing this is very important, if not essential, as my reels always seem to get a good dunking. It has a sealed Carbon matrix front drag, over sized Everlast bail arm system. Top quality HPCR bearings for extreme corrosion resistance are also included… This reel is clearly built to last.
Upon loading the spool with braid, the line lay (very important with braid) was perfect. I tend to load my braid nearer the spool lip than most, and so far have had zero trouble using this reel both with lures and ledgers.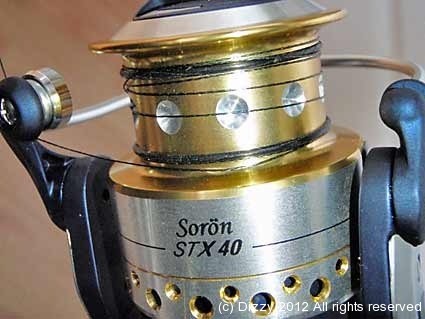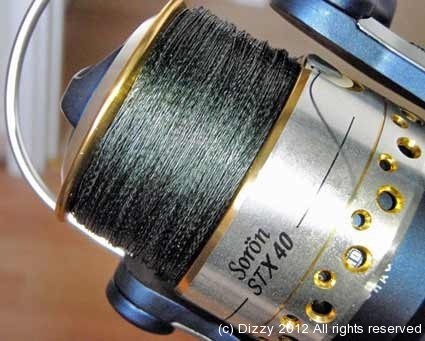 Saltwater fishing is what the Soron will be doing most. It is designed for this, and Abu recommend rinsing with freshwater after every fishing trip. Something I always do I then spray all my reels with WD40.
The main body of the reel has a small grub screw at the back so easy access for the application of grease and reel oil (many modern reels do not allow easy access to the internals, and this lets them down).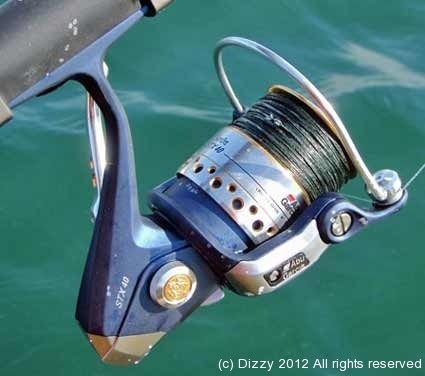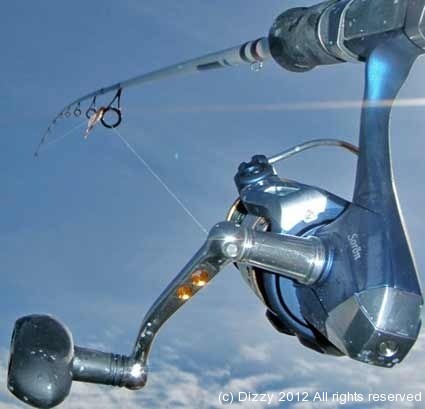 The Soron has been used when feathering for Mackerel with larger lead weights than normal as well as fishing for Smooth hounds, which are very hard fighters for their size. Turbo charged smoothound put lots of pressure on the reel, which it handled with ease. In fact the reel surprised me.
I managed to landed a new PB Smooth hound of 12LB + which refused to give in. The Soron coped with all its amazing runs with admirably.
The Terminal tackle used, was size 2/0 viking hook tied to 25lb clear Amnesia hook length. I use Amnesia because it has great abrasion resistance and low memory. Main line was 30lb power pro braid with a leader again 25lb clear Amnesia.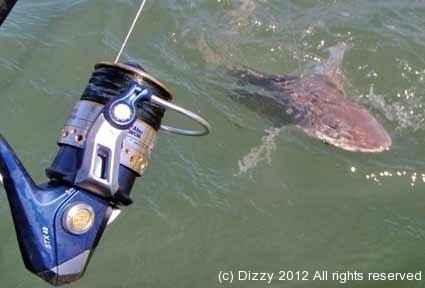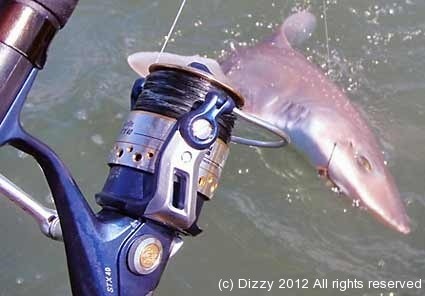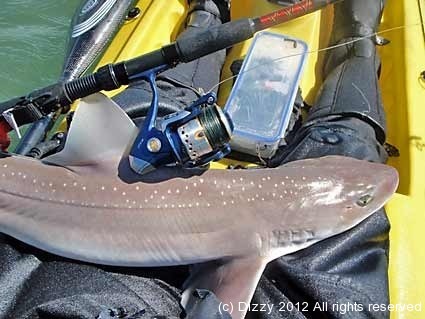 The Soron is priced at the higher end of the market; around the £100 mark, so its not cheap. But you get top features for your money, coupled that with the knowledge that it will last.
It comes in three sizes and in the larger two would be ideal for most UK Kayak fishing work. Including Tope… I use a fixed spool reel when fishing for Tope from my yak, and the larger size would be a joy to use when targeting these hard fighting fish.
The Soron STX 40 would be perfect for all lure fishing applications we have in the UK, both in Salt and Freshwater.  It casts very well too. I normally use a Shimano for my lure fishing, and the ABU Soron is comparable, which is high praise indeed.
From Dizzyfish…
A big thanks to Steve for putting the reel through its paces – and congratulations on the 12lb+ PB smoothound… that is one heck of a test for a 40 sized reel – and high praise indeed from someone who I consider an expert on fixed spool reels – and a great fisherman too !
The ABU Soron fixed spool reel is available from Veals Mail Order…