Review of ABU Ambassadeur gloves
As a rule, I don't usually wear gloves when fishing. However, recently I have been finding that no matter careful you are when unhooking fish like tope, smoothound, huss and dogfish – eventually you will get caught out by their sandpaper-like skin. This can be particularly bad in the Bristol Channel when you have to work your way through hundreds of dogfish in order to get to the rays…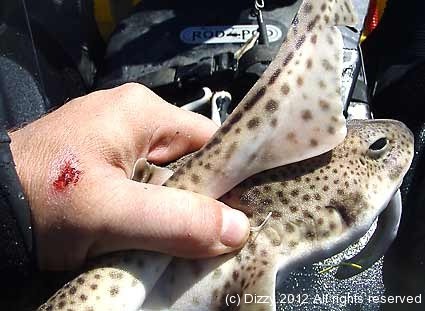 So when I saw these ABU Ambassaduer gloves, I thought I would try them out.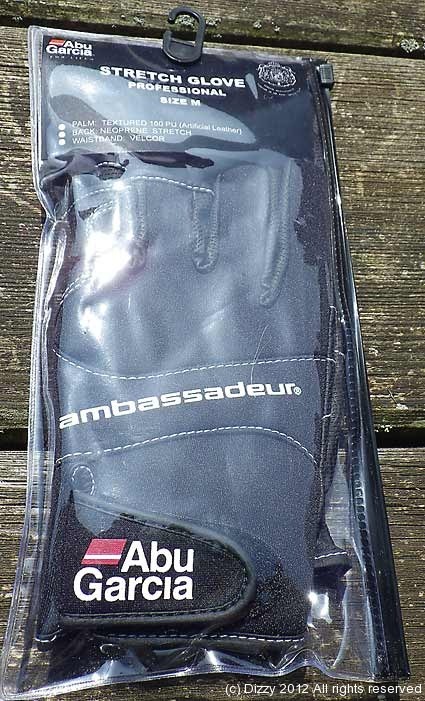 I have quite small hands, and the medium size fitted me best (They come in sizes Medium, Large and XL). They feel good – the materials are thin and stretch – you can still "feel" and bait up with them – something which is amiss with other types of glove I have tried in the past.
Two of the fingers and the thumb are exposed, and the back of the glove is made from thin stretchy neoprene.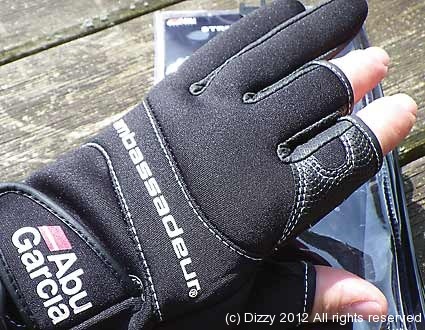 The palm of the gloves is made from a stretchy rubberised material – its not leather, but it provides a really good grip and its very elastic.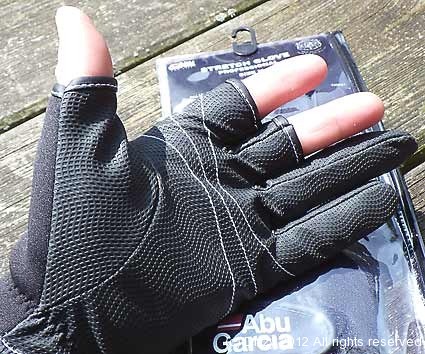 A velcro wrist strap allows you to tighten the gloves easily.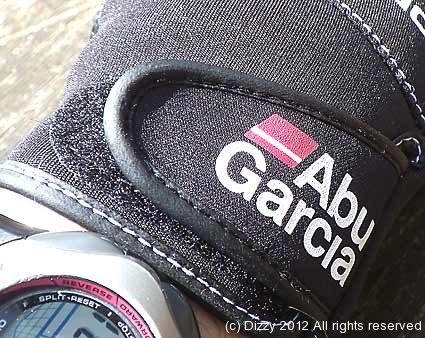 I took them out on a Bristol Channel kayak fishing ray trip – I caught loads of dogfish and gave them a proper good work out !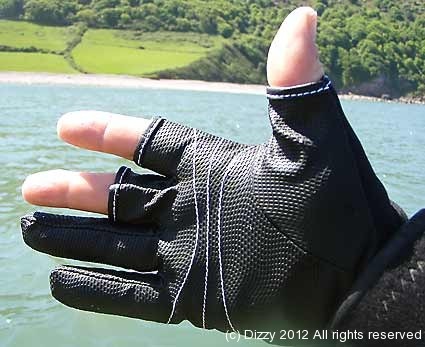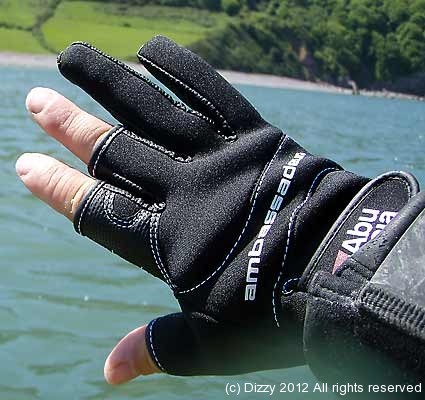 I thought they were great – but they had hidden benefits which I hadn't really considered when I took them out. They were great for paddling in the kayak – they gave an improved grip on the paddle and were not too thick, so great in the summer. Also, they were great for hauling in the anchor warp, sometimes its not easy when the warp is only 2mm, and the gloves definitely helped.
Subsequent to me using them, the gloves were spotted by one of my bass fishing buddies, and he reckoned they would be great for lure fishing for bass… he's not getting his hands on them though, I like them too much !
Unusually for me, I cannot find anything negative to say about them – I guess maybe they are a bit too thin for seriously cold winter cod work.
So in summary…
– They make great paddling gloves

– They are ideal for stopping your hands from being torn up by huss, tope, smuts and LSD's and they are also great for hauling the anchor warp on the yak

– They provide a good feel – thin and stretchy

– They are only £12 !
The ABU Ambassadeur Gloves are available from Veals mail order tackle…
https://www.veals.co.uk/acatalog/abu-ambassadeur-gloves-3472.html