Rovex Stainless Steel pliers with braid cutter
A pair of decent stainless steel pliers, is a MUST have for any self respecting kayak fisherman in my opinion. For many years I have owned a set of Grauvell stainless steel pliers – its a fantastic piece of kit for unhooking anything from dogfish to tope. BUT, sadly Grauvell do not seem to make them any more, so I have been on the look out for a replacement.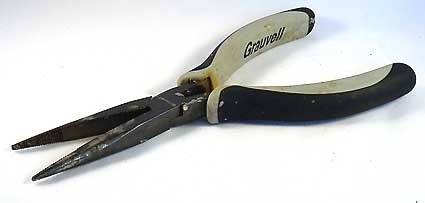 You can get hold of decent stainless pliers – but usually you are talking £40 and upwards, and I cannot afford that for something I am more than likely to lose over the side of the kayak.
I was after something for under £20 – and those good people at Rovex have something that ticks many of the boxes. Its a pair of stainless steel pliers with a braid cutter and it also has a leash and a pouch so that you don't lose it. Best of all, it only costs £12 !!!!!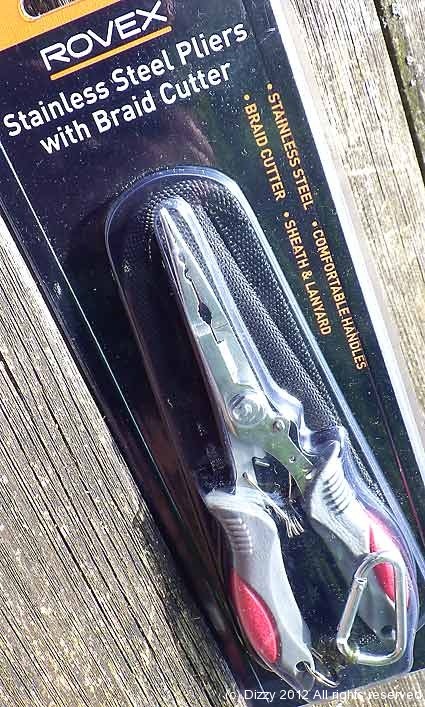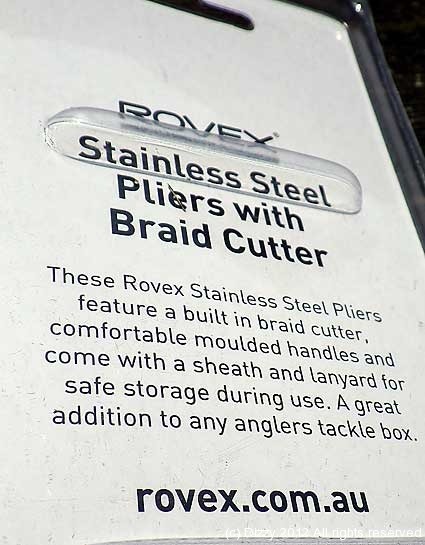 Lets take a closer look at the pliers. The jaws are made of stainless steel and the handles are soft plastic – so no worries about rust on that front. The karabiner attached to one end of the leash looks a bit suspect, so you would need to keep an eye on it and replace if necessary. The sheath is made of nylon and is OK, but the securing tab is a bit too short. In any case, I suspect that most kayak fishermen would not use the sheath, and would just attach the karabiner directly to the yak.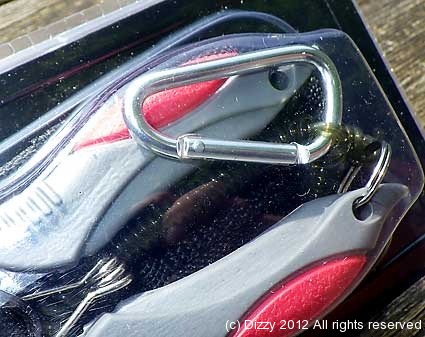 The jaws of the pliers are not as heavyweight as the Grauvell, so you wont be using them to gets hooks out of big fish like huss or tope. But they are quite capable of extracting hooks from small to medium weight fish and especially from smaller fish such as flatties or bream – an area which the Grauvells struggled due to their size.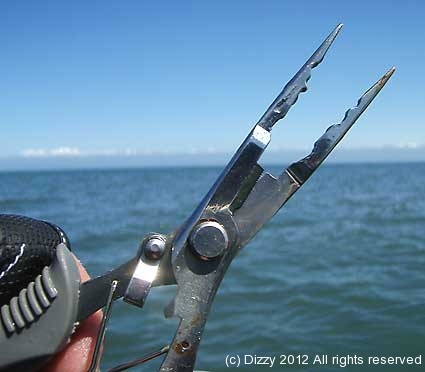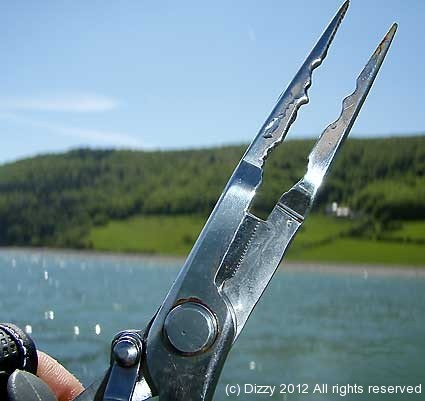 The jaws also have a couple of recessed shapes cut out of them – I am not sure what they are for, but they look like they might be used to close split shot.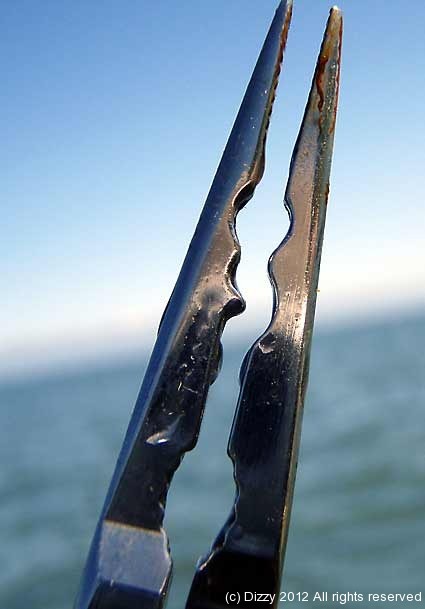 At the bottom of the jaws are some braid cutters. I tried these out on braid from 20 to 80lbs and they worked a treat (I also tried them out on wire and they were OK too)…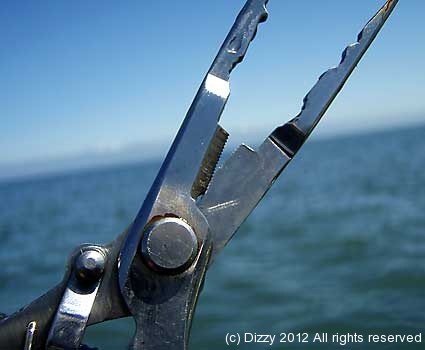 The pliers are spring loaded, so the jaws will be forced open. They can be locked shut by using a small clip shown below (similar to that used on garden shears)…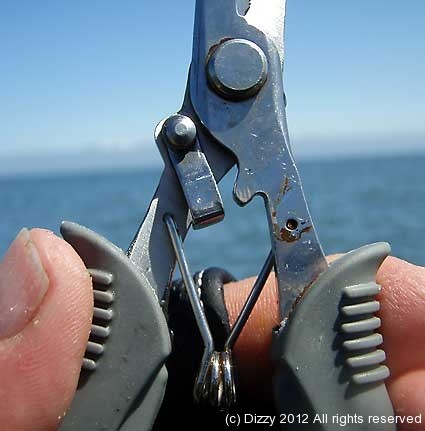 The leash is brilliant – not too long and not too thick – really great for leashing to the kayak…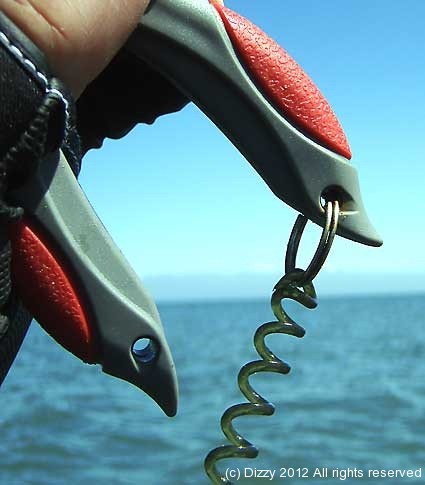 I tried them out on a number of unsuspecting dogfish, and they coped without any problem.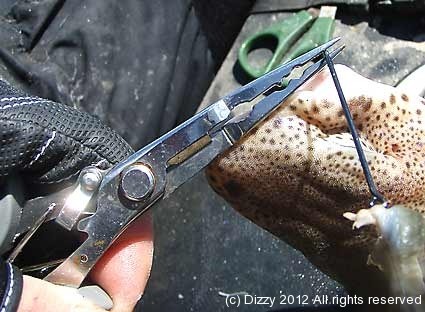 All in all, I think these pliers are great value for money – I will be carrying a set on the kayak with me everywhere from now on. They are not heavy duty, but are fine for 99% of most kayak fishermen's needs.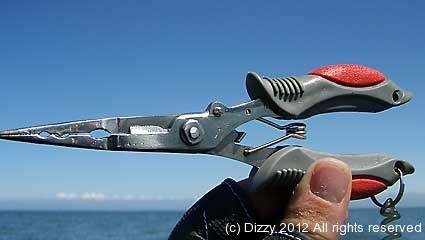 £12 buys you a set of stainless steel pliers, a braid cutter, a leash, a karabiner, and a sheath – you can't say much fairer than that !
Rovex stainless steel pliers are available from Veals mail order tackle…
https://www.veals.co.uk/acatalog/rovex-stainless-steel-pliers-with-braid-cutter-3424.html
Note : Feb 2013; after a year of saltwater abuse on the kayak, amazingly, the Rovex pliers are still working (just !) – the spring, clip, and carabiner rusted – but the jaws still work fine – you just can't lock the jaws shut and they don't spring open automatically – which doesn't seem to detract from their useability. To be honest considering the amount of abuse I have given it over the last year, for £12 – that is not bad !