Review of Mitchell Mag Pro 2000 reels
There are two very similar looking reels in the Mitchell Mag pro 2000 family, so rather than writing separate reviews on each reel; you can read about both of the "Mitchell Brothers" below…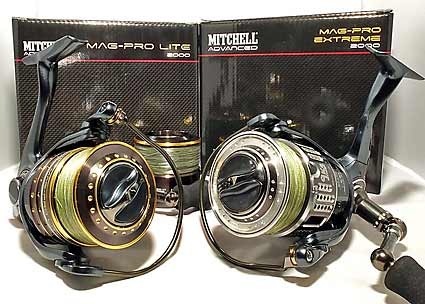 I was looking to get my hands on a really high quality 3000/4000 spinning reel to take to the Hobie World Kayak fishing Championships in Texas. The reels would be used exclusively for lure fishing from the kayak. When I asked Dave Box at Veals, for his advice – he mentioned the Mitchell reels. I have to be honest and say that I had not heard of either of the two reels before. My experience of Mitchell reels stems from years back, when I used to own an old freshwater reel and a 602AP. In their time, they were great reels, which had a reputation for lasting a long time.
However, I digress – this was now, so back to the modern day Mitchell reels… Dave uses these reels himself – and for someone who knows a thing or two about fishing tackle, and could probably have his choice of any reel on the market, that was good enough for me !
Its funny that reputation and cost seem to have an over-influential bearing at the upper end of the lure reel market – with the advent of HRF and LRF gaining massive popularity, there is no shortage of information about the many types of high-end lure reels available. But no-one seemed to know much about the Mitchells. Given their price, you could be forgiven for thinking that this would just be another "also ran" reel, but "Feel" means alot in my books – with a fixed spool reel, you can very often get a good impression of a reel's quality just by picking it up, holding it, and turning the handle a few times. These reels had a very good "Feel" to them – light and smooth – things were looking promising.
We shall look at each one in a bit more detail…
Mitchell Mag Pro Lite 2000
A smart little reel which felt alot lighter than it looked…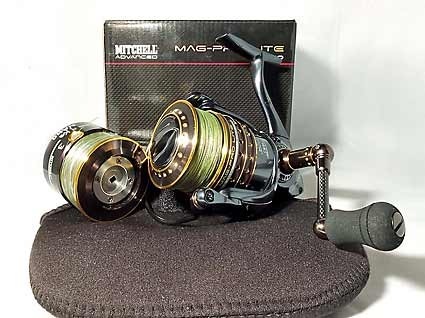 The reel comes with a spare spool and a smart neoprene protective pouch.
The vital statistics on the packaging…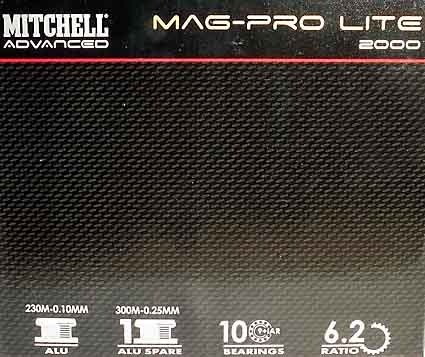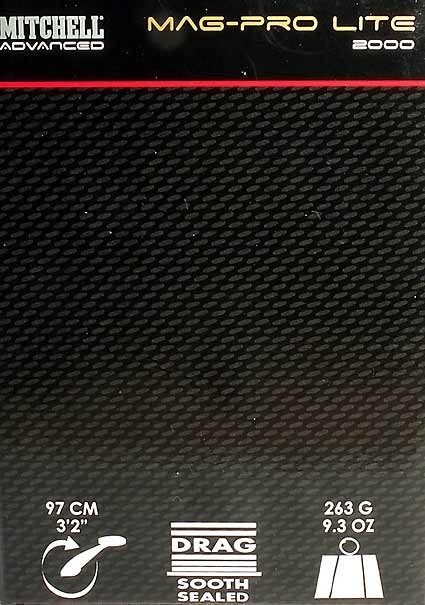 The points of importance to me…
Spare spool (the standard is shallower and designed for braid)
Lightweight – only 263g
6.2:1 ratio
Sealed drag
Let's take a closer look at the individual components…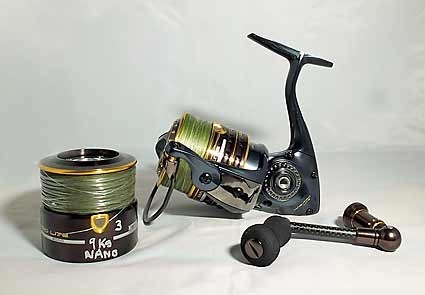 Apologies for the writing on the reel and spool – they were setup ready for me to take to Texas and I needed quick reference for line types and strengths. Everything was neat and it looked like quality was high – the materials used on the handle, spool and reel also looked good. The handle was very eye catching – but as we fisherman know, looks mean nothing when you are out fishing.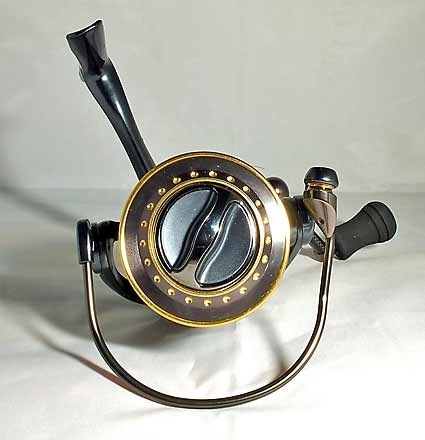 The spool looked smart, and the clutch was very smooth – which is a really important consideration when lure fishing.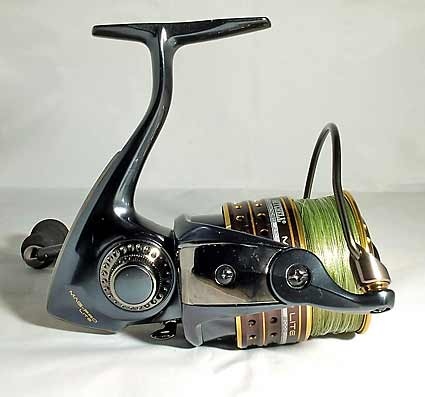 The bale arm roller was also smart, and there was little or no sign of line twist when I loaded the reel with 10kg Varivas braid.
No surprises underneath the reel – the usual anti-reverse switch.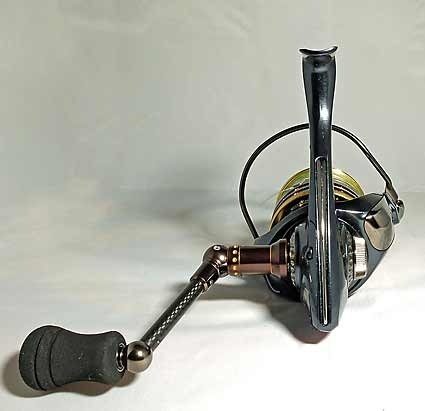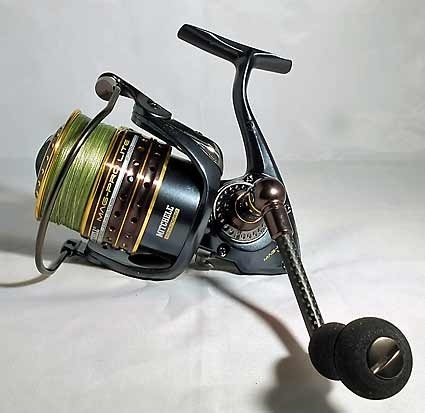 There are some (normal phillips) screws which can be used to gain access to the reel for maintenance, which is always a bonus.
The handle is comfortable and very well designed – it also looks very hi-tec with its carbon shaft…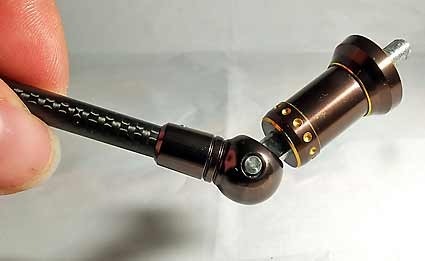 The spools are also look very smart – but are clearly well made and tough, as well as being light…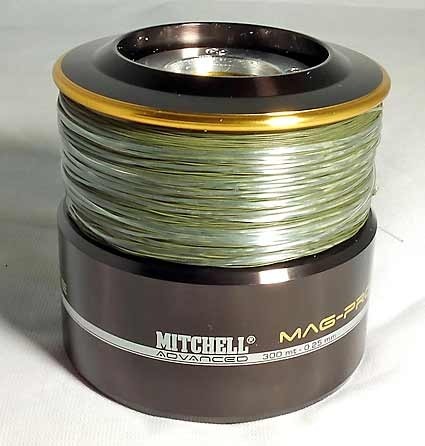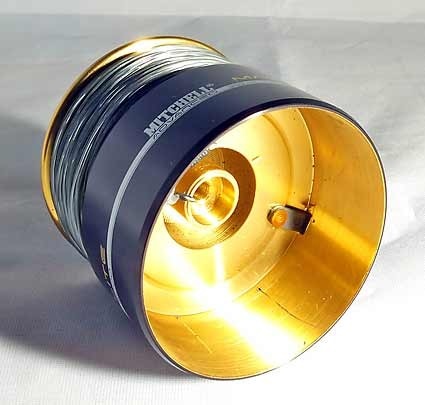 So a great little reel at a good price. The reel felt good, and you will see below how it performed when pitted against some American Largemouth bass. Just for comparison, the Mag Pro Lite is almost exactly the same weight as the Daiwa Luvias 3000 DA custom, a reel which is held in high esteem by many lure anglers.
Mitchell Mag Pro Extreme 2000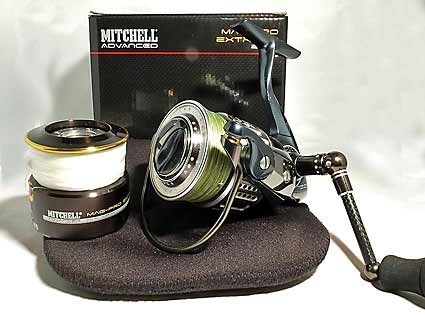 On paper, the Mag Pro Extreme didn't seem appear to be that different to the Mag Pro Lite, it comes with the same smart neoprene case and spare spool. But as soon as you pick it up, you realise, that the Pro Extreme has stepped everything up a gear – especially in terms of weight. The Pro Lite was, well, light, but the Mag Pro Extreme is incredibly light. It weighs in at an amazing 231g !!!
Its vital statistics can be seen from the packaging…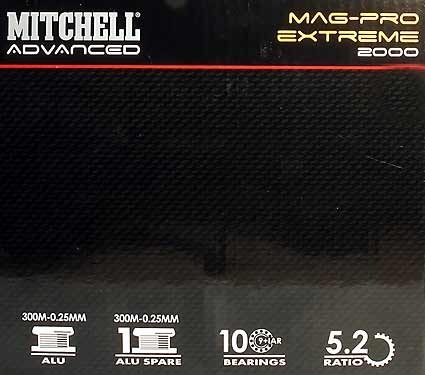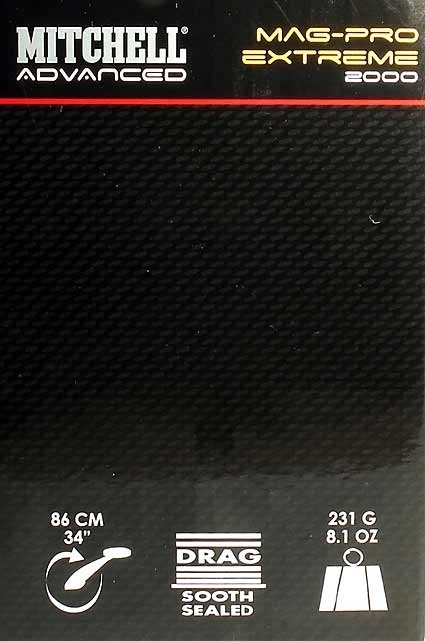 Of most importance…
Ratio 5.2:1
Weight 231g !!!!!!
Spare spool
The retrieve ratio is lower, which suits me – sometimes with HRF, I have found that you don't get as much "feel" using reels with high retrieve ratios; especially when inching back senkos.
It seems like the engineers have pulled out all of the stops to make this reel feel special, without sacrificing quality in any way.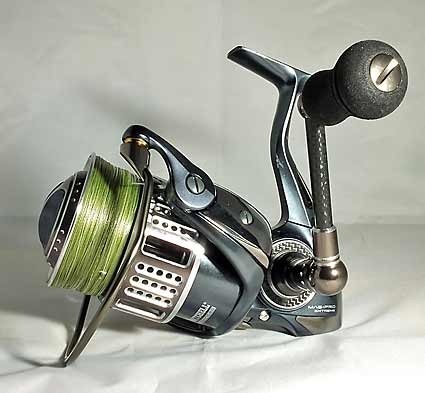 The same high quality handle and body, but it has a skeletal feel about it – still solid, but almost like the reel has been stripped back to its bare bones.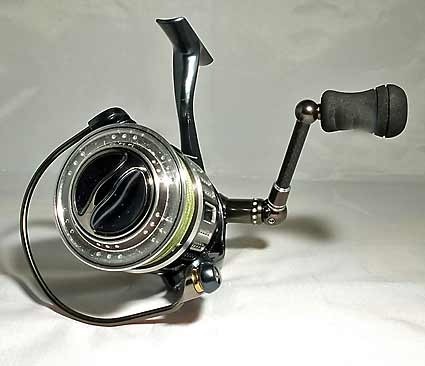 The spool design is slightly different on the Pro Extreme – more understated, but also with increased venting on the sides, which helps to bring the weight down.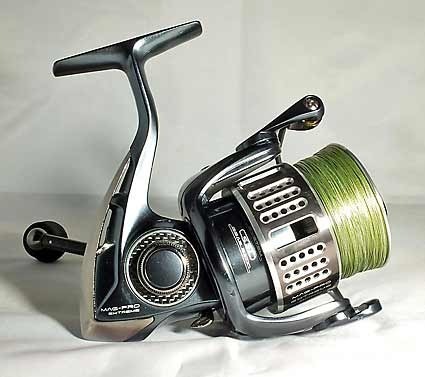 An extra bit of carbon "bling" has been added by the handle – it makes the reel look a bit more "special", but is only there to catch our eye (it worked !!!).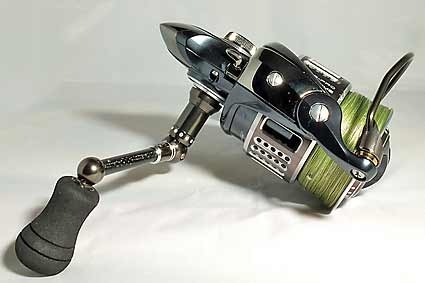 Again, all pretty much standard underneath with the anti reverse knob. Good to see (as with the Pro Lite) that there is easy access to the inside of the reel (undo the phillips screws) for maintenance. The same cannot be said of reels costing many times more than the Mitchells.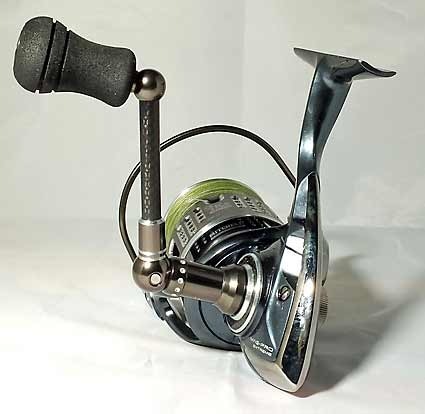 There are lots of little touches on the reel – things like the increased spool venting, and the minimalist bale arm housing (below) which would easily go un-noticed, but prove that someone has taken time to think seriously about how the reel should look and function. The attention to detail is impressive.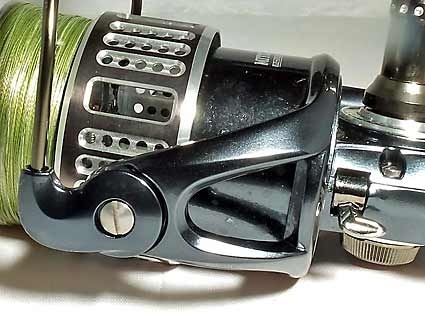 The spare spool has a larger capacity than the main spool and is not vented…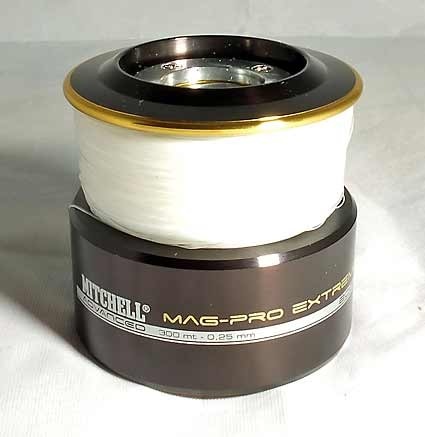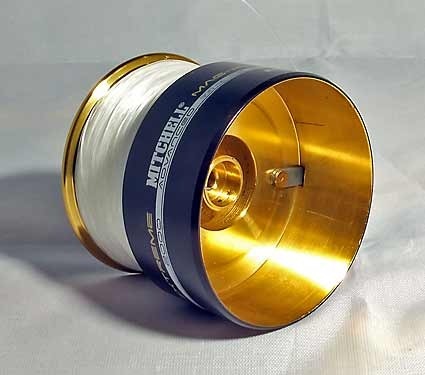 The proof of the pudding is in the eating, and you will see below, how how I got on whilst using the reel in anger. It did not disappoint, and has become one of my most favourite reels. Its light, tough and well priced. Only time will tell, but it also looks like it will last a long time.
My Conclusions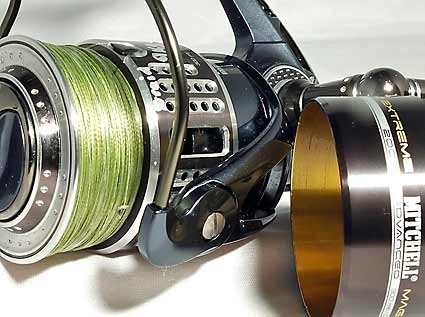 Both of the reels performed well when lure fishing…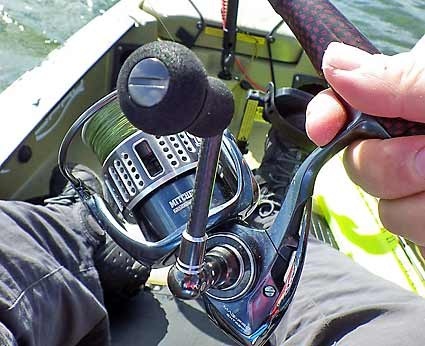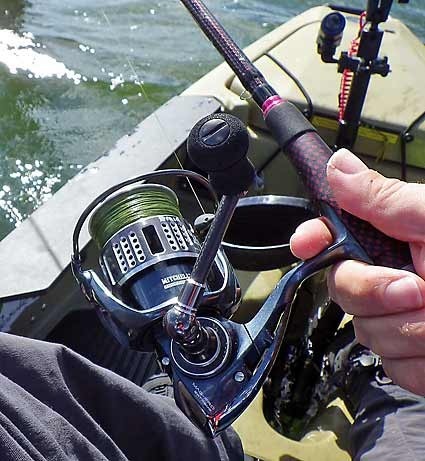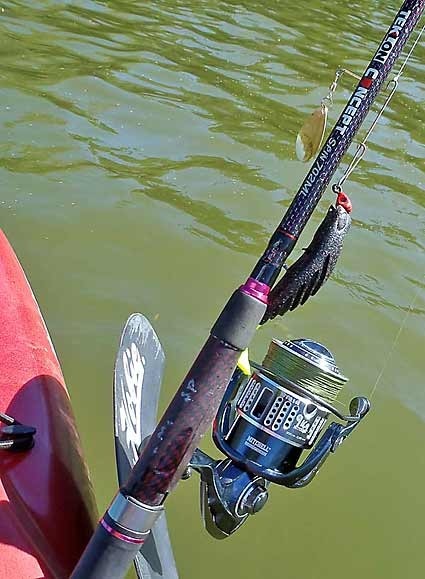 I caught enough decent fish on them both, to know that they will perform at the highest level for UK lure fishing in the salt – and in particular for UK kayak fishing.
The only negatives I could find with the reels concerned the spool profiling/tuning – I found I had to add one of the supplied spool tuning washers to achieve the line profile I wanted. This is pretty standard with modern lure reels – but make sure you watch the bearings – they can stay with the spool rather than on the shaft, when changing spools.
I have used loads of fixed spool reels over the years, but for their price, these two are a cut above the rest. I suspect you will not find many rave reviews about them – simply because they are not well known. In my book, that means they are hidden gems, and based upon their performance so far, I wouldn't hesitate to recommend them to anyone looking for a high-end lure reel at a sensible price.
As you can probably tell from the review above, I was particularly smitten by the Mitchell Mag Pro Extreme 2000. It was one of those reels, I could not stop using. It was so light – when lure fishing from the kayak – casting constantly over a long period of time – it was a real joy to use – and so smooth. I think the Extreme could raise alot of eyebrows even in the most experienced hands. I found out some time later that Mitchell had designed the Mag Pro Extreme in conjunction with Japanese engineers. Their brief was to design a flagship lightweight saltwater resistant lure reel; hence the magnesium body and rotor, carbon hybrid spool and handle stem and the titanium main shaft. Well, I reckon they should be pleased with their creation.
Both reels are available from Veals Mail order…
Mitchell mag pro lite 2000 (£119)…
https://www.veals.co.uk/acatalog/mitchell-mag-pro-lite-2000-185.html
Mitchell Mag Pro Extreme 2000 (£140)…
https://www.veals.co.uk/acatalog/mitchell-mag-pro-extreme-2000-3668.html