Mudweights for kayak fishing
Most of my time kayak fishing is spend anchored up in strong tidal runs or drifting wit a drogue. However, when I am kayak fishing on a river; the anchor is a real pain. On many waterways over here in the UK you are not allowed to use anchors anyway.
My good friend Stephen Henry (Lureman) from Anglers Afloat, is a great river fisherman; and I was talking to him oen day about my frustrations of fishing on the river from my kayak – in particular – the annoyance of trying to accurately position myself on the river without a) ruining the swim or b) overshooting the swim altogether.
Steve was telling me about his use of mud weights – and it sounded good. He makes his from bits of old lead or scrap metal which he wraps up in industrial tape and attaches to a retractable dog leash. The dog leash is then attached directly to the kayak – or you could attach it to a bouy and then tie up to it using a quick release from the anchor trolley.
The idea is that you drift into place and then gently drop a couple of mudweights over the side of the kayak – to keep it from moving side to side in the current.
This is what it looks like…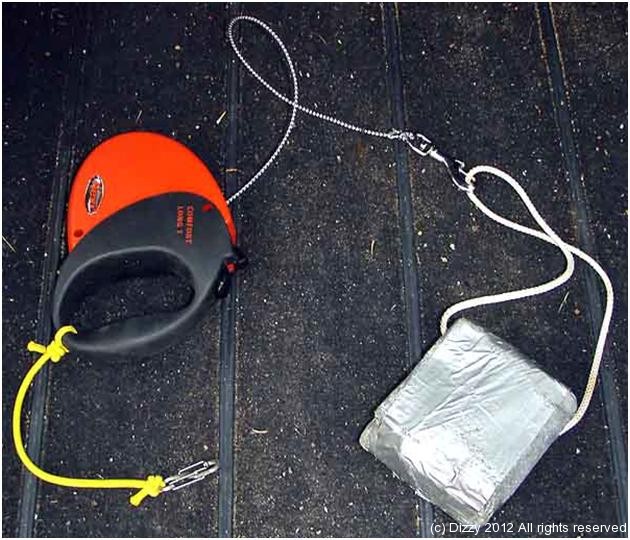 You can pick up the retractable dog leashes from a pound shop – but the ones I found only had a line length of 10 feet – so I bought another one from a pet shop which has an 8 meter leash on it. I don't think they would last very long in salt water – but shouldn't be too bad in a river. I tried them out at Christchurch harbour this year, and they worked a treat – anywhere where the water is shallow and there is not much current should be fine.