I always look forward to going to Llangorse lake. This trip was a bit different though – it was the christening of a new event, the brainchild of Martin Hurst and Ed from the SWKA. They came up with the great idea of holding a kayak fishing competition on the lake.  If you have never been to Llangorse lake, then you should – its a stunning place surrounded by the mountains of Brecon. And the snow made it look even more impressive…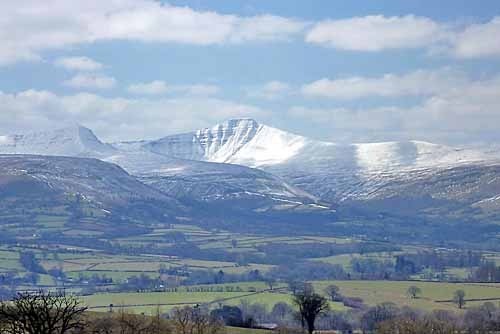 The main event was held on 30th March (a bank holiday weekend) – with a practice day planned for the day before. I could not make practice day, but fellow Hobie Team member Rob Appleby-Goudberg did – and he caught a great fish to start the ball rolling…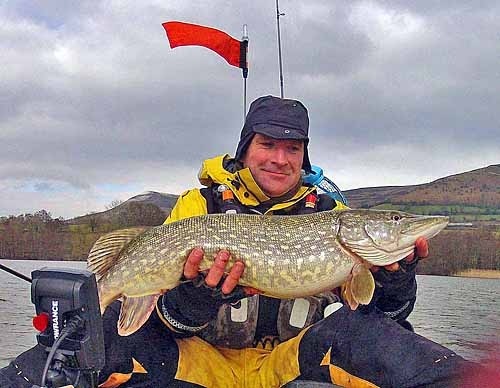 A decent fish – but what made it even more impressive, was that it was Rob's first crack at pike fishing – he's a sly one alright !
Conditions were not ideal – a brisk easterly wind which seems to have been with us for the last few weeks really put the fish down; and I think Rob was the only one to catch on practice day.
I made my way down early on Saturday morning – even the drive through the valleys is impressive. When I got there, I met some lads from the SWKA – they were in good spirits and hopes were high for a great day afloat. I took a wander down to the lake, and was greeted by this…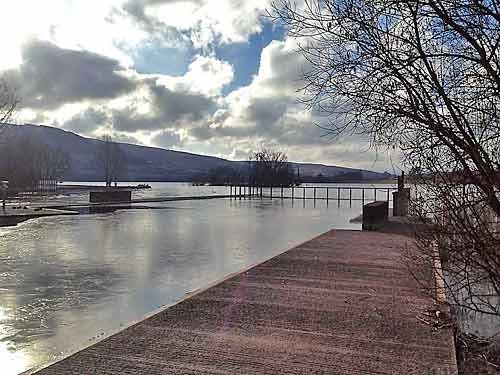 It looked as if an ice-breaker might be a more appropriate craft than a kayak ! After a few minutes, life started to stir and the overnight extreme campers started to emerge from their tents – drawn to the clubhouse and the smell of bacon butties no doubt ! It was great to see old faces and new and the food definitely woke everyone up.
To the kayaks…. this was the first time I had set up the Hobie Revo 11 with the fishfinder, so I was taking my time. In fact, by the time I had set up, everyone seemed to have disappeared out on the lake. No matter. I wheeled the yak down to the lake with Hewy just in time to see Paul Fennel paddle out to the centre of the lake with his ratchet screaming – hell's bells, was he into a fish already ?  No, turns out he had snagged one of the boats moored up by the launch. But he was to have the laugh on all of us, as you will read later.
As I paddled out onto the lake, I switched the fishfinder on. It was a Lowrance Elite 4 DSi (Downimaging) model, and I had installed the transducer inside the hull. This is an unusual installation, and I took a bit of a risk if truth be told – but it paid off – the images were crystal clear…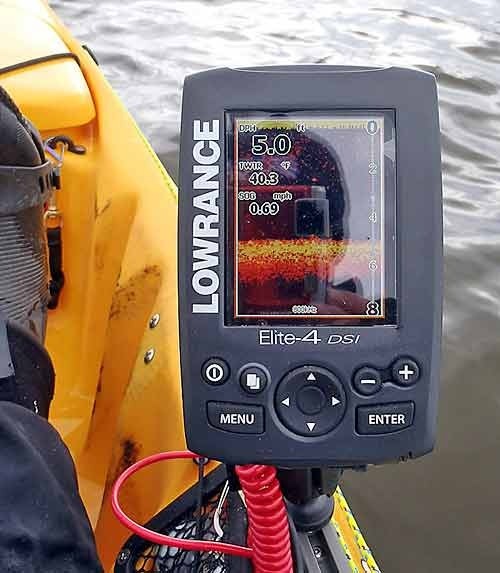 I checked the depth showing on the fish finder and paddled over to the other side of the lake to a spot where I had caught some decent fish in the past. The wind was cutting across and into the bank; I could have paddled out and made a drift back inshore, but i wanted to troll against the wind. So I reversed the mirage drive on the Hobie and with my back to the wind, started to peddle until I was making about 1 knot against the wind. I cast out the trolling float baited with a small joey mackerel. I didn't have to wait long – almost straight away, I had a take, and after a short but spirited battle a nice jack came to the side of the kayak. I measured the fish and took a few pictures before returning it…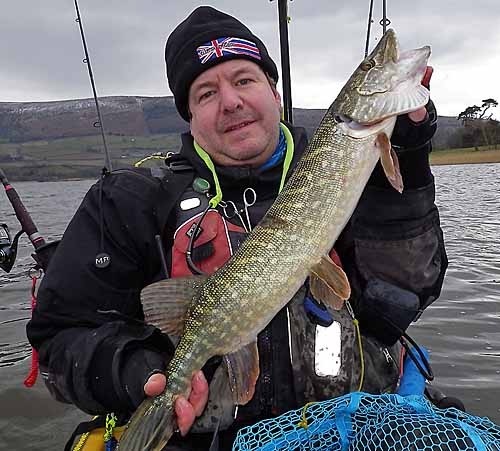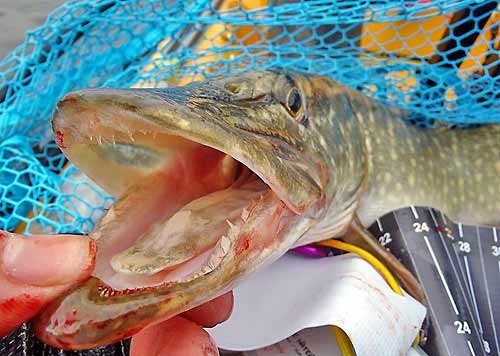 Given this was a species comp, there was no point in fishing for crocs any more. I was quite confident that I would be able to catch some silver fish, especially given the amount of groundbait, time and bait I had left.
I paddled across to MarcJ who said that Martin had caught a roach; but it sounded quite quiet, so I decided to try to find Hewy and see if he had any luck. The wind was really cold and it was quite breezy off the point. I anchored up across from Mark in about 12 feet of water. Mark had not had a bite – this did not bode well, as he is a top angler. I threw out about 15 tennis ball sized balls of groundbait into a small area in front of the kayak, which was anchored from the stern and fixed from a mud weight off the front. I filled a swim feeder full of maggots and cast out…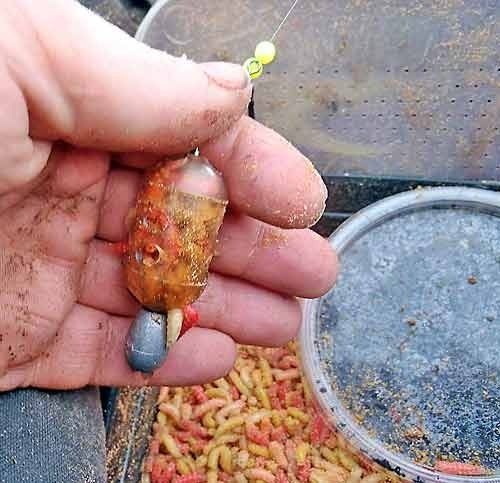 The quiver tip remained motionless. I piled in more ground bait and concentrated on the rod tip. Nothing. After a while I shouted to Mark. He had not had any bites either, and given my hands had turned blue at this point, I decided it might be an idea to move and try a new spot. We paddled across to the other side of the lake, and the difference was nothing short of amazing – there was no wind, and no ripples on the lake.
This time I anchored in 10.1 feet of water and set up the float rod and the ledger rod. More ground bait was lobbed out. It felt like a better spot and I was still hopeful – there were fish showing on the fish finder.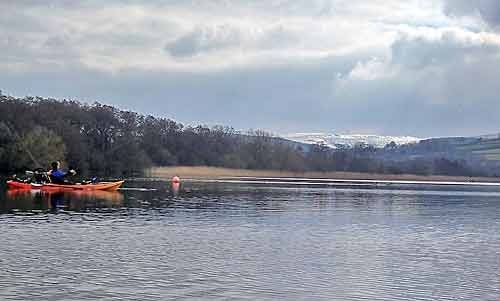 I tried fishing worm on the float rod, in the vein hope that a perch might have a go; during the summer, the place is full of them. But all was quiet – the float rod was baited with maggot…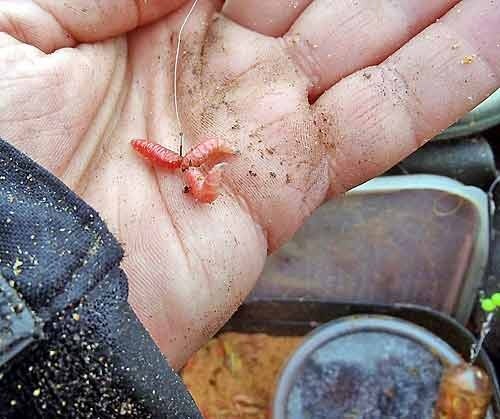 Some of the other competitors paddled by – but no-one seemed to have caught anything. Time was moving on, with about an hour and a half left, I said my goodbyes to Mark and decided that one last move was needed. I paddled all the way up to the top of the lake, and news was coming out that Paul Fennel had caught a really decent pike. On such a tough day, that was a special fish…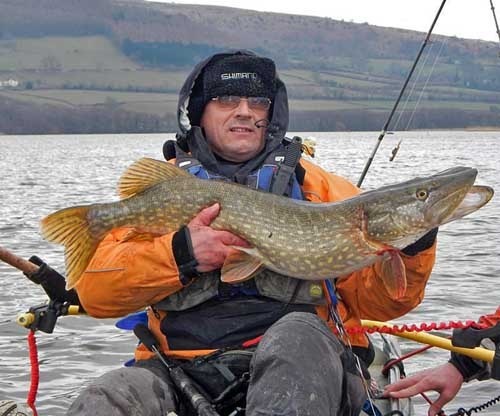 As I paddled along, the sun came out, and it felt quite pleasant to be on the water. I had already decided that I would head to towards the sailing club – a spot where I had caught loads of perch and roach in the summer a couple of years back. As I approached the sailing club – it looked like someone had the same idea. It was David Morris; we chatted, and it turned out that David had also caught a pike about the same size as mine…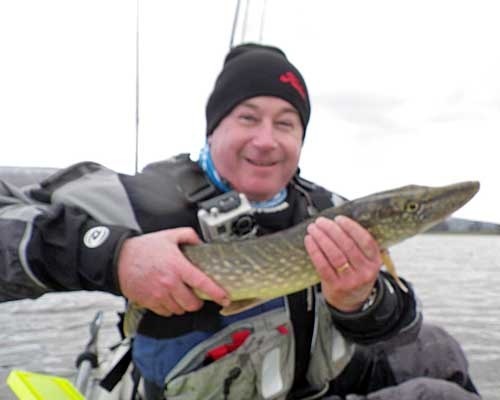 All to play for. I still had quite a few kilos of groundbait left and a few pints of mixed maggots. The whole lot went into the shallow water. Big mistake. It seemed that the whole Welsh population of swans was out in force. The bloody creatures were circling me, and wouldn't go away – much to David's amusement. It was quite funny – but it also signalled the end of the competition.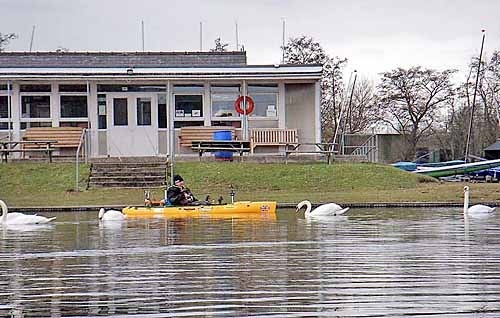 As I paddled back, we met up with Rob, and I just had time to take a couple of quick snaps of the surrounding mountains.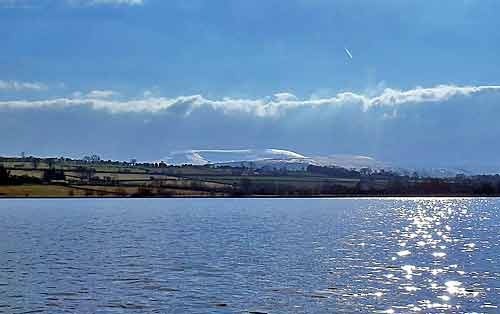 Back at the clubhouse, everyone was chatting about the day's fishing. Martin announced the results…
1st Paul Fennel ( pike est 17-21lbs )
2nd Alistair Cole ( pike est 9-11lbs )
3rd Ian Harris (pike est 6-7lbs)
4th Dave Morris (pike est 4-6lbs)
5th Martin Hurst (Roach


)
Out of 27 who fished, 5 were lucky enough to catch fish. Paul's big fish was closely followed by Alistair Cole's pike…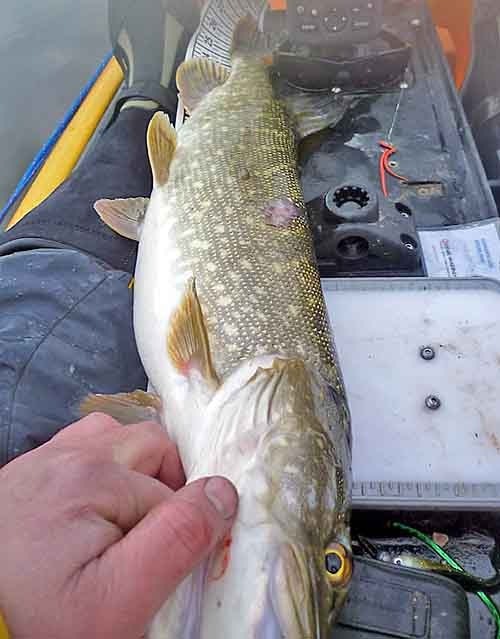 Despite the weather, the event was a great success.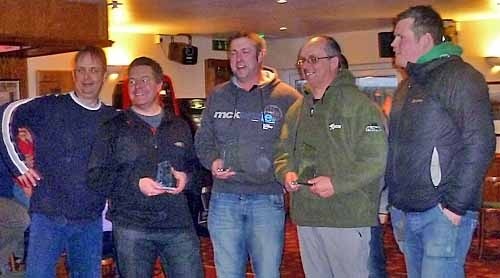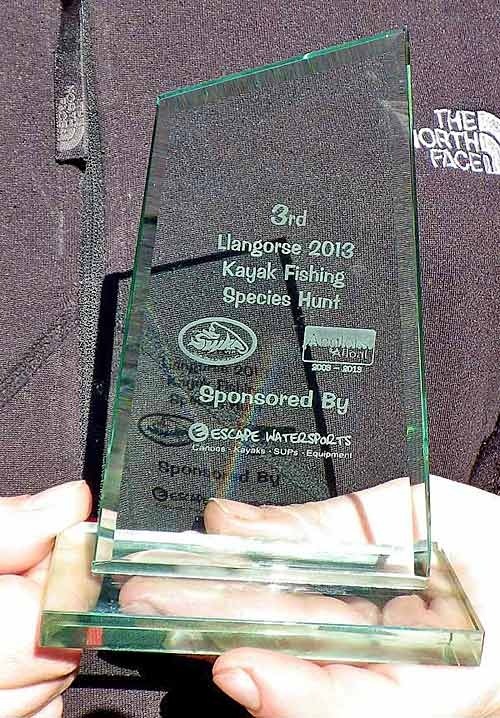 A big thankyou must go out to Ed and the other guys from SWKA and Martin and also to Gus from Escape Watersports who provided some great prizes.
Let hope that the competition will be a regular fixture.
Big thanks to Alistair Cole, David Morris, Rob Appleby-Goudberg and Mikey Jenkins for the photos.
Category: Fishing, Fishing Venues, Kayak Fishing, Llangorse Lake, Pike Fishing, Stillwater Fishing