Dizzy's Facebook Giveaway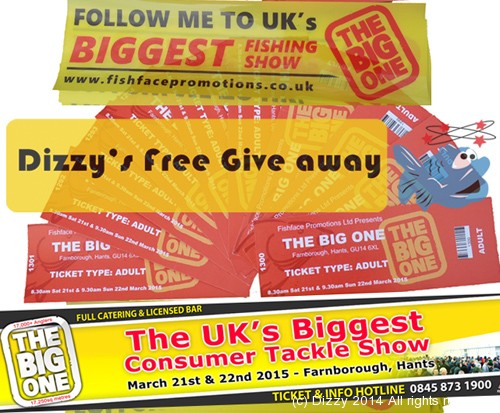 "The Big One" is the UK's Largest Fishing Show and Tackle Sale. It takes place at FIVE Farnborough, GU14 6AZ on 21st and 22nd March 2015. 
I've got 5 pairs of Adult tickets to attend the show to give away for free. All you have to do to win a pair of tickets is join the UK Kayak fishing facebook group, and Like the "Free Giveaway" Post at the top of the page.
For your chance to win tickets, just join the UK kayak fishing Facebook group at…
http://www.facebook.com/groups/KayakFishingUK/
And "Like" the pinned post at the top of the page
To find out more about The Big One, visit their website http://www.fishfacepromotions.co.uk/index.php
I will pick the 5 lucky winners on Friday 6th March 2015 – Good Luck