2017 has been another exciting year of kayak fishing exploits for me. I fished in Holland, Sweden and China, where I met old friends and new. It was the year when I managed to realise a long held dream of mine. The London International kayak fishing festival became a reality, and kayak fishermen from 12 countries took part in what was the biggest European freshwater kayak fishing party of 2017. Lure fishing gets bigger every year in the UK. This year, I caught three 4lb+ perch, a couple of 20lb pike and a whole kayak full of chub and zander all on lures. I spent more time on the salt this year, a trend which will continue in 2018. I attended a whole bunch of shows this year – supporting Hobie at the London and Southampton boat shows, The Big One, The London Fly fair and the European Sportfishing show. It was good to write kayak fishing articles for some new titles this year including The Kayak Fishing EU magazine, Catch Cult and The Anglers Journal. To top it off, I became an ambassador for Lowrance. I have to say a big thank you to all of the guys who have helped me along the way, including Hobie, Lowrance, Navionics UK, Westin, RK leisure, The Lure Box, Reuben Heaton and Funky Fly tying. Most of all, thanks to all my kayak fishing buddies – I hope you all have a fantastic year in 2018, and I look forward to fishing with you.
Here are some of the highlights of 2017 for me…
January
First off in 2017, was a visit to the London Boat show. All the Hobie crew were there, including Richard, the boss of Hobie Europe…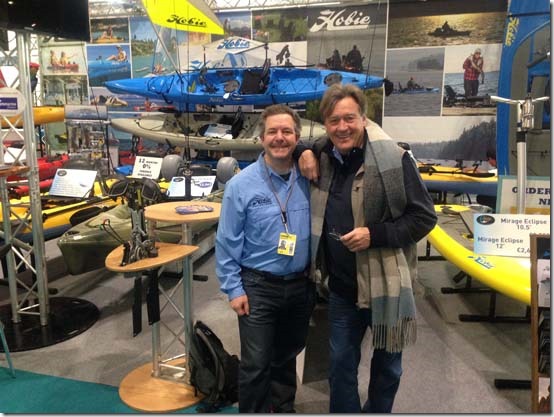 Next up was the first saltwater trip of the year, which turned into a tango with a conger eel on the Hobie…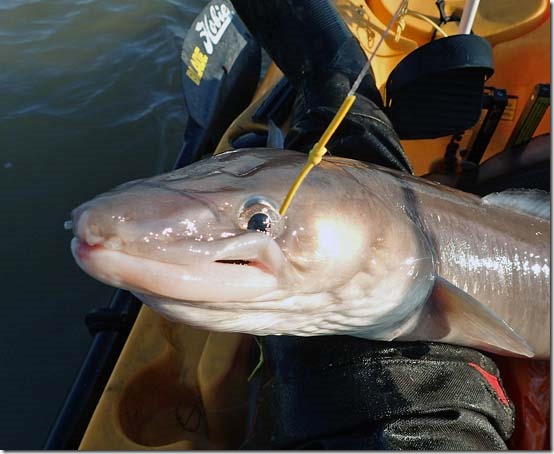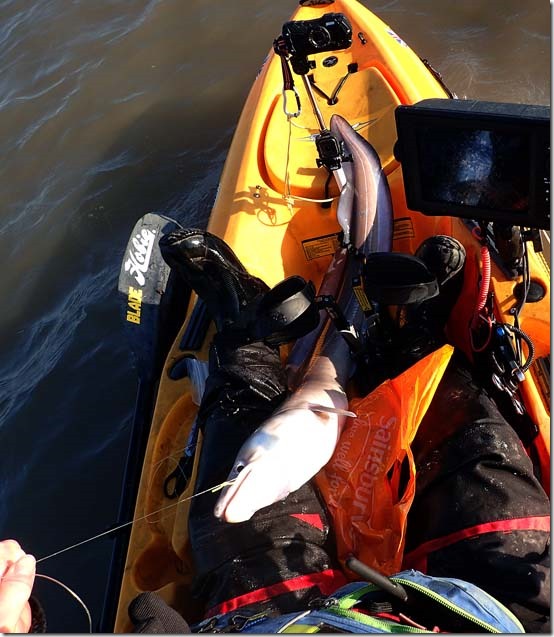 The video is quite amusing, the conger couldn't wait to exit the kayak…
https://www.facebook.com/DizzyBigFish/videos/1355585234503324/
Pitsford can be a tough place to fish, especially in the depths of winter, but its always enjoyable. This visit included some gorgeous looking brown trout and some pike…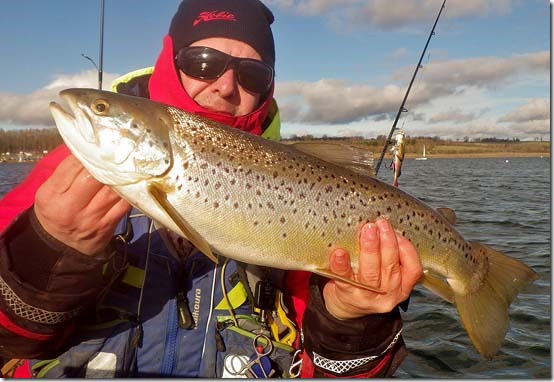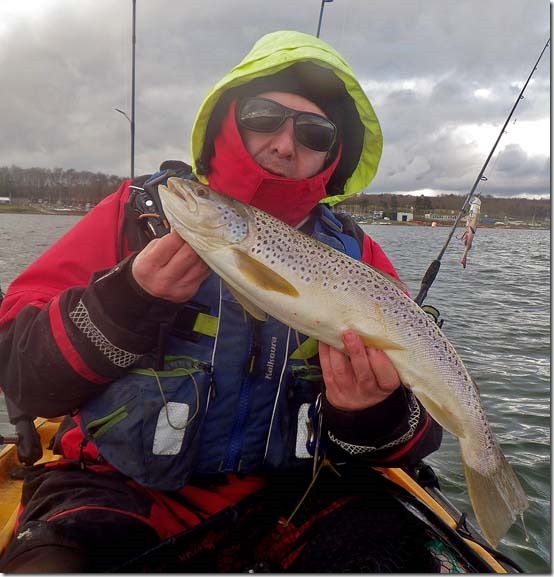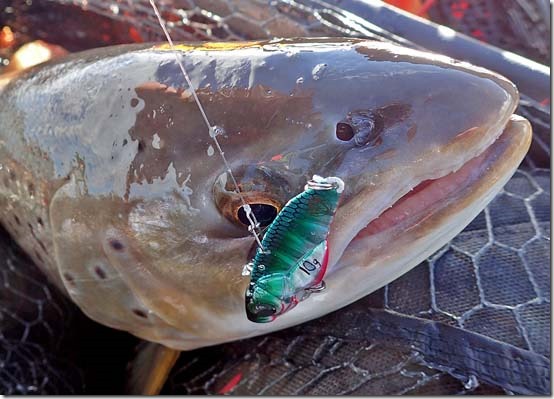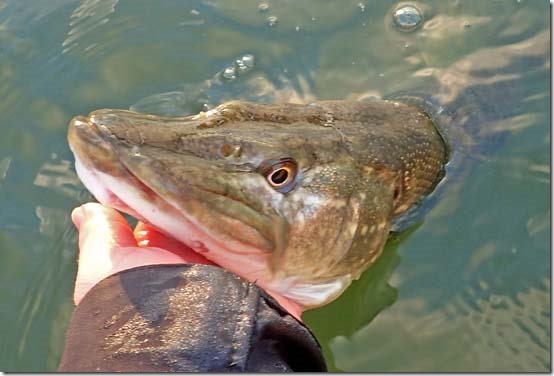 February
The first trip to my local river, and an unseasonal bag of hard fighting pike. Despite the conditions being far from ideal, they couldn't get enough of the Westin Shadteez lure.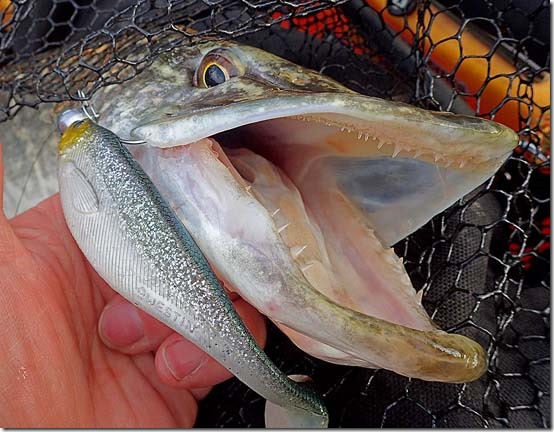 More predator activity at Wraysbury lake. Rob Appleby-Goudberg had a decent fish, as did Barry Lynch from the Lure Box…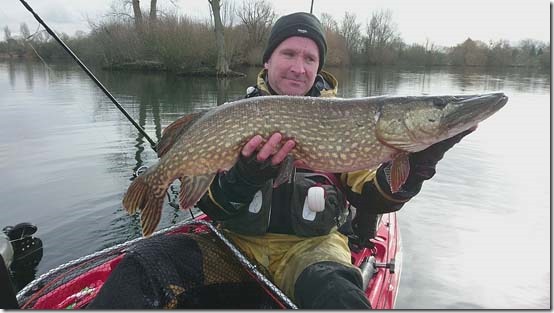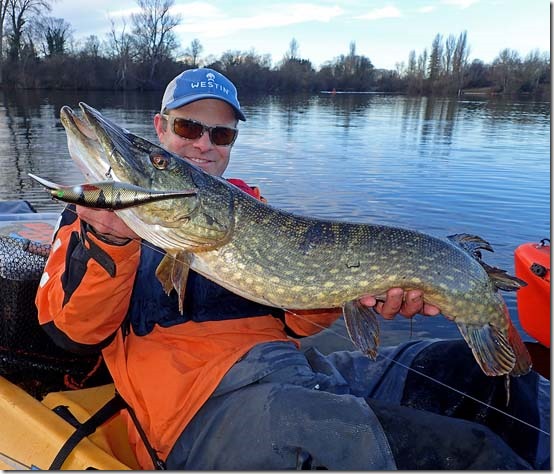 Westin's Percy the perch also joined in the party…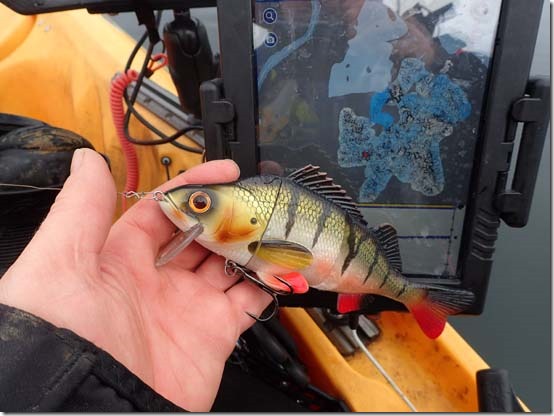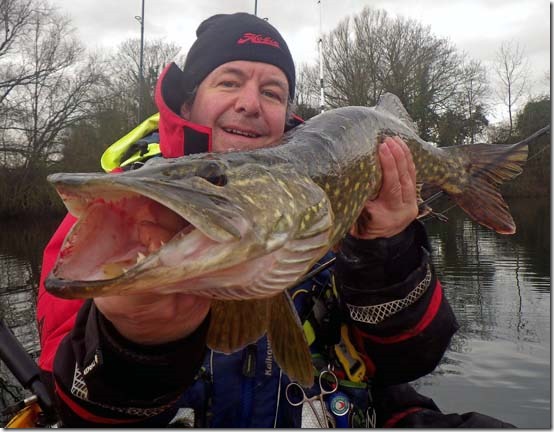 March
A trip to Holland for the Hobie Predator open. Myself and David had a blast in practice. Both of us caught 4lb+ perch in difficult conditions. The video conveys the excitement…
quite well don't you think
I love watching this clip. It reminds me that despite all of the crazy early starts, the travelling, the awful weather, the mishaps and failures, sometimes it all comes good. This is what kayak fishing is all about… Hobie Kayak Fishing #GoodTImes

Posted by Ian Harris on Saturday, 15 April 2017
https://www.facebook.com/DizzyBigFish/videos/1442129035848943/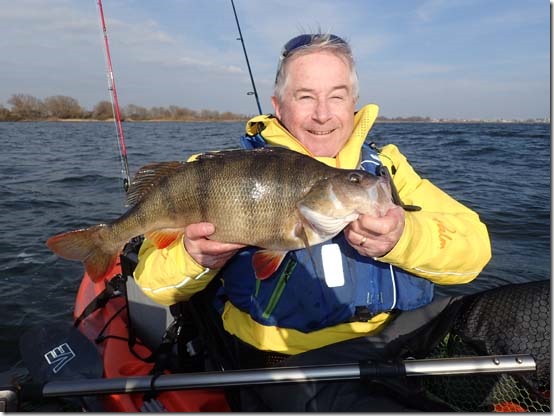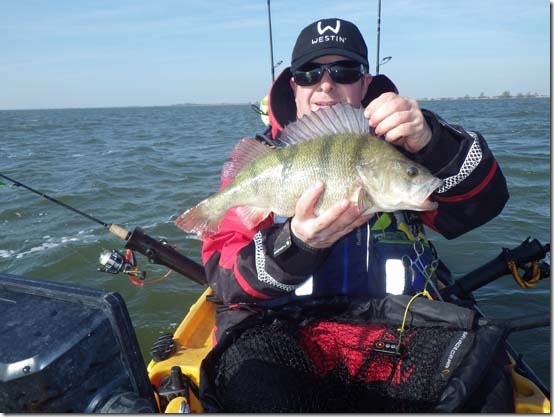 The weather for the actual competition was much better, but the fishing was not so good.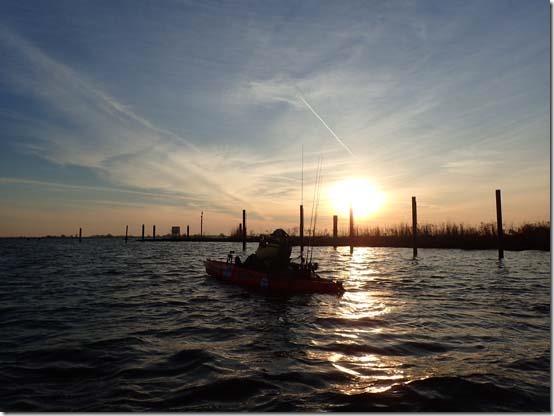 Back to Wraysbury lake, and a real red letter day. We found the big perch and some big pike too. David had a crazy double hook up with a chunky pike and a decent perch. My perch weighed in at a very respectable 4lb 7oz – what a venue, and my second 4lb+ perch in as many weeks. The Westin lures were coming up with the goods again…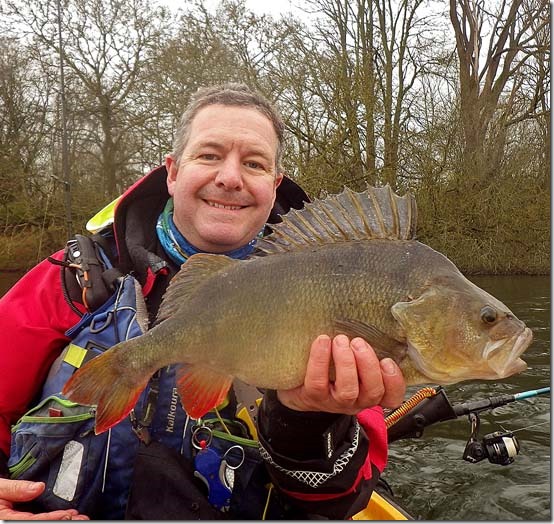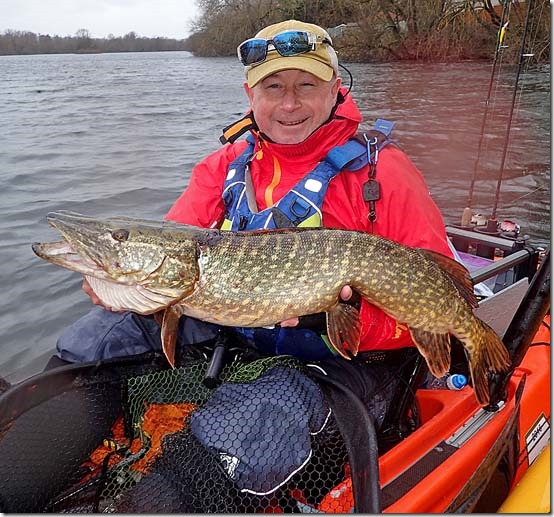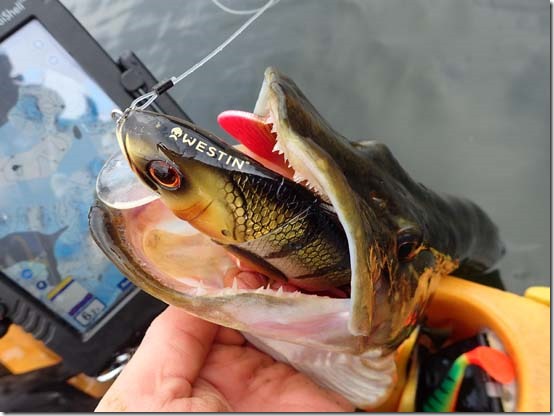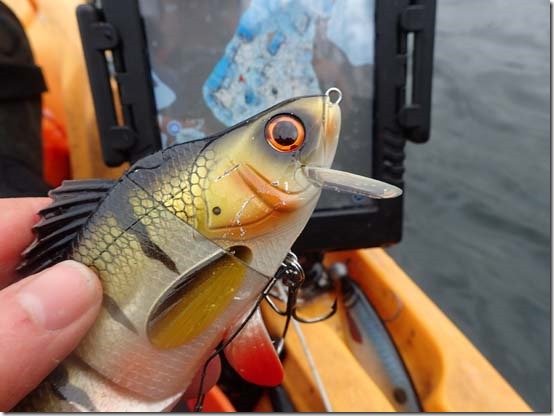 The Llangorse competition is always good fun, and this year's event was no exception. Mark Radcliffe caught a superb pike of 27lb, and I managed a couple of tiddlers on the Shadteez lures…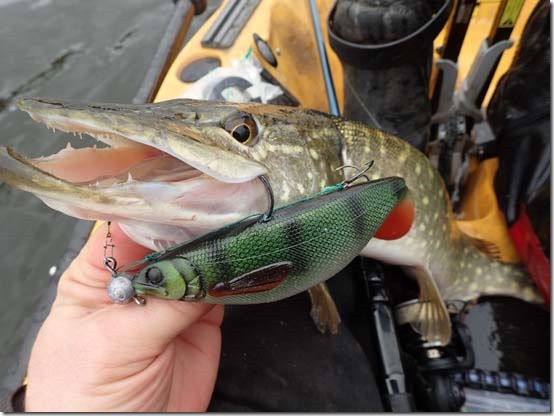 The London Fly Fair was alot of fun. We were kept busy on the Hobie stand…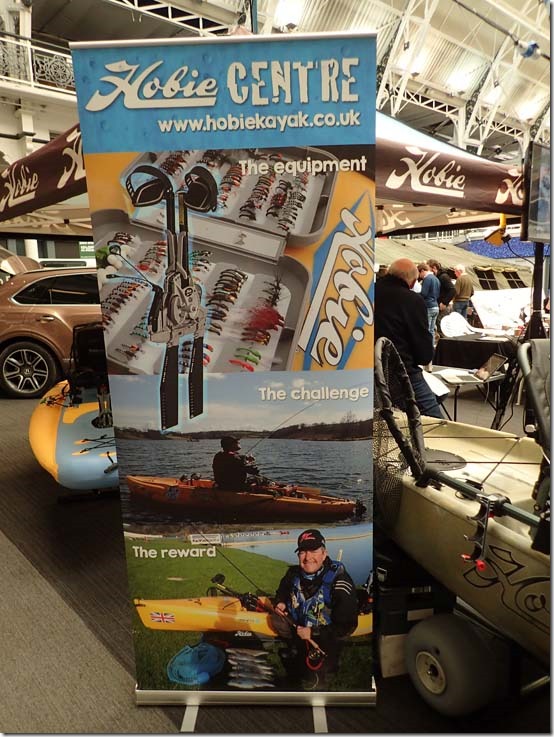 I also got to chat with old friends from the BBC's Big Fish programme, and a couple of new friends including Matt Hayes and Paul Whitehouse…. Suits you Sir….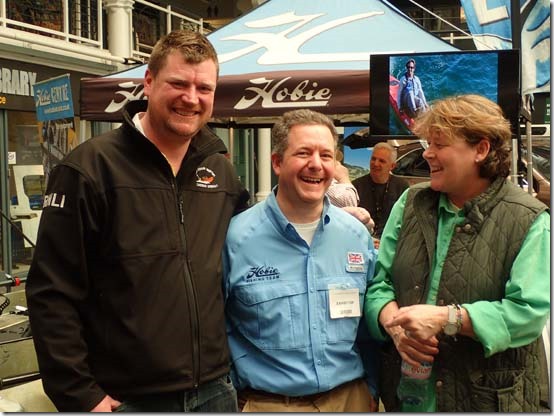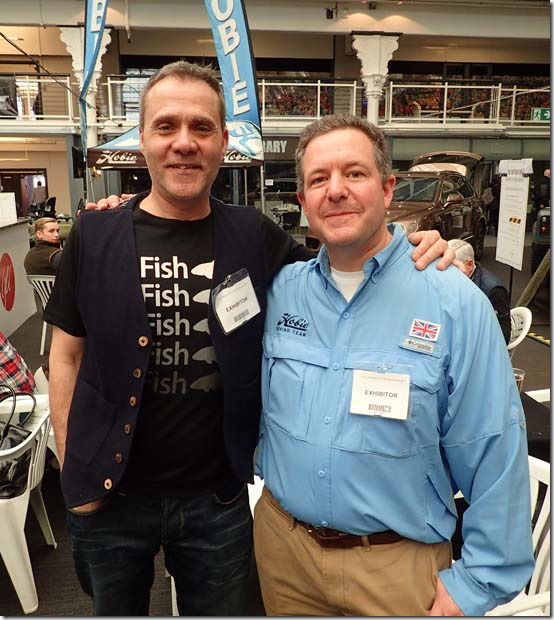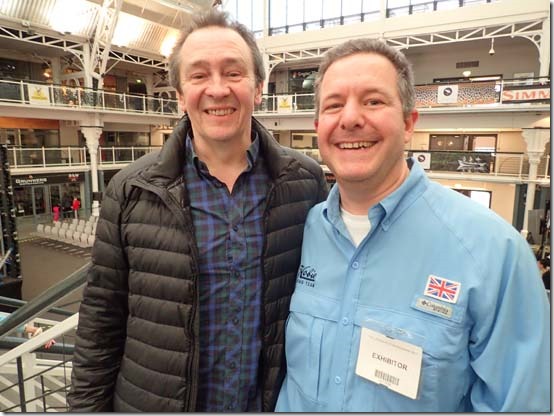 April
April is a month I look forward to. It heralds the start of good weather, and some exciting fishing – this year it was a month which did not disappoint. I kicked off the month with a trip to "The Big One" fishing show. Hobie shared the stand with Lowrance and Rapture.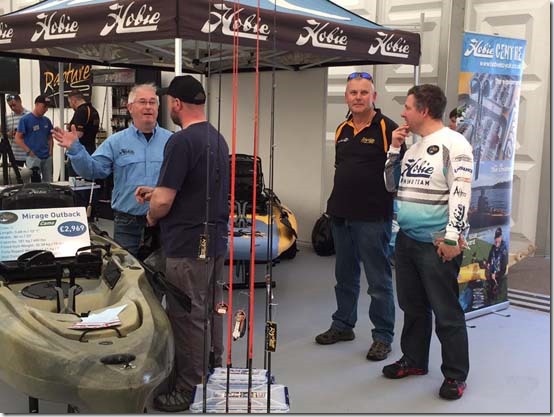 Next up, a trip to one of my favourite saltwater venues, Swanage. I had a double hook up of rays and bream, which was amazing…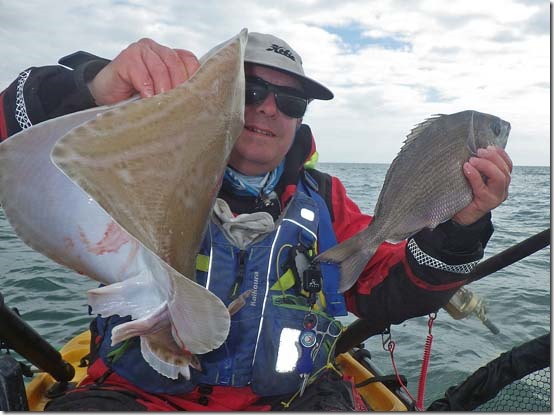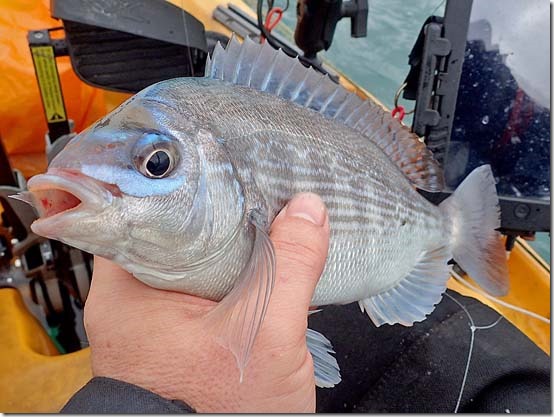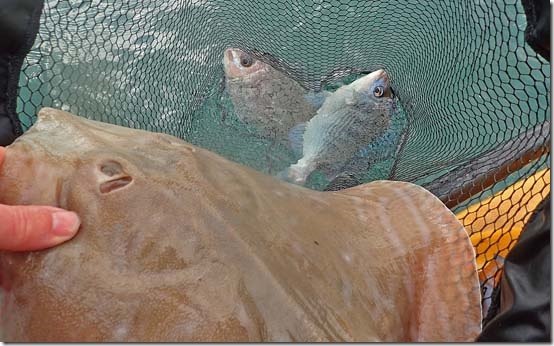 I also took delivery of my new Hobie Outback.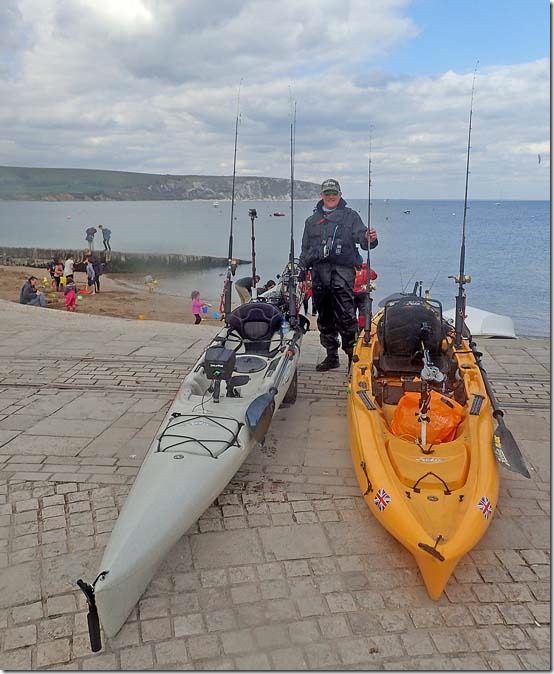 I did the whole fit in a day, including my new Lowrance Carbon 9 fish finder…
httpv://www.youtube.com/watch?v=VyDkALoksm4&index=1&list=PLvWc6aBZVrrEyYBU-UzOfulJL8ENZcOUB&t=6s
Next it was back to freshwater, and my 3rd 4lb+ fish in as many weeks. This one weighed 4lb 4oz, and gave me some heart stopping moments as it was only just hooked…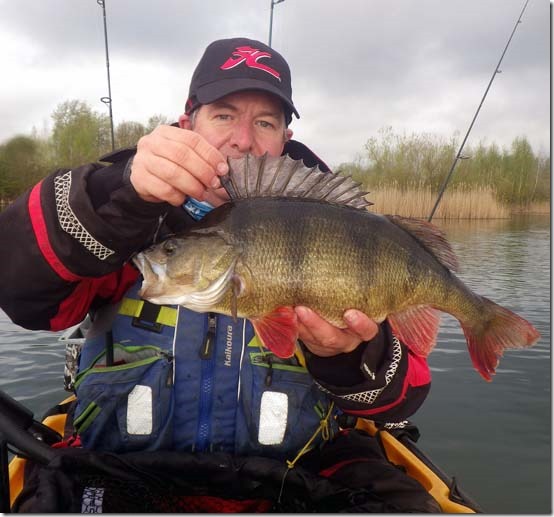 A visit to Wraysbury then produced a 19lb (oh so close to 20!) lure caught pike. It was in perfect condition. April was turning out to be a heck of a month…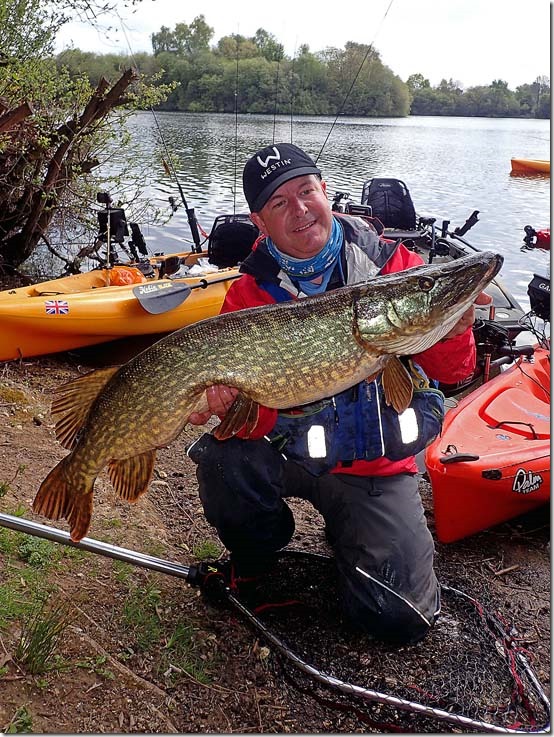 May
I started the month by flying into Sweden to attend a Hobie writer's conference. My great friends Keeton and Morgan were there from Hobie, as well as Zak and Gero and a whole group of new friends from across Europe, including Frank Steinman (from Scale magazine), Jesco Pescutter, Nika Hellenberg, Olle Bulder, Felix Frey and Radek Filip. Sweden is a place I had wanted to fish for a number of years, and it didn't disappoint. Our Guide Andy Assema was a font of knowledge, and although the fishing was not easy, I somehow managed to catch a 108cm 20lb+ pike on my faithfull Westin Shadteez lure. Morgan also caught a 100+ cms pike, and was on cloud 9. What a stunning place…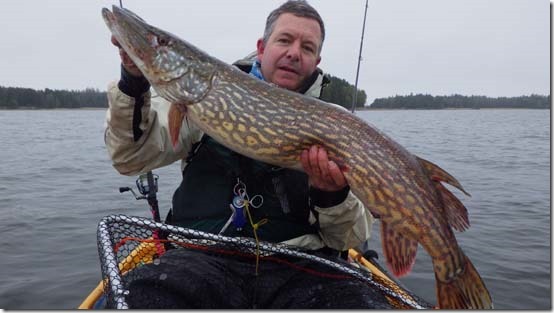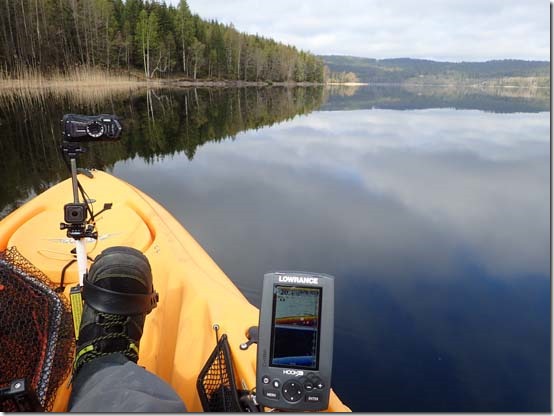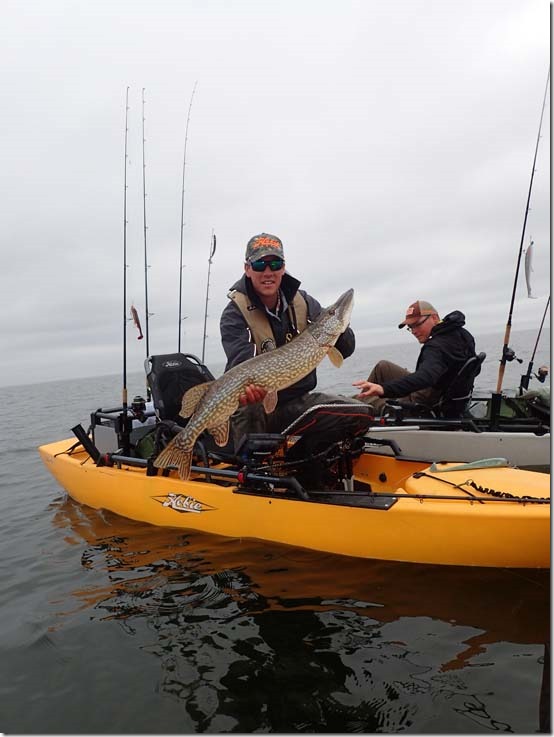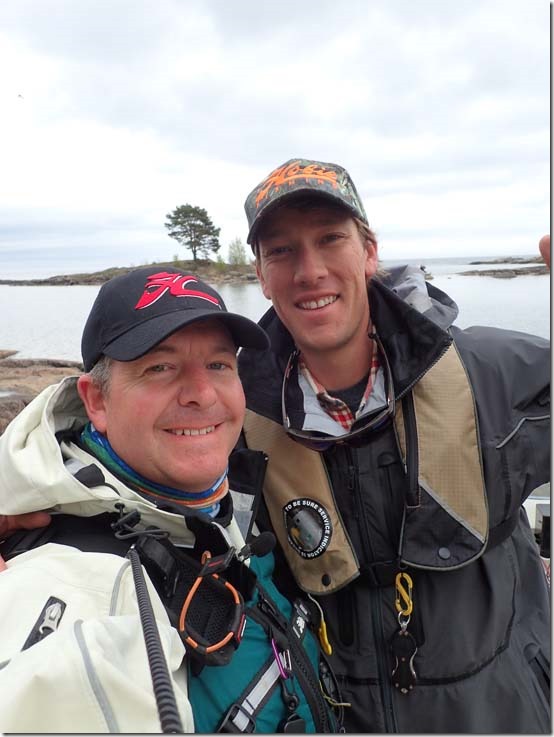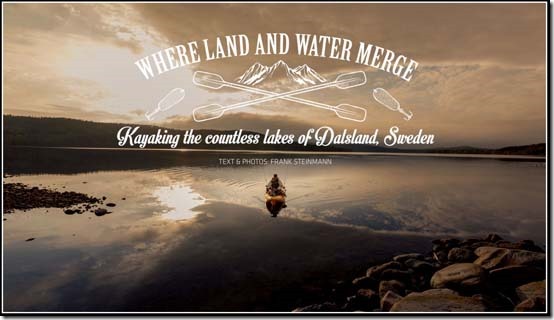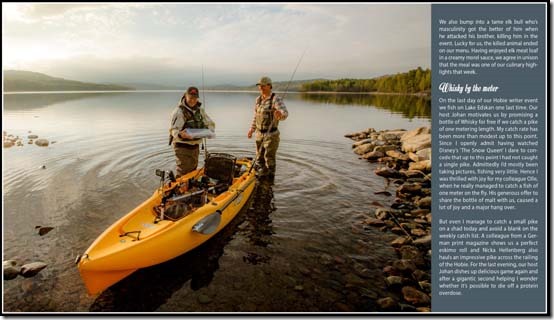 Back to Swanage, and a trip which provided Mike Throne with a HUGE bass…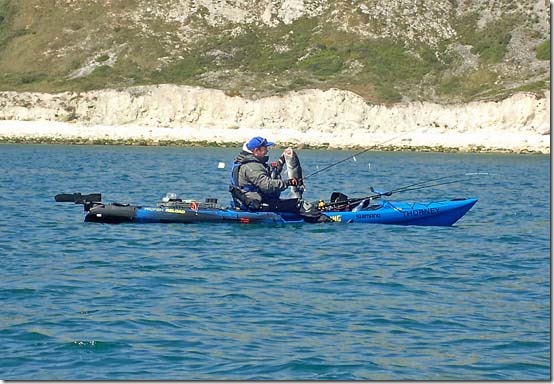 I had another double shot, this time an undulate ray and a bream…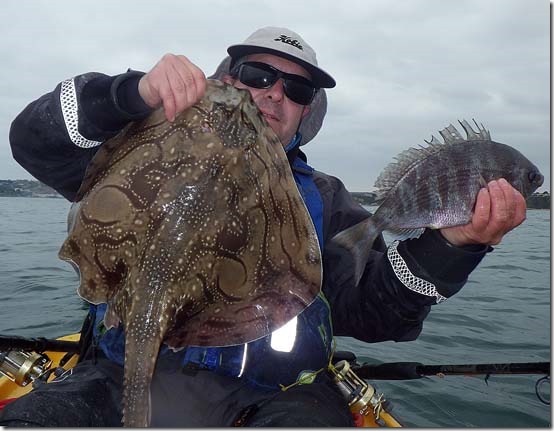 …and rounded off the session with a decent 3lb+ bream…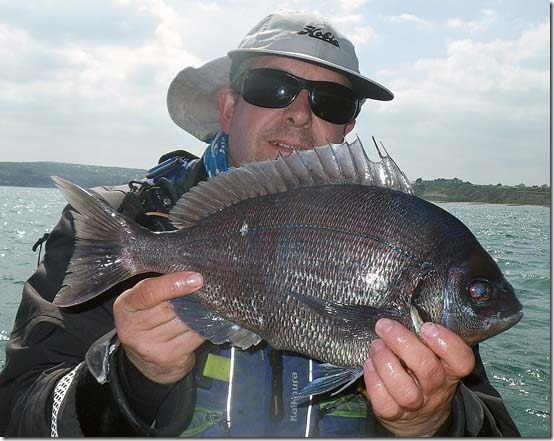 May is that time of year when I start to think about tope fishing. Its one of my favourite types of kayak fishing. With that in mind, I penned an article for the second edition of a new magazine called "Catch Cult". The article recounted some of my thoughts on the tope kayak fishing over the years…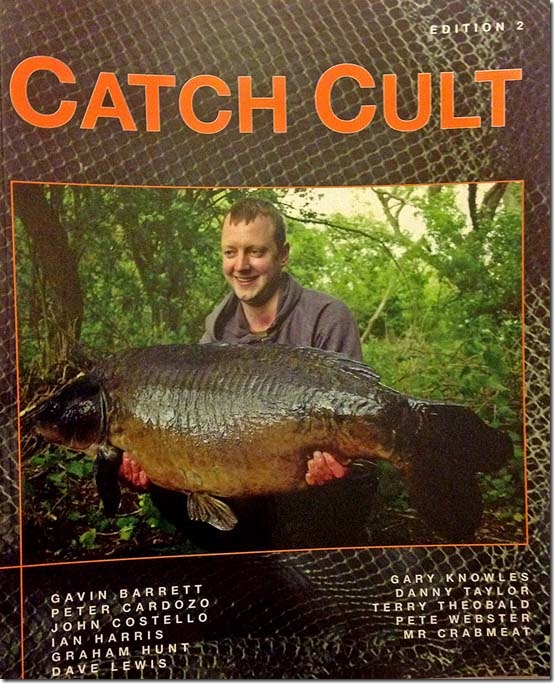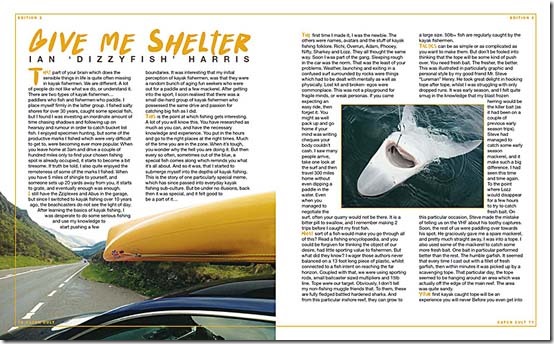 Penning the article reminded me a tope trip was due. I met up with Adie, Gareth and Duc . The tope didn't play ball, but the bass did, and my crankbaits and poppers took one heck of a beating…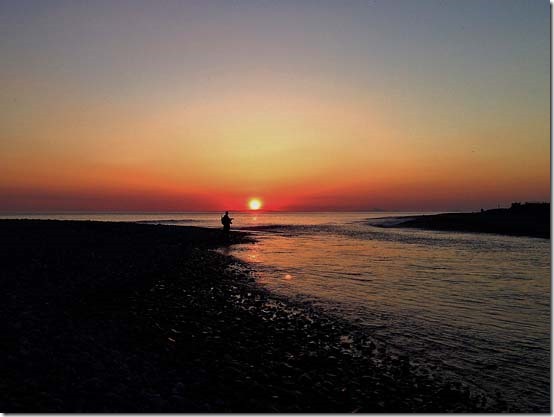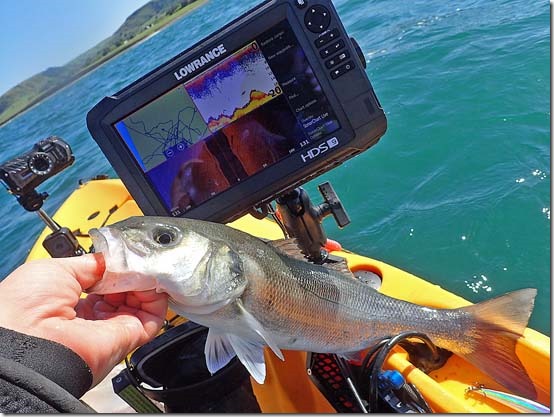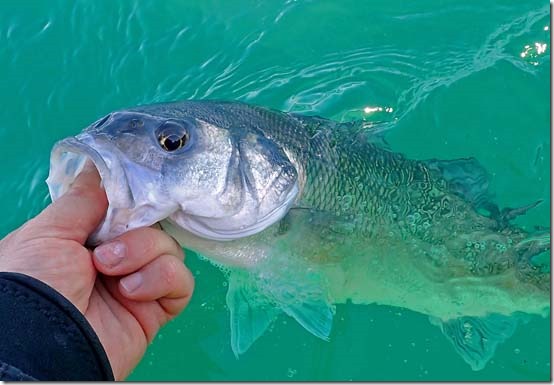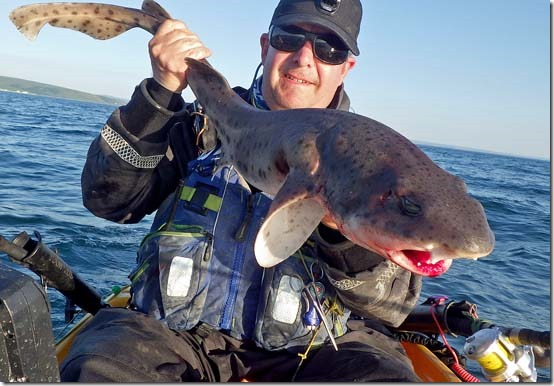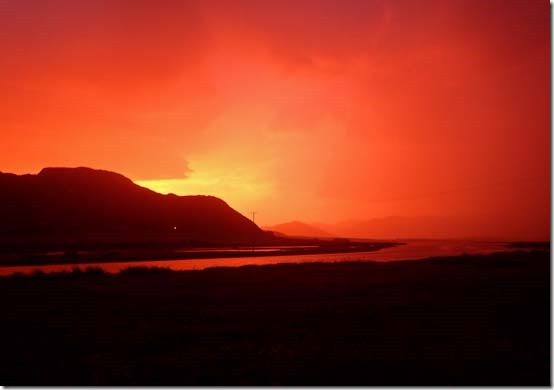 June
After almost a year of planning, it was time to put all of the hard work into practice. Over the years I had been lucky enough to take part in some amazing international kayak fishing competitions across the world. I wanted to create something similar in the UK. The London International kayak fishing festival took place from the 9-11th June at the amazing Wraysbuy Lake complex. We had over 70 participants from 12 different countries, in what turned out to be a real spectacle. We raised over £2000 for the Rainbow Trust and Heroes On The Water UK. I was humbled that my friends Bob Neuweiler from the USA and Wu Jinbin, Wang Lei and Qi Linsheng from China made the long journey to join us. So many of my Hobie kayak fishing friends from Europe supported the event, including Ronald Traas, Axel Heinlein, Herve Martin, Daneil Van Der Post, Lars Lundberg,  Francois Schmitt and Raphael Manach to name a few. I have to thanks Raphael the lake owner, Barry Lynch, Steve Beard and Gero Priebe and everyone else for helping make the event such a success. I am hoping to hold the event again next year, but as with this year's event, spaces will be limited (apologies to all of those who could not make it).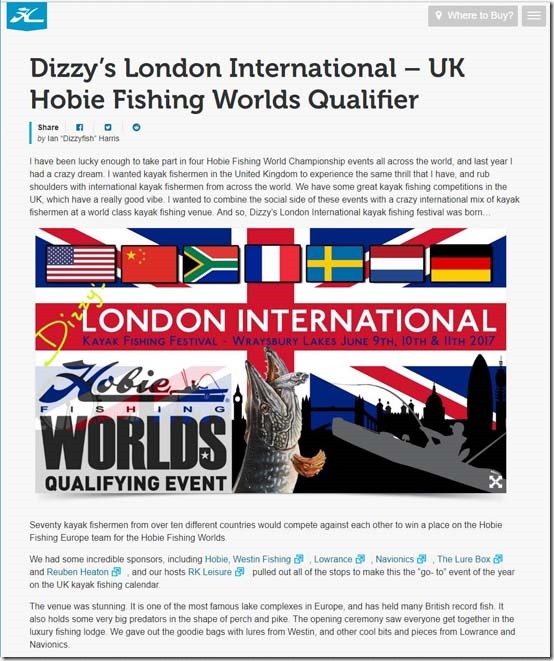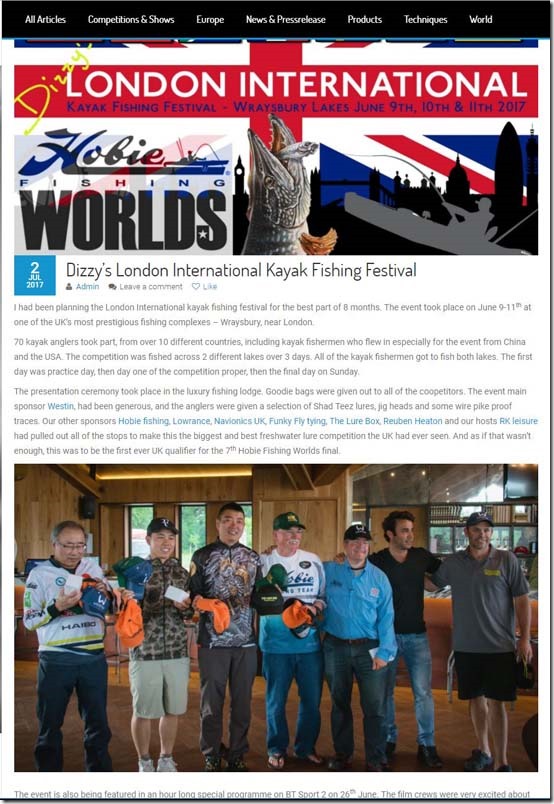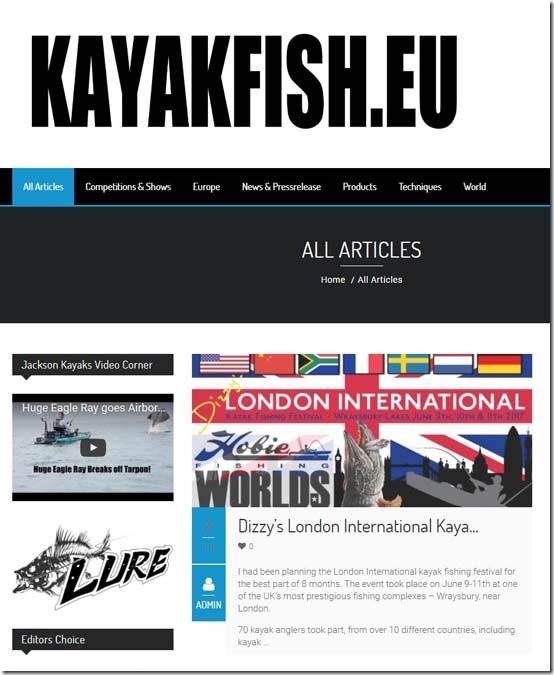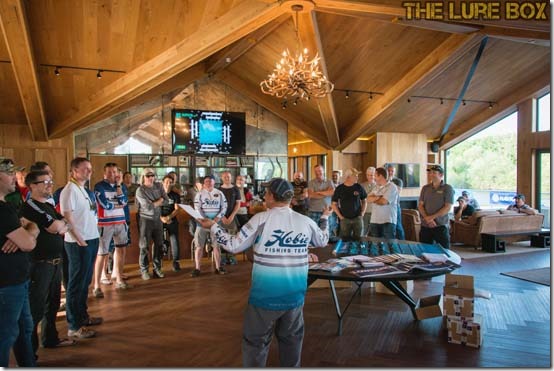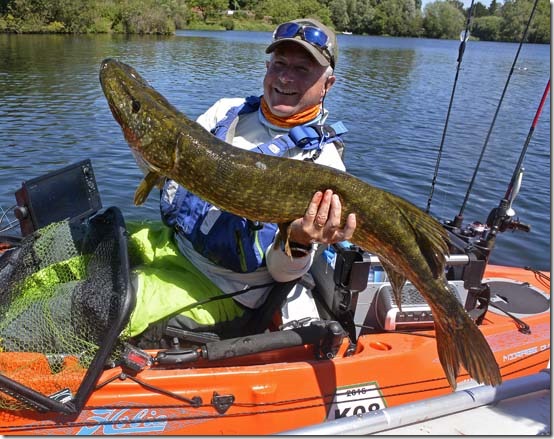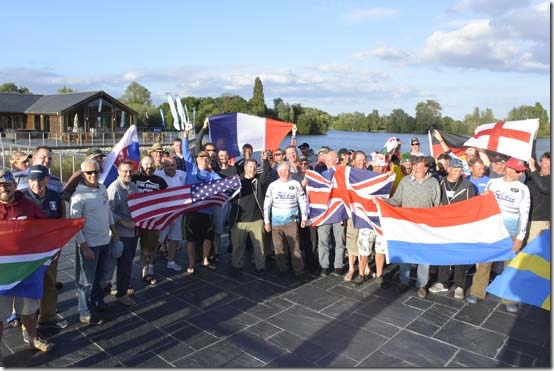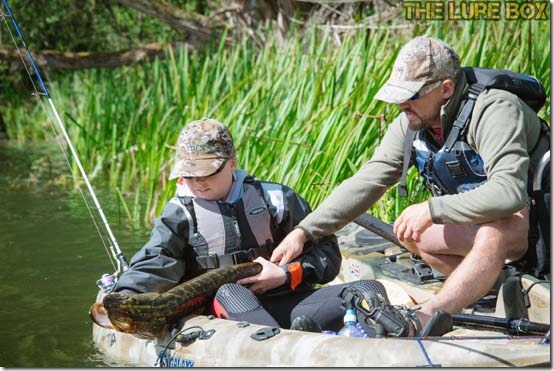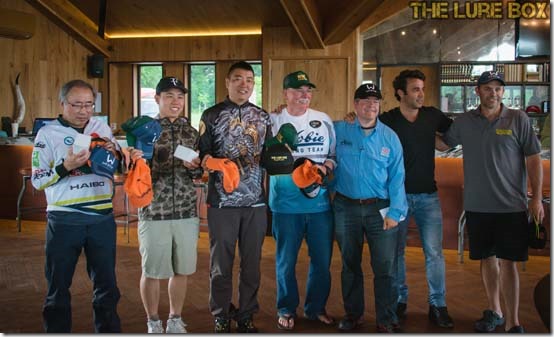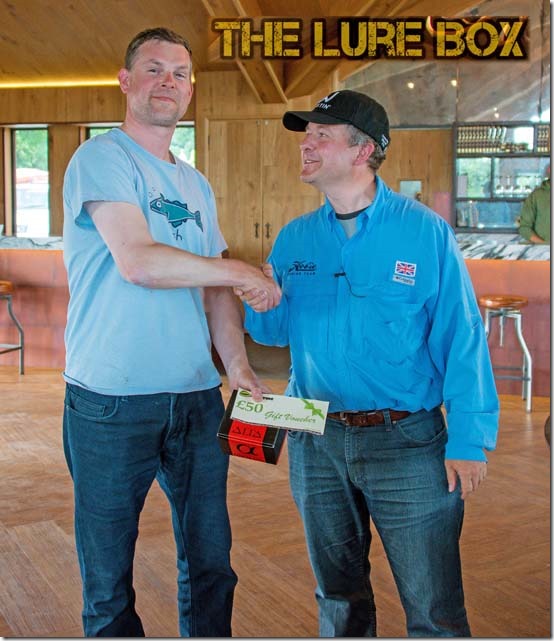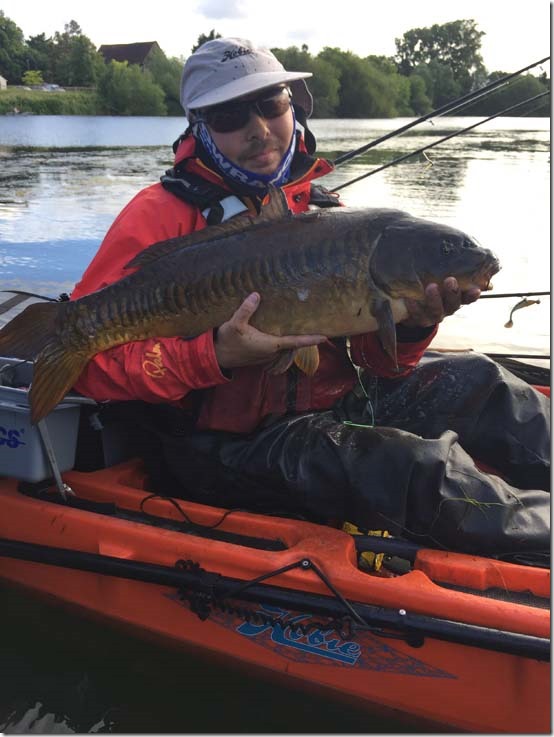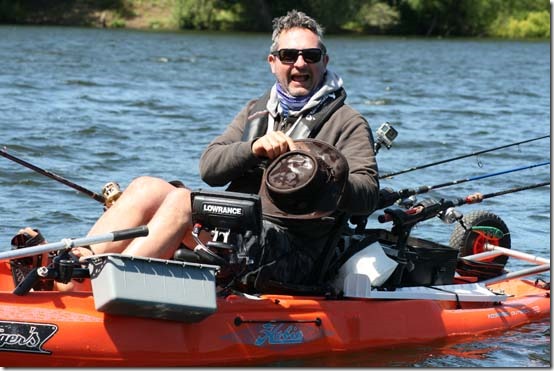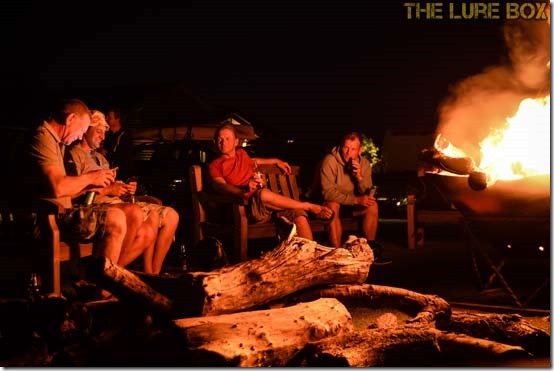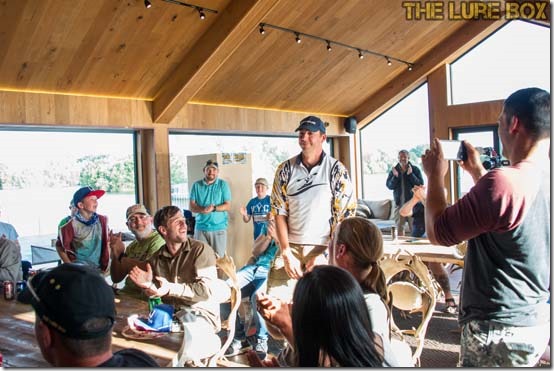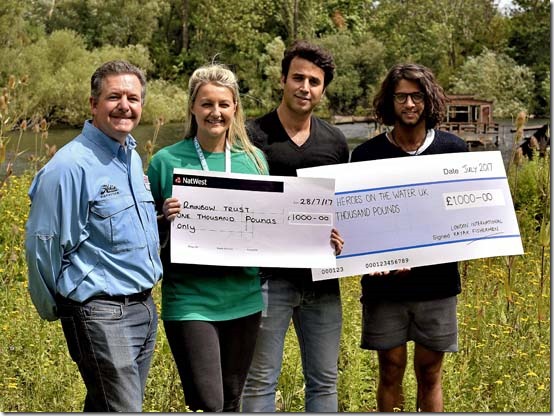 We were fortunate to have Andy Ford and the TV crew from BT Sport's "On The Bank" programme present at The London International. For those of you that missed the event, you can watch the TV programme covering it here…
httpv://www.youtube.com/watch?v=-vEcU094Rzw&index=4&list=FLmXf-c7DNrnK0Odwz35qLaQ
July
Chub are the ghosts of the river. To be able to catch them on lures, and more than that, to be able to spot them and sight cast to them using ultralight tackle is simply magic. I had some special river fishing trips this year, exploring new venues on the Hobie. On one trip I spotted some chub basking in the sun with their fins poking out of the surface of the water. It was too much too resist, but no matter how many chub I catch on lures, each take is just as exciting as the first. This 4lb 8oz chub was one of many over 4lbs caught from the river on crankbaits…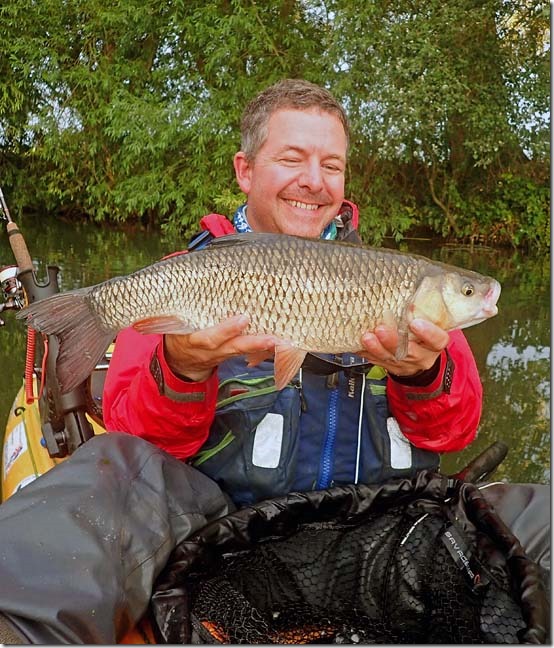 It was fun to be out on the water with Charlie, and whilst I was chatting to him, I watched transfixed, as almost in slow motion, a huge football of a perch inhaled my lure right under the kayak. The perch weighed 3lb 2oz, and a big thanks to Charlie for the picture…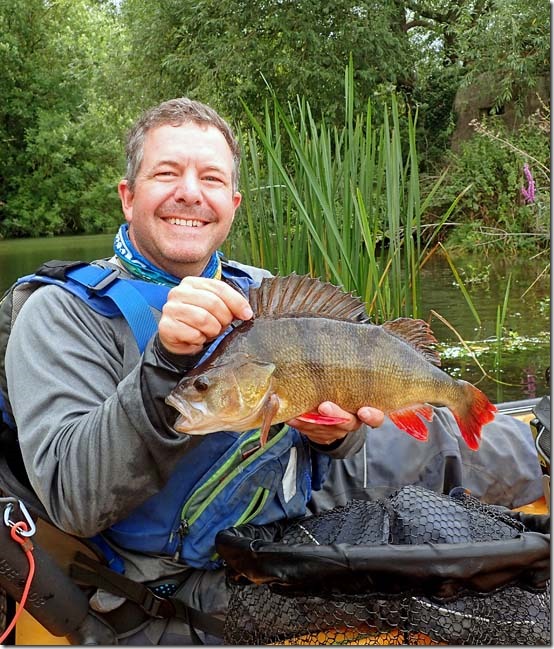 As much as I love messing around on the river, it was time to go back to the salt again, and another place I love to fish in the kayak – North Devon. The new Hobie Outback was looking great…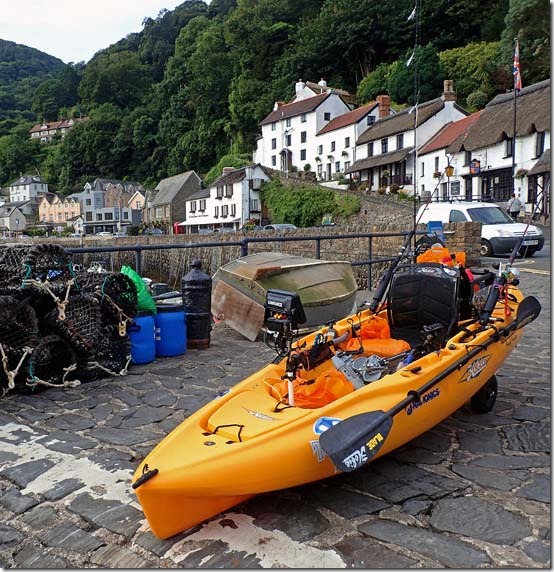 It was one of those sessions where I had to work very hard, but ended up with some great fish, including a trio of ray species… spotted, small eyed and a stunning great blonde ray – kayak fishing doesn't get much better…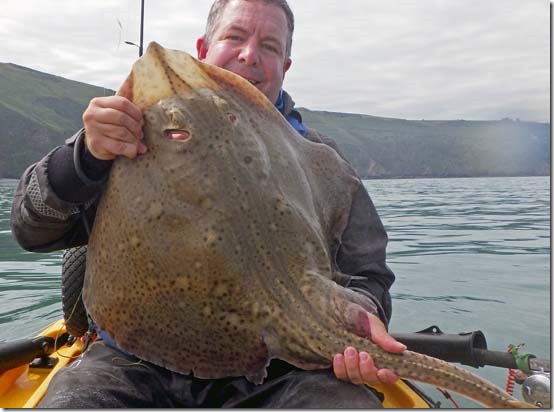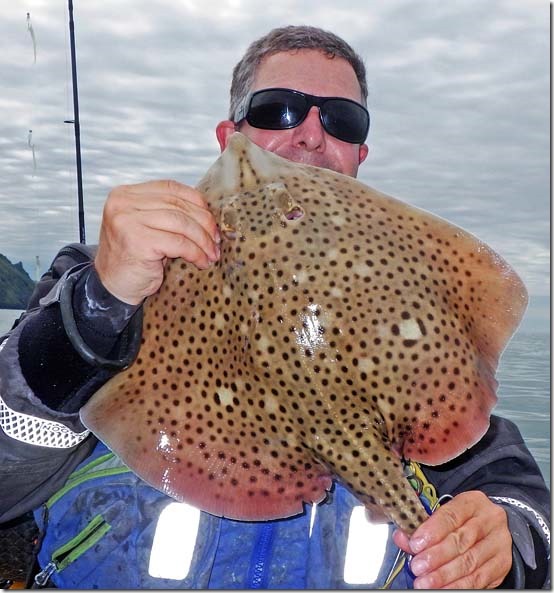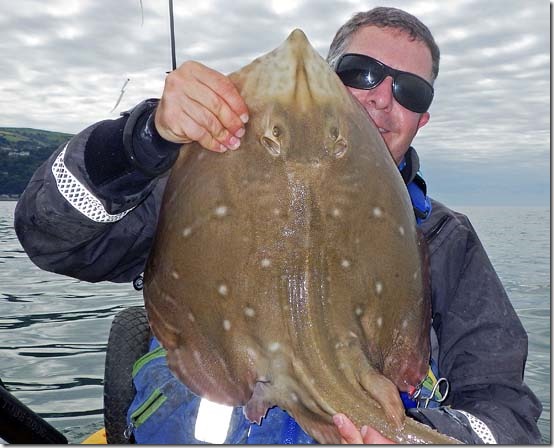 August
The chub fest continued, and on one lone trip to a new stretch of river, I just couldn't stop catching bigchub. It was non-stop all day…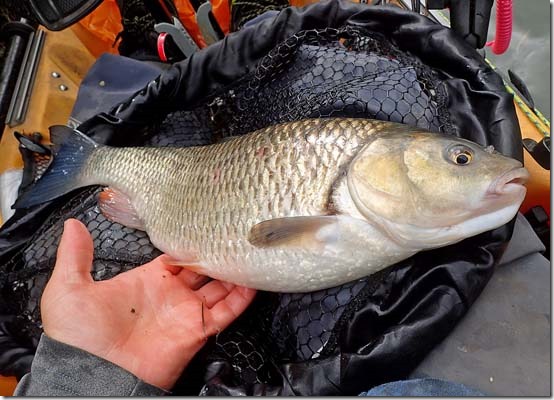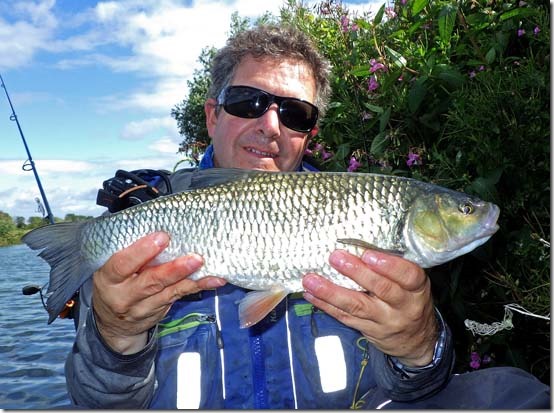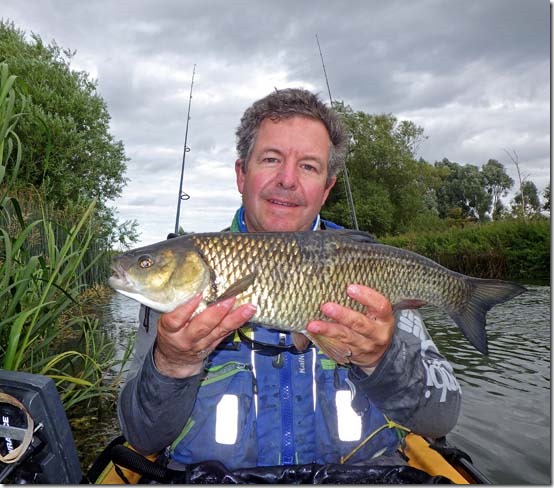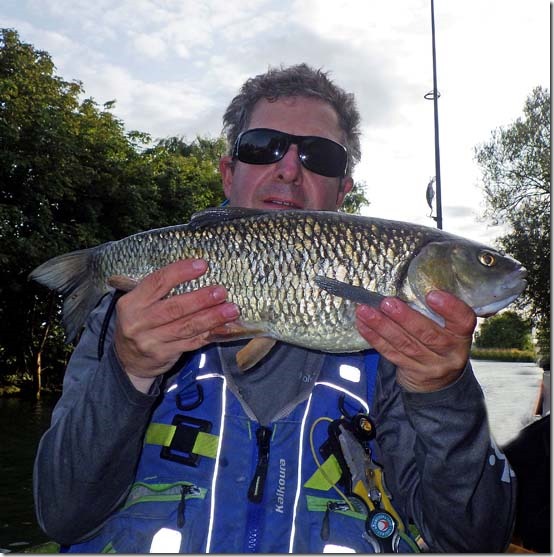 Then there was the Pitsford Grand Slam. I missed the first one, and I wasn't going to miss out this time. Dane Wood did a fantastic job of organising this one. It's such a stunning location. I hooked and lost a couple of really nice perch, but I will be back for them next year Dane. Some really big pike were caught, and we all had a proper good laugh. Mike Edgar and James Dobie joined in the fun, hopefully they are hooked on kayak fishing now too.
At one point, there was an almighty rain storm accompanied by thunder and lightning. We all made a dash for the tunnel to take shelter. A couple of the boat fishermen had the same idea, including one who had brought his girlfriend along. She did not look impressed. To lighten the mood, my buddy David Morris fired up his waterproof speaker system and played some music. Whether it was his choice of music, or having to share her romantic day out with a bunch of kayak fishermen in a tunnel, I don't know. But her expression said it all… very funny!
September
The sun shone for the Southampton boat show, and it was good to catch up with the crew on the Hobie stand…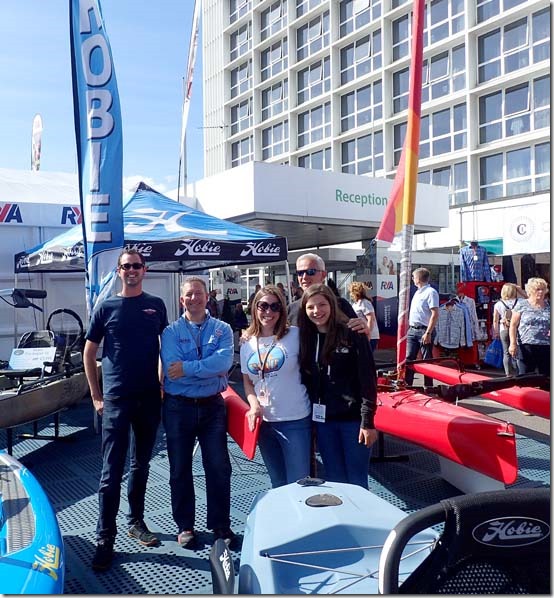 I couldn't resist one last spur of the moment trip to Wales. It was good to meet up with Martin and the guys. The mackerel were out in force, boiling on the surface – the freezer is now full of bait…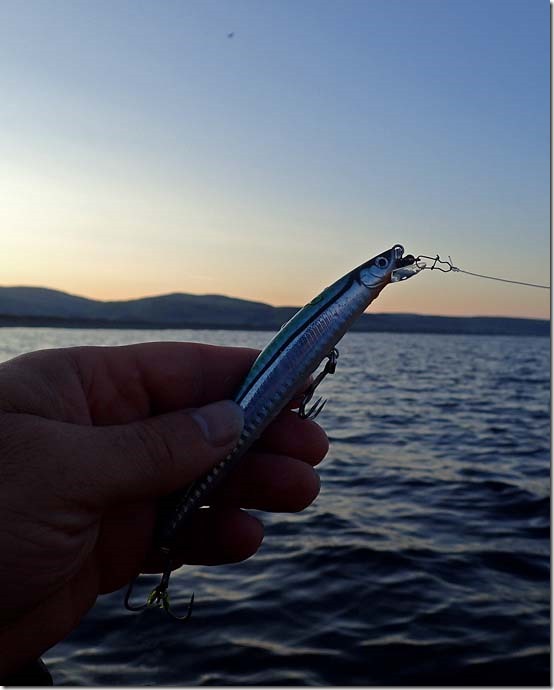 October
I had been looking forward to my China trip all year. This year, the annual fishing spectacular was a few weeks later in the year. I ended up coming 11th, which I was very pleased about. David got to be the flag bearer this year, and we both ended up showing the locals how to do karaoke (Ahem!)……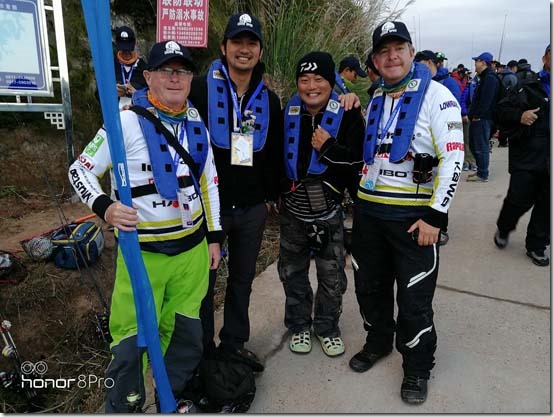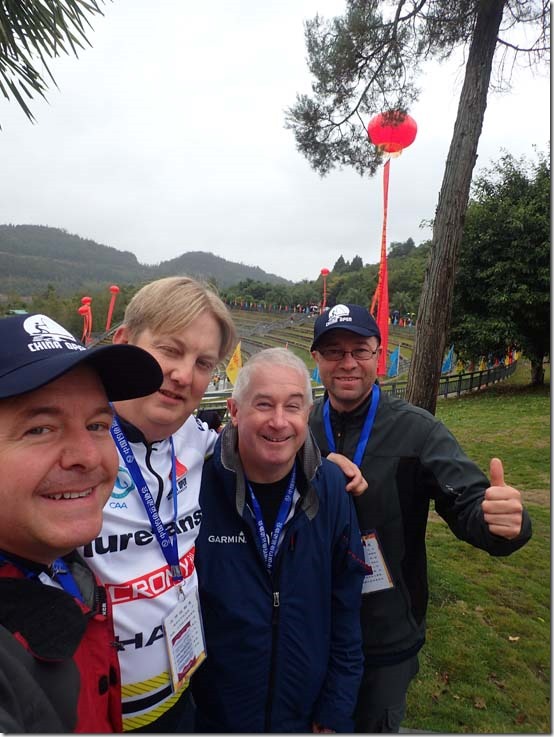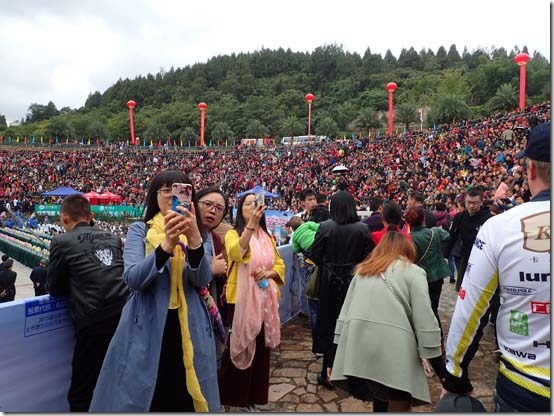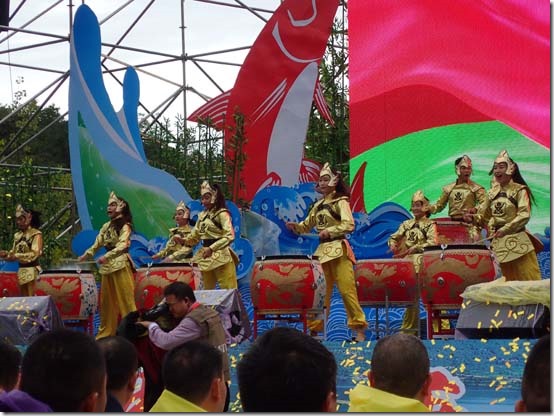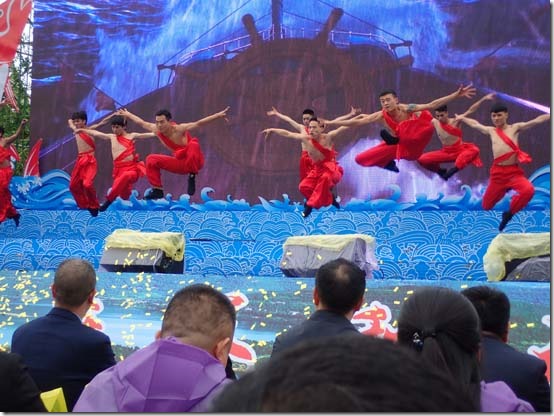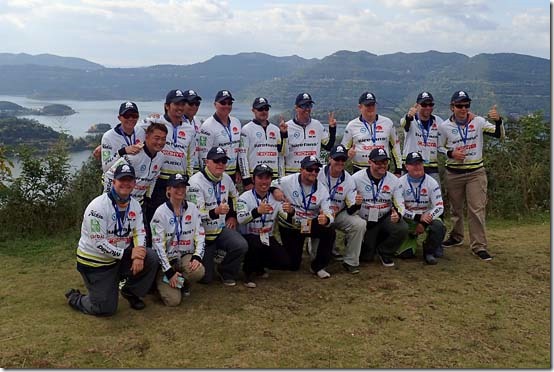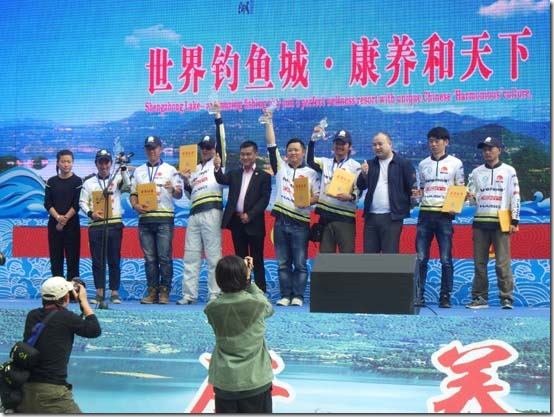 Soon it was time to return to the UK, and straight back to the European Sportfishing show at Bristol with Kris from the Hobie centre. This was the first time that the show had been held, and Toby did a great job – I suspect the show will go from strength to strength next year. It was an education to watch Paul Monaghan work his magic on the fly tying vice…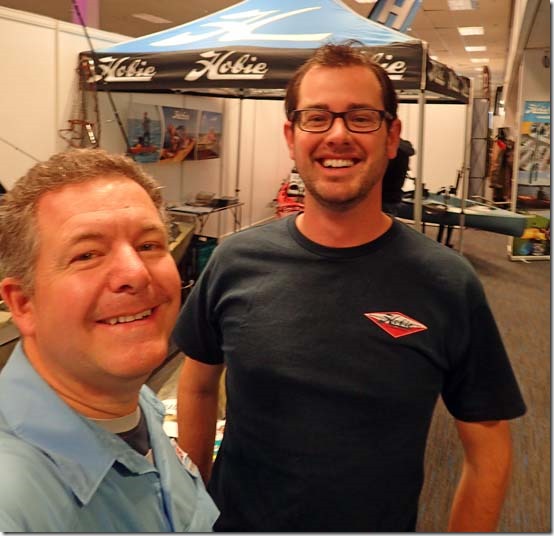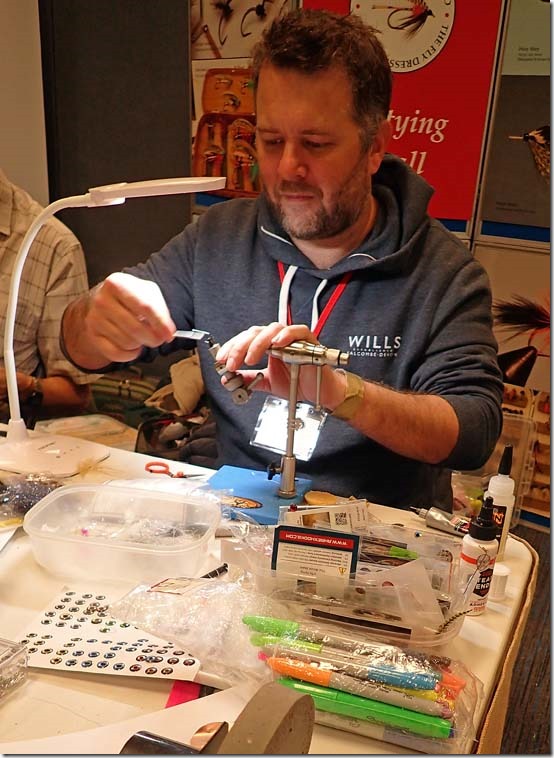 November
The weather restricted my fishing in November, but I did escape to a new stretch of river with Steve Lureman. We both laughed when I said I was going to catch a chub on a top water lure in November. I had almost given up myself, when I hooked a surprise chub on the crankbait. It was lovely to fish a new stretch of river, and once I switched to soft plastic crayfish imitations, the chub started to bite.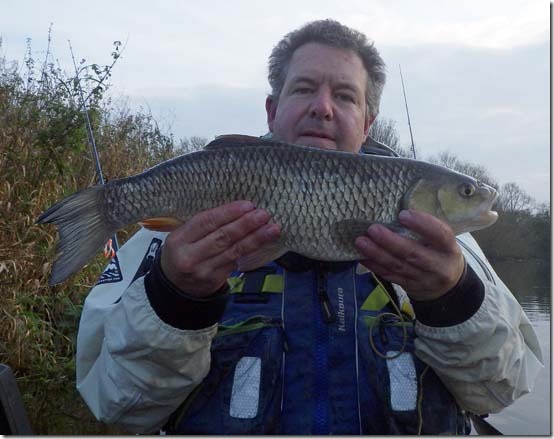 Andy Beddoes was kind enough to let myself and Alistair fish his local stretch of river. It was alot of fun, and it would be lovely to try it again some time. Westin's Percy The Perch sorted out a few pike…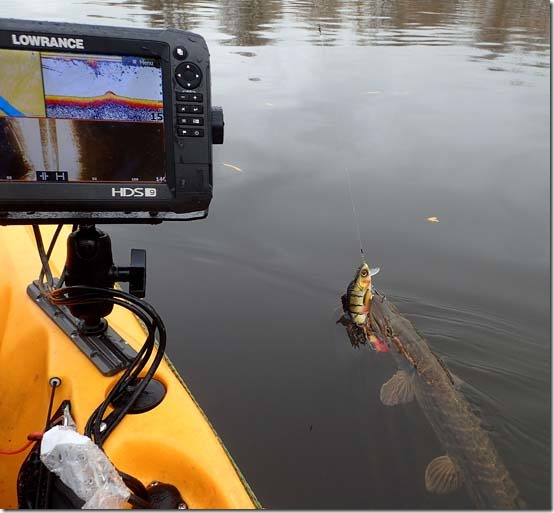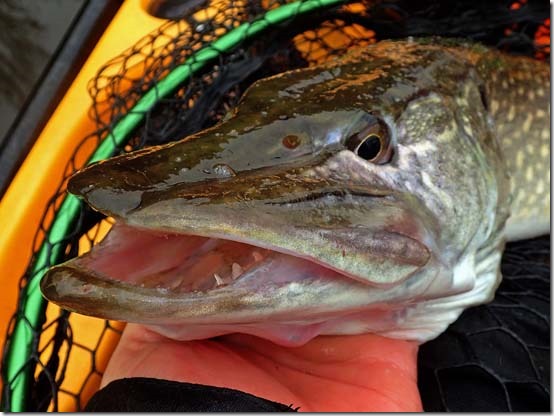 December
The annual Poole flounder meet is something I always look forward to. Its the last event in the kayak fishing calendar. This year it had a sad poignancy about it. I had known Ben Saville for a long time. Ben was the founder of the Poole competition, and was responsible for getting alot of new guys into the sport over the years. Sadly, he passed away in December. He was a lovely guy, and I miss him very much. It was quite fitting that one of the people he got into the sport, Simon Adams, became the winner of this year's competition, catching the only flounder. I can't help thinking that Ben is up there somewhere chuckling away to himself. Rest in peace Sea Gypsy… you will be greatly missed.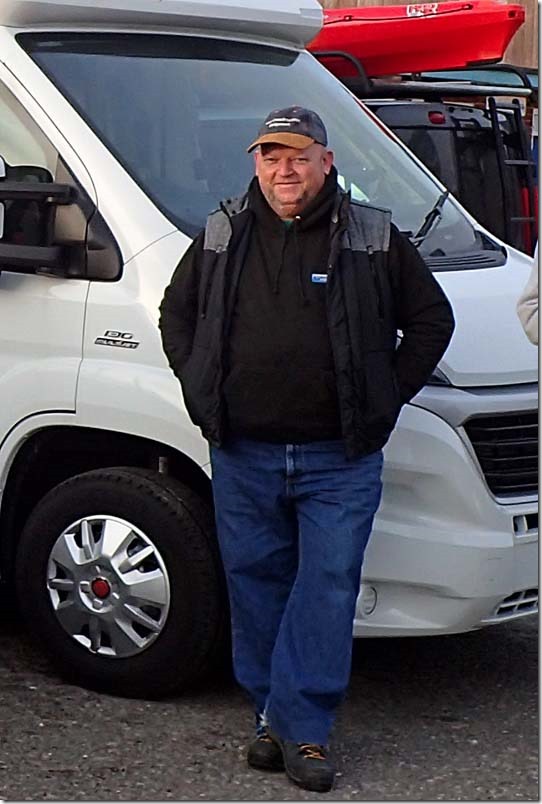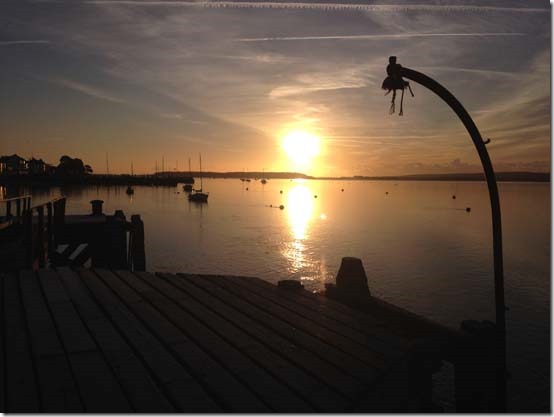 In 2016, myself and fellow kayak fisherman Steve Williams had a rather epic trip to Mexico. We had a blast, and I caught marlin and rooster fish from the kayak. I wrote about our adventure in the stunning Anglers Journal…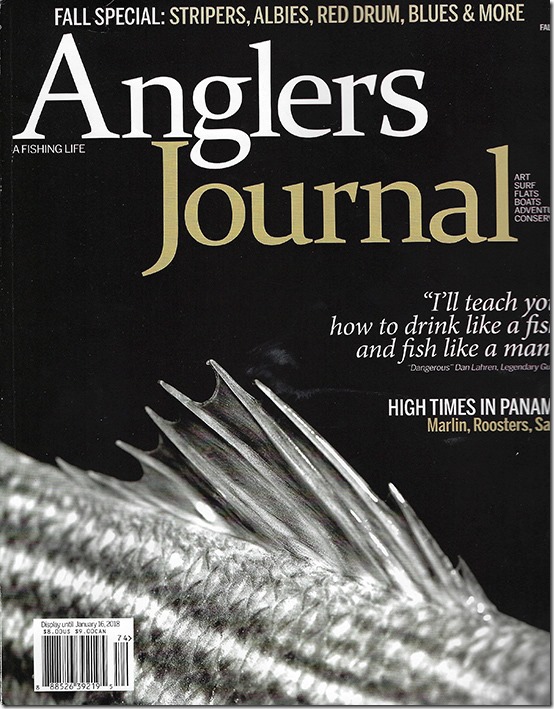 All that remains for me to say, is that I wish all of you the very best for 2018. Be Safe, and Have fun.
Dizzy
Category: Fishing, Fishing Venues, Kayak Fishing, Pike Fishing, River Fishing, Saltwater Fly Fishing, Sea Fishing, Stillwater Fishing