Conoflex Jedi Bass Boat Rod Review
They do say the "What goes around, comes around" – perhaps I should have called this article "The Return of the Jedi" ? Well I remember a time when all rods were made of fibre glass. Then boat and shore fishing rods made the transition to stiffer, lighter composite materials like carbon and boron. This move to more high tech materials produced rods which were lighter, stiffer and stronger – all together much steelier. But rather like the move from vinyl to CD, there were those who said that something was "lost" in the high tech transition – some of the "feel" that softer fibre glass rods were known for.
Don't get me wrong, I am not one of these sentimental types who thinks that we should not progress and move forwards, and I would certainly not like to go back to an "all glass fibre" blank world – but I do miss the feeling of semi-carbon blanks with softer glass tips. Well, it seems that UK blank makers Conoflex may well think the same way. They have produced a range of boat fishing rods which mix the best of both worlds – stiff carbon butts mixed with softer glass fibre based tips.
They have brought out a range of 3 boat rods – the Jedi…
Conoflex Jedi Bream – 8lb class
Conoflex Jedi Bass 16lb Class
Conoflex Jedi Cod 24 lb class
I am reviewing the Conoflex Jedi Bass; this is a slim 8 foot long 2 piece boat rod.
The Butt section is 84cms long (just under 3 feet long). The base of the butt measures 20mm in diameter tapering down to 16mm at the top of the butt towards the spigot. It is made from carbon – so despite its thin diameter, it is very stiff.
The glossy finish shows off the graphics well…


The usual rubber butt pad protects the end of the rod, and the lower section up to the reel seat  is covered is crosswrap shrink tube…

The fuji reel seat is set quite low – just as I like it (ideal for kayak fishing)…

Both sides of the reel seat are protected by small duplon grip sections…

Moving up the rod; the spigot looks strong, and well constructed,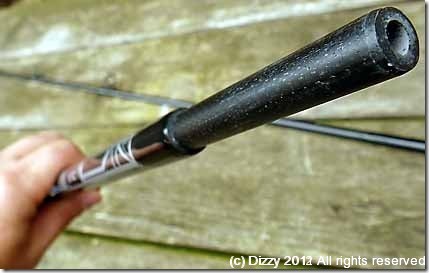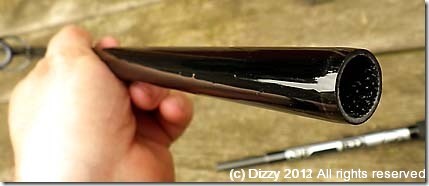 The tip section has been reinforced to make it stronger…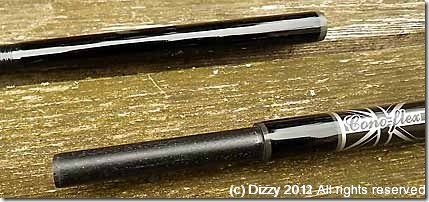 The tip contains 10 fuji BNLG rings – these have no inner shock ring like the BNHG's, but the ring is lighter and is made of high grade alumina.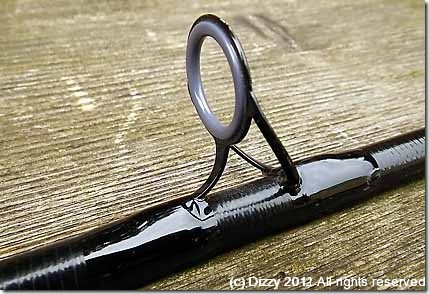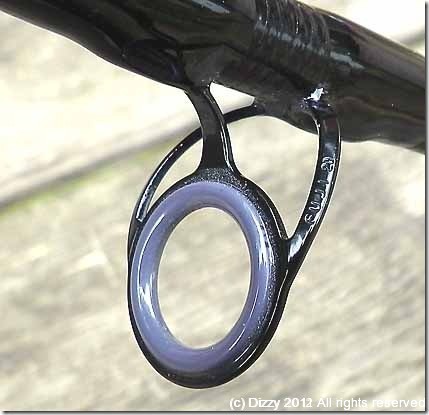 The whippings are understated (not too flashy) and not covered in too much high gloss finish – I personally like this.
The tip section is made of fibre glass – it is just over 66 inches long (168 cms) and tapers from 15mm to under 4mm at the tip. Most of the tip is unground (ridged) – I suspect this makes it slightly stronger; but the top 14 inches is smooth and glazed. This is the point on the tip where the appearance changes…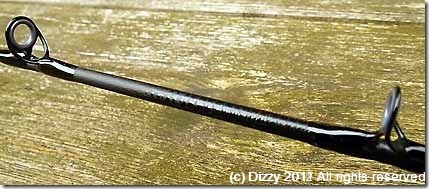 The tip is reflective should you wish to use it with a headlamp (or navlight !) at night.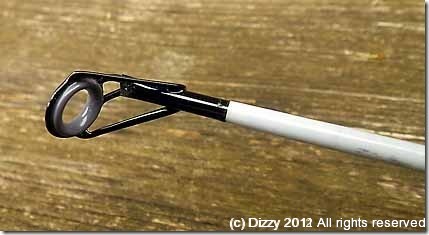 Because of the mix of materials, this rod has real feeling to it – it is not a sloppy through action rod, or a steely fast actioned poker – instead it mixes the two – a stiff butt and mid section giving way slowly to a softer tip section. I would use a small multiplier with this rod – a 525 or a 6500 would be well matched, and I suspect that if you used braid, then you would be able to feel every flick of the fishes tail during the fight. I also suspect you would lose fewer fish – and have a much better scrap.
Although this rod is called the Jedi "Bass", I would say it is quite heavy – on a kayak – you could definitely use it for heavier fish such as cod and ray – it would be fun. I would like to fish with the lighter 8lb class Jedi Bream – as that sounds like a fun rod.
If anyone from Conoflex is reading this – the only improvements I would make are the following :-
Add a keeper ring

Make a 7 foot version of the Jedi's

Please, please, please produce a 7 foot 4lb test curve version !

 
Footnote : Since this article was written, I was approached by Conoflex – they read the review and have produced a new Conoflex rod specifically for kayak fishing. It is called the Conoflex Jedi kayak QT – it is a superb rod, and you can read my review here.